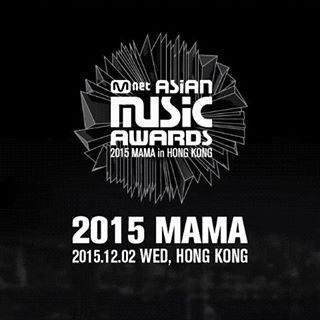 The Mnet Asian Music Awards, generally abbreviated as MAMA are one of the most important K-pop music awards ceremonies that are held annually by CJ E&M trough their music channel Mnet. The awards show involves the participation of the most well-known actors and celebrities, not only from South Korea, but also from other countries such as China, Japan, Hong Kong, Canada and even the United States.
The Awards have started in 1999, and since then have changed several slogans, finally in 2011 deciding on the current one, "Music Makes One".
The 2015 Mnet Asian Music awards took place on December 2 at the AsiaWorld Expo in Hong Kong. This ceremony was the sixth consecutive MAMA that takes place outside of South Korea.
The K-pop world (short for Korean pop) is a very colorful world that has millions of fans and followers from all over the world.
K-pop stars have a particular aesthetic and are huge celebrities in Asia and in other parts of the world as well, and their fans love their work and their style.
And, there was plenty of K-pop style at the 2015 edition of the MAMA. Here's a look at some of the most interesting menswear looks from the Mnet Asian Music Awards and a poll in which you can vote for your favorite.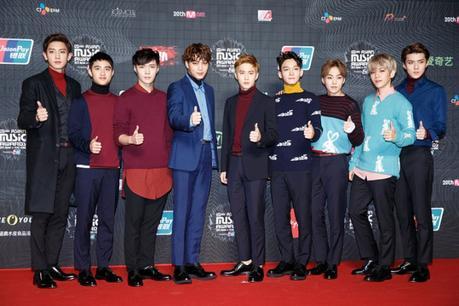 Wearing designs from the Prada spring-summer 2016 collection, the EXO guys were definitely fashion forward, even though they served a slight retro vibe.
The nine members of the band had a great idea to wear designs from the same collection, as this gave them a cohesive looks as a group, but also highlighted each of them individually. This is definitely something from which we can all learn: if a group has a common purpose (a meeting, a presentation, a show), in order to look cohesive, but still different and maintain individuality, they can opt for clothes from the same designer.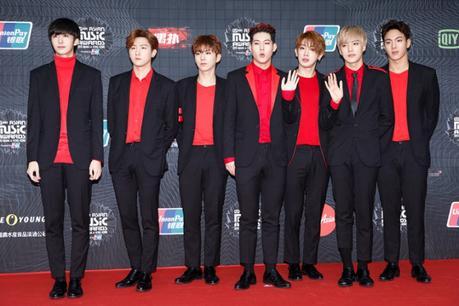 The MONSTA X boys went for a look that also made them look cohesive as a band, but that was derived from the idea of "uniform". All the boys dressed up according to the same code: a black suit and a red top, but each of them interpreted this idea in his own way.
One can definitely use the MONSTA X guys as an inspiration on the many (here seven) ways a simple outfit idea can be interpreted! Well done, guys!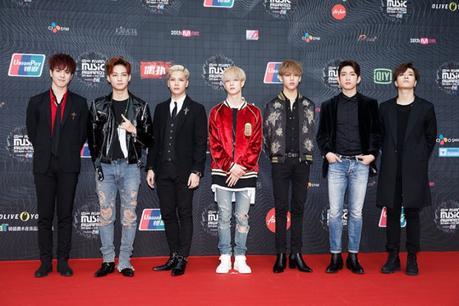 GOT7 dressed up mostly in neutrals (even though, we can say that the neutrals were anything but boring), and only two of the band members wore a splash of red. This is something that worked very well for them, as, if only one had worn a strong color, they would have looked like one of them was off and didn't get the memo, this way, the band looked cohesive and coherent.
What we really liked about the looks of the GOT7 band members was the way they mixed dressy clothes with casual ones: a bow tie and velvet jacket with jeans; a suit with a loose tie and shirt, etc.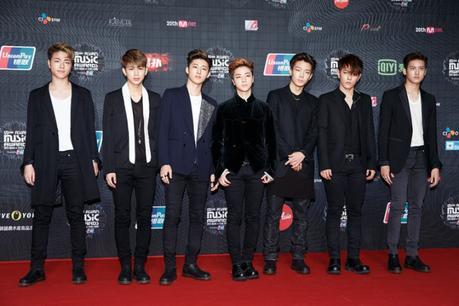 Going for strong, masculine looks, while remaining true to the funky aesthetic of K-pop, the iKON guys wore outfits that were casual-elegant, yet had a street vibe to them as well. What we found most interesting about the way the guys dressed as a group was that they wore very similar shoes and pants, expressing their personalities and taste only on the top.
This way, they drew the focus on their upper halves and avoided having a too cluttered look as a band. An interesting choice that is definitely very risky, as it can look like they're trying to be twins, but they pulled it off greatly!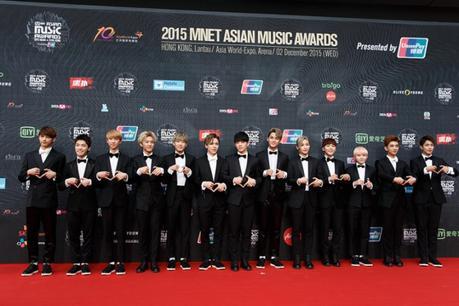 The guys from the South Korean band Seventeen dressed up to the nines, but kept it unconventional by wearing sneakers with their suits and bow ties, which worked well in this case. What we liked about the looks of the guys was that, even though they went for the same look (which, by the way, looked great on each of them, as the clothes were impeccably tailored), they each showcased their personality through their hairstyles and grooming.
Using your hair as a style statement in one way or another is a great way to express who you are when you are part of a larger group, regardless of whether you are part of a creative group or a more conservative group, in which case we wouldn't recommend going too crazy!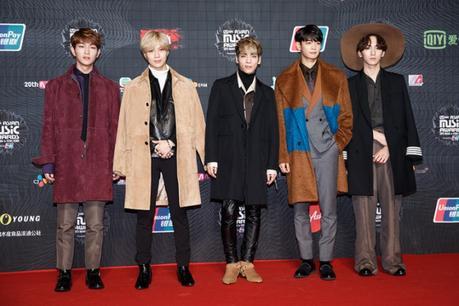 The SHINee guys wore quite colorful clothes that had a 1970s vibe to them. By wearing clothes with a modern cut, but with vintage-feeling colors, the guys showed us how a man can go for a retro look, but still look modern, contemporary and relevant.
The thing we liked most about the looks of the SHINee guys was that they made use of layers, which always add visual interest to an outfit. Take notes, guys!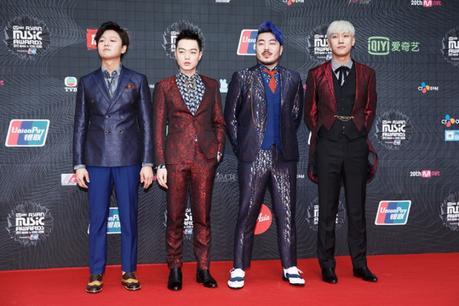 The boys from The Koxx served punk elegance at this year's Mnet Asian Music Awards. By mixing strong prints in the right way, the members of this indie rock band managed to create very bold looks.
We liked the way they mixed prints, played with colors (wearing colors that lie on opposite sides of the color wheel such as red and blue always makes for great, strong combinations) and shapes (some of the pieces were really sharply tailored, while others were looser), as well as the way the guys chose to style themselves and to do their hair.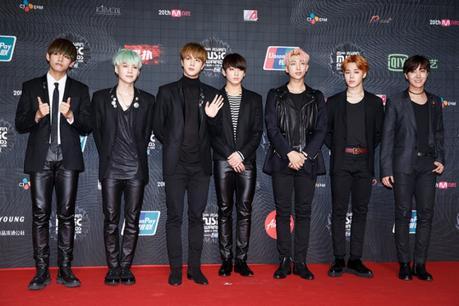 Going for a darker look, the BTS guys offered street style with a twist. What we liked about the outfits of the members of this K-pop band was the fact that each of the guys added his own personality to his look with the help of accessories and hairstyle.
We always say that accessories are a wonderful way to showcase your personality and to express who you are as an individual, even if you are part of the group, and the looks of the Bangtan Boys definitely did just that! Great job!
K-pop stars always look great, but on the red carpet of the Mnet Asian Music Awards they really did sparkle. There are a lot of things we can learn from the looks of the guys and we are definitely looking forward to seeing what they will be doing and wearing next!
But now it's your turn!
Who was your favorite?
View Poll
Fraquoh and Franchomme
Further reading:
The style and the star: Kris Wu
P.S. We want to hear from you? Who was your favorite at the Mnet Asian Music Awards? What is your take on K-pop? Share your feedback, questions or thoughts in the comments below! For more articles on style, fashion tips and cultural insights, you can subscribe to Attire Club via e-mail or follow us on Facebook or Twitter!