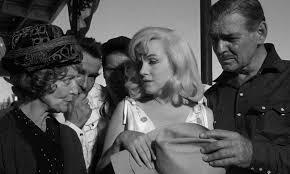 "A man who's too afraid to die is too afraid to live."
John Huston's
The Misfits
(1961) is a remarkably star-crossed film: between a difficult shoot in scorching Nevada weather, Huston's drinking, Marilyn Monroe's growing depression over her failed marriage to Arthur Miller and Clark Gable's poor health, it's amazing that the movie was made at all. It flopped at the box office, an inglorious swan song for both Gable, who died 12 days after filming finished, and Monroe, whose personal troubles prevented her from completing her next movie before perishing. Fortunately, it's a good enough movie to transcend its ghoulish genesis.
Freshly divorced Roslyn Tabor (Marilyn Monroe) heads to Reno hoping for a fresh start, and runs into Gay Langland (Clark Gable), an aging cowhand, and his partner Guido (Eli Wallach). Roslyn, her friend Isabelle (Thelma Ritter) and tag-along rodeo rider Perce (Montgomery Clift) take up with the cowboys, who wrangle wild mustangs for use as dog food and spurn the conveniences of modern life. Their cozy partnership grows rockier over time, with each man developing feelings for Roslyn who, in turn, is increasingly disgusted by their raucous, semi-legal lifestyle.
Bearing a script by Arthur Miller, it's easy to view
The Misfits
as an allegory for Monroe's troubled life and career. From the minor details (Roslyn obsessively rehearsing a courtroom speech with Isabelle) to the broader portrait of a woman beautiful, universally desired, yet troubled by alcohol, self-doubt and romantic failure, it's hard not to recall Monroe's tragic persona. Certainly Huston plays with Monroe's sensuality, from her epic ping pong bout (interrupted by a grabby cowhand) to an eerie scene where she drunkenly dances in the moonlight, erotic and hopelessly adrift at once, her male costars spellbound yet bewildered.
The Misfits
pairs her with a gang of equally damaged men, who fall somewhere between
Lonely are the Brave
's sagebrush nobility and the sullen amorality of
Hud
. Gay invokes the freedom of the Old West (inhabiting a half-built house) but hunts mustangs to extermination, the only job befitting a living anachronism. Guido suffers from a hair-trigger temper and traumatic war memories, treating his inability to work as a point of pride (spitting out "wages" like a profanity). Both have dead wives and deeply-buried regrets: Gay has a teenage daughter whose appearance at a rodeo drives him to drunken, bellowing madness. Their self-reliance seems less noble than a muffled cry for help.
Perce is equally sad. Where his colleagues bury their neuroses inside, Perce bears physical signs of a cripple in his nasal scar and a concussion borne of a foolhardy rodeo bout. He feels compelled to act macho, unwinding a head bandage and challenging Gay and Guido to a fight, but he can't even put up a convincing pretense. When Gay attempts to justify his lifestyle, he casts it in terms of freedom that sound hollow, unconvincing: there's little romance in shooting horses from a plane or slowly wearing them down with ropes. Ultimately, Roslyn's forced to act as an anchor, with Guido conceding that her feminine empathy and romanticism keeps them grounded.
Marilyn Monroe is as breathy and breathtaking as ever, yet she relishes digging into a character far more tragic and troubled than her usual sex bomb roles. Always an indisputable star, this is a great example of Monroe's oft-overlooked acting skills. Clark Gable shows remarkable subtlety beneath his crusty exterior, with Eli Wallach providing short-fused counterpart. Montgomery Clift's wounded, pathetic character proves heart-wrenching. Thelma Ritter's on hand to provide her customary snark, her common sense keeping Roslyn and the film anchored.
We're inclined to think of Marilyn Monroe as the ditsy heroine of
Some Like it Hot
and
Gentlemen Prefer Blondes
, but even there she evinces signs of vulnerability hidden by sexiness.
The Misfits
merely puts Monroe's thinly-submerged foibles front and center, and the result is remarkably powerful.