I went with my son to participate in the Atzeret Tefilla yesterday. It was basically a last minute decision, as I really believe that at best these types of events are a waste of time (at worst they are also harmful).. I also don't completely agree with the sentiments behind it, but I decided anyways to go with my son. At the end of the day, getting so many people together, and to exercise a democratic right to protest, as an historic event. As well, in addition to wanting to see it with some curiosity, I wanted to also be able to report on the event here (and I live-Facebooked it at the time)..
we got a bus pretty quickly.. was a bit surprising how smoothly it all went... very little traffic on the back road, though at one point the bus had to pull over as it couldnt handle the hills - after  a short break we got back on the road and everything was fine the rest of the way.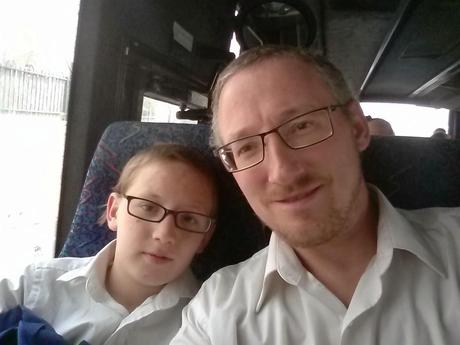 right when we got to Malha, where the buses were being rerouted to, I bumped into my high-school boy.. out of a million people there, what were the chances of this happening?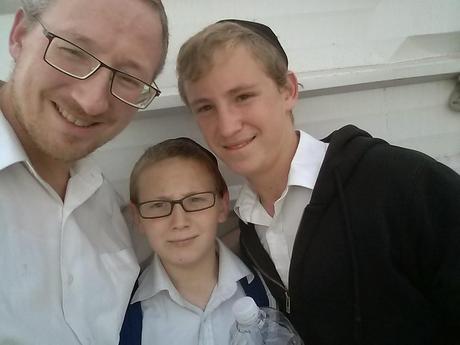 From Malha there was no organized transportation to the rally. I consider this a failing of the people who planned this event. What happened next was very dangerous. We walked 45 minutes from Malha to the rally - all along the Begin Expressway with cars speeding by, and there is no sidewalk. Someone could have been killed. If such an event is planned and public transportation is rerouted to a different part of town, there should be shuttles (even for pay) organized to get people there.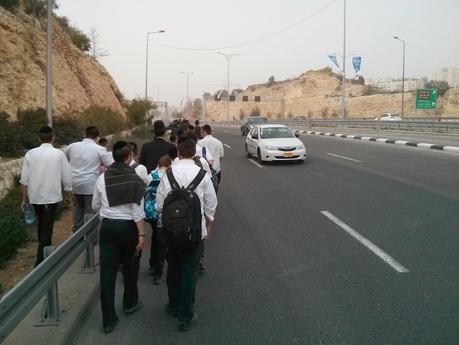 we walked through the Begin tunnel under Givat Mordechai...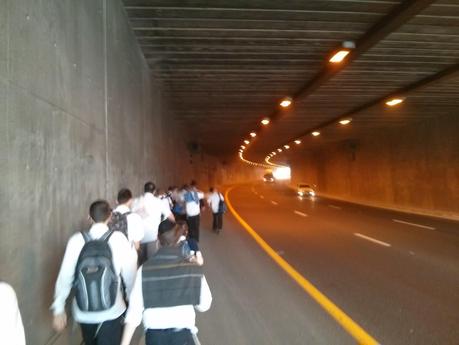 and even had to cross an on-ramp at one point..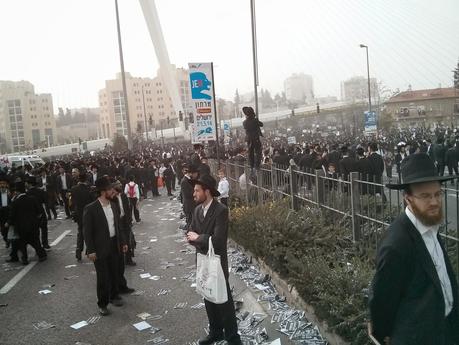 who says Haredim are not in the workforce?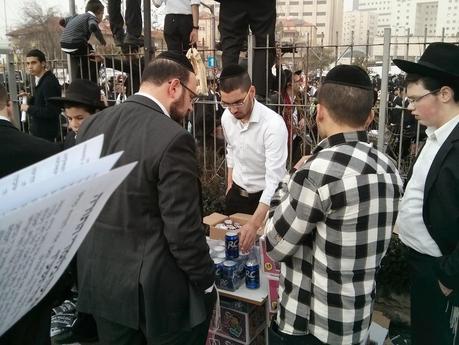 saw some friends who found their own way to get to the rally from Bet Shemesh completely avoiding traffic..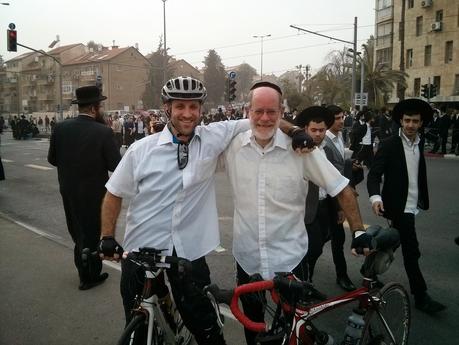 I snapped some pictures of many of the various signs on display... some of them more incendiary than others.. this was definitely not just a prayer rally, but also a demonstration..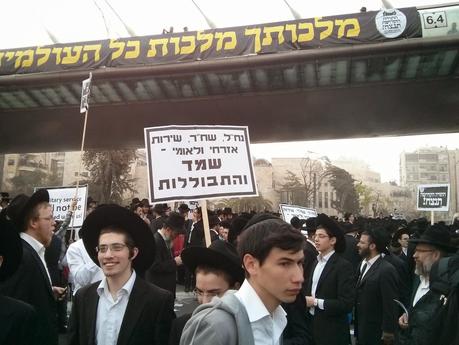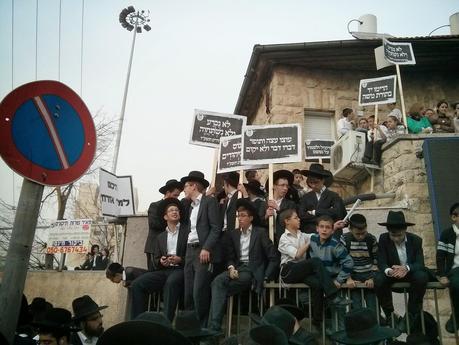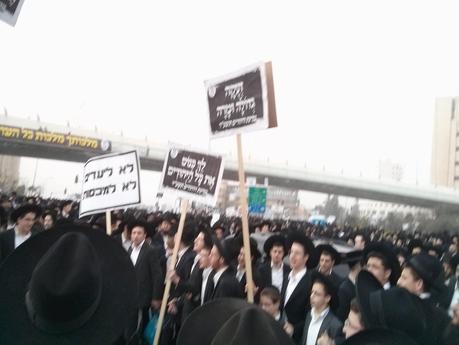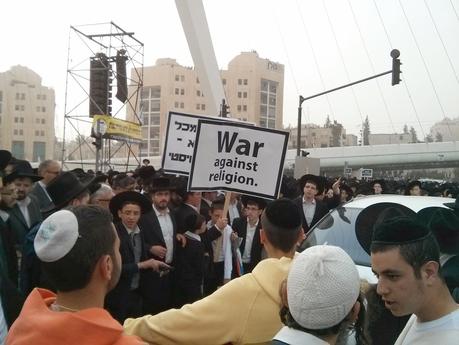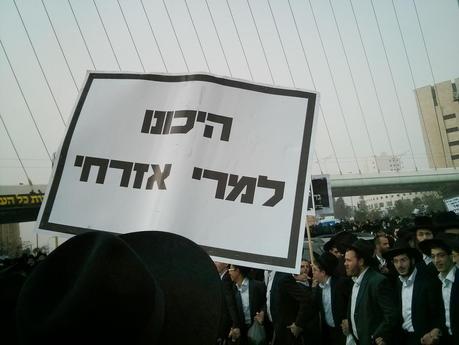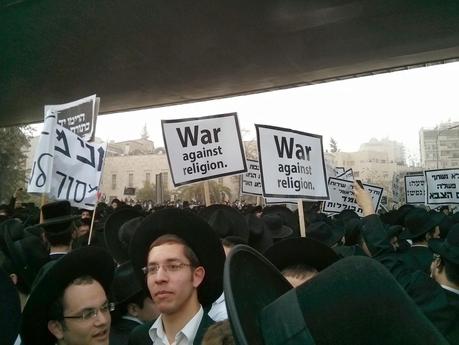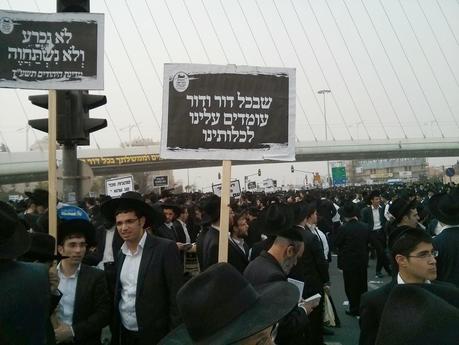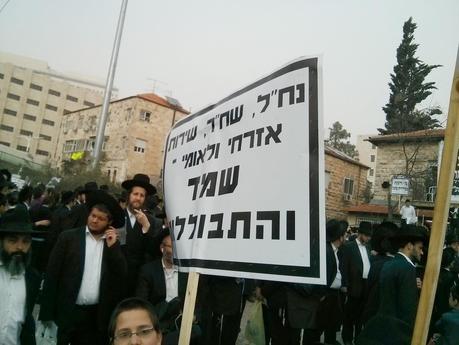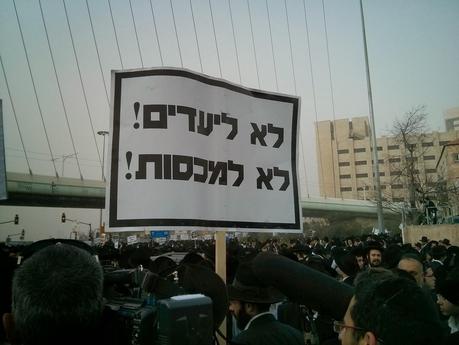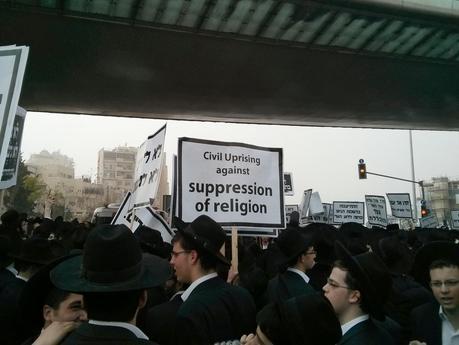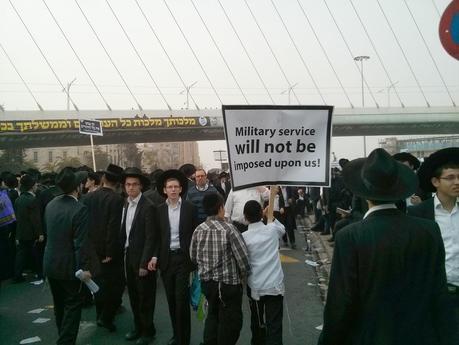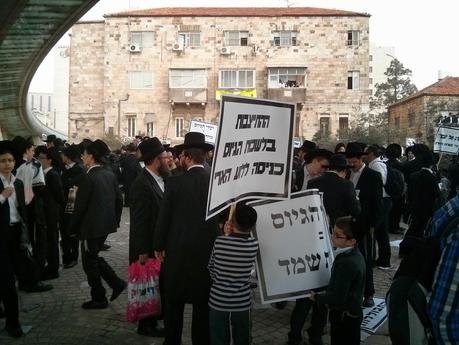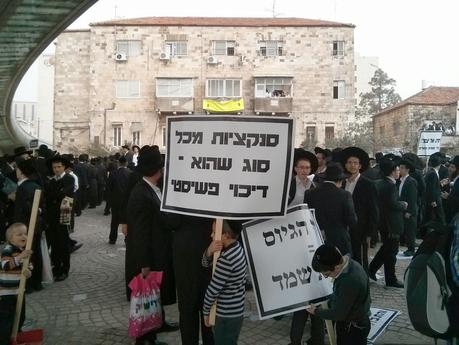 I saw women walking through the men section frequently enough...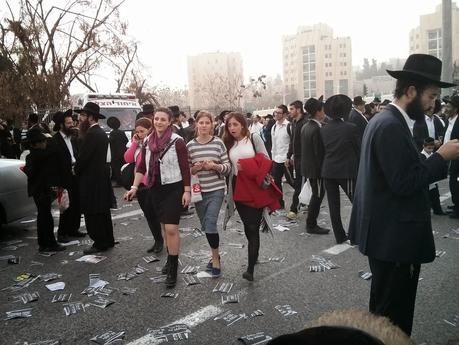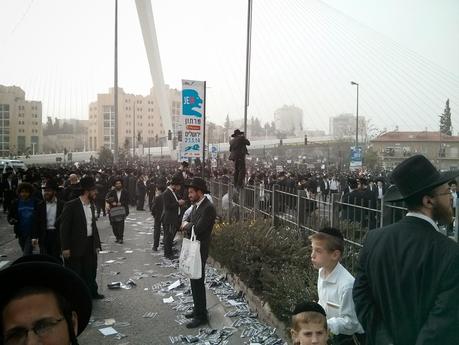 women were on the roof over Center 1... but you can see some men wanted that vantage point as well...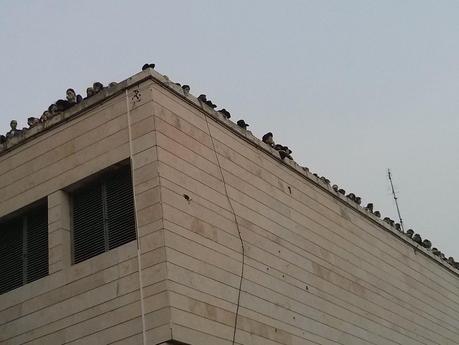 chessed at the rally..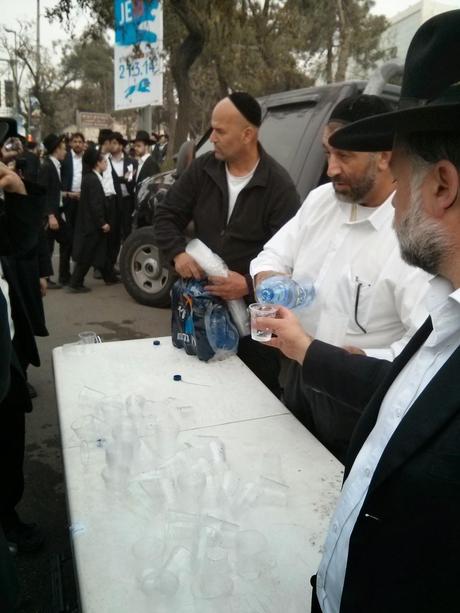 somebody had a brilliant idea - he made his car a counting station - asked people to put in coins like the machtzis hashekel and via the coins he would count how many people showed up.. and the money would go to supporting Torah.. I even saw some people putting money in..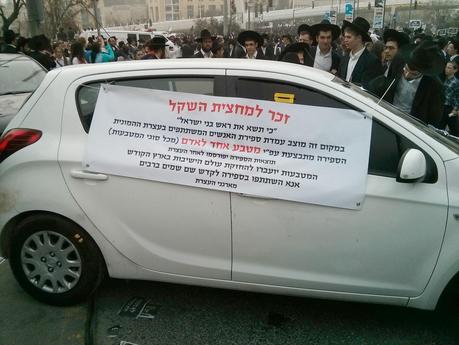 I also bumped into my oldest son.. again, out of a million people, what are the chances...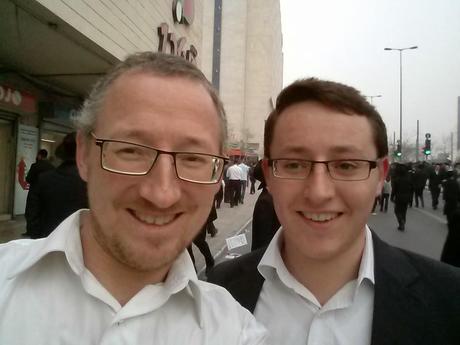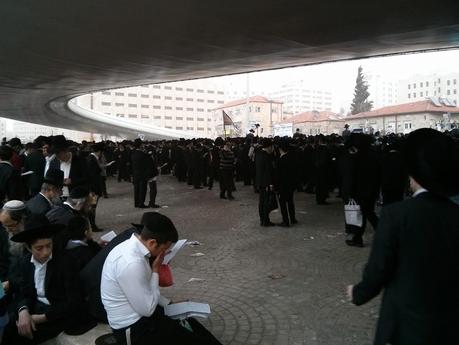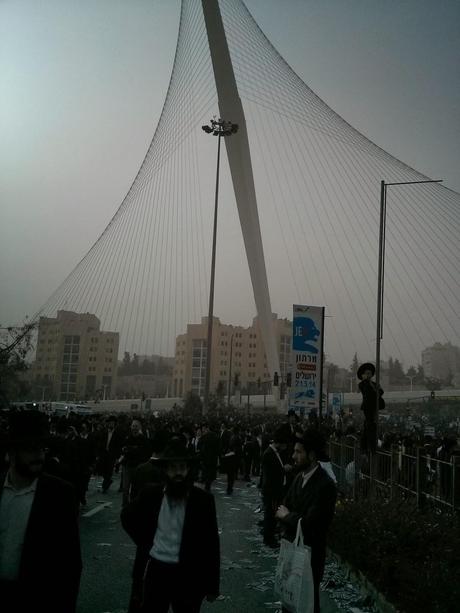 From everything I saw, it was fairly well done, people were under control of themselves and I didn't see or hear of any trouble or rioting...
other thoughts:
1. I still find it funny they continue to call it the million-man rally, when nobody says the numbers were close to a million. even the haredi sites only say 600,000 (which is an amazing number, but it is not a million)
2. I did not say the bracha for seeing 600,000 Jews. My decision was because it was announced in advance that the bracha should be said because 600,000 people would be there. From that it was clear to me that they were assuming 600,000 people will have showed up. - by hook or by crook, whether or not that number was actually reached will have been irrelevant to the decision to say the bracha. I figured nobody really knew at that point, so saying the bracha was wrong. I also saw afterwards that Rav Shternbuch had said not to say the bracha because it would not be clear if enough people would be present.
3. despite my doubts about the bracha, there was a massive number of people there, all exercising their democratic right to demonstrate, and daven together, which is a beautiful thing, even when I don't completely identify with the cause.
4. the saying of selichos disturbed me. Being Rosh Chodesh, it shouldn't have been said. The excuse of horaat shaa is weak, in my opinion, as it could have been held a different day, if not for other considerations. Far be it from me to argue on great poskim, but when such "heterim" are found for situations of convenience, they surely can be found in other situations as well. It strengthens the claim people have of "when there is a halachic will..", or at least it makes people skeptical of how the halacha is applied and how it isn't..
here are a couple of great pictures I saw from other people..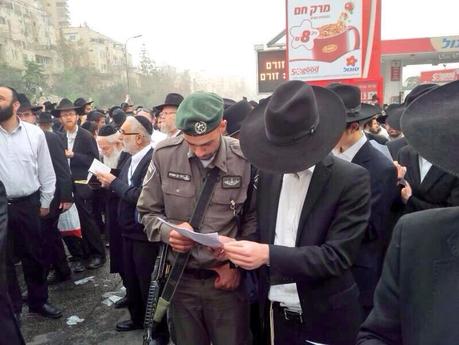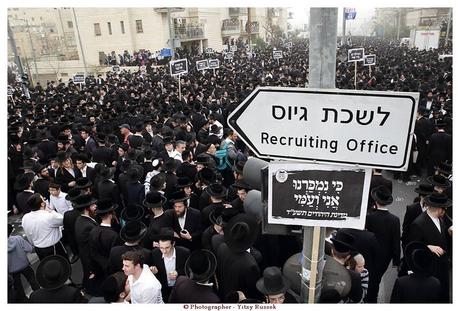 two funny comments I heard, perhaps disrespectful but I will repeat them anyway:
1. the Amshinover Rebbe arrived at the rally just in time.. for Rav Ovadiah's funeral..
2. when the ralliers started dancing at the end, it turned out that Israel's largest rave party ever was organized by the Moatzot Hachachamim..
------------------------------------------------------ Reach thousands of readers with your ad by advertising on Life in Israel ------------------------------------------------------