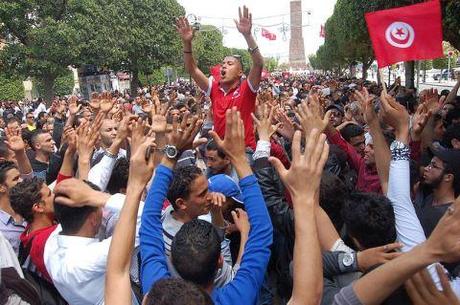 In 2008 I was speaking to a young man waiting tables at a Cairo hotel. He had graduated from an Egyptian university with a degree in hospitality and tourism, spoke fluent English and very good French. Yet he was resigned to the fact that, despite this education, he would be working as a waiter for at least ten years, if not longer, before even being able to consider moving into a management position. He knew he could be doing more, but was willing to accept this course as his position was highly coveted and there were few other jobs available to him.
Prior to December 2010, analysts and observers of Middle East regional issues raised concerns about the large youth populations across the Middle East. These nations have very high numbers of young men and women, but as was often warned, did not have economies dynamic enough to absorb their young people into the labor force. Neither did these young people have political space or legal recourse to voice their grievances. It was unclear just how frustrated people, especially the youth, had become.
In 2011 the frustrations of the younger generation in the Middle East boiled over into the political sphere. Dramatic scenes in Tahrir Square and in Tunis led to the overthrow of long-time dictators. In wealthy Gulf states, governments responded by increasing public sector salaries and social benefits to appease their populations. Egypt and Tunisia, lacking the natural resource revenue available to producer states, cannot provide such lucrative public sector jobs and benefits, despite continued demand for them. But even Saudi Arabia, the world's top oil producer, understands that these policies are not long-term solutions for the 64 percent of its citizens who are under the age of 30 and is now investing heavily in education and economic diversification. 
Since the Arab Spring revolutions, the young men and women in the Middle East have maintained a public and active role in their societies. They have found a voice calling for dignity and economic opportunity. Young people throughout the region are harnessing technology to communicate and share information. In the economic sphere, more and more young people are starting their own businesses and becoming entrepreneurs.  In doing so they are creating the jobs and opportunities that their governments cannot.
Large demographic shifts have the potential to transform societies. We have yet to see the full affects in the Middle East. Will the youth be able to maintain political space and open communication to call for change? Will they be able to start businesses and drive private sector growth? Protection of political and economic rights, with capable institutions to maintain them, will be key factors in how the youth leave their mark on the Middle East in the 21st century.
John Zanikos is Program Assistant for the Middle East & North Africa at CIPE.