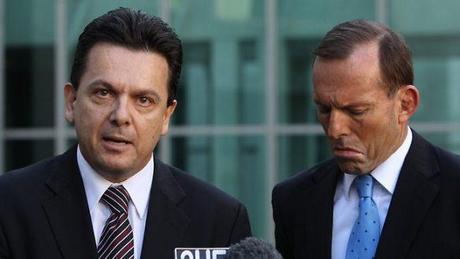 Source: The Australian
It's lazy to start with a cliche but this week's ululations over microparties elected to the Senate is a perfect example of how long a week can be in politics.
First lets start with the victors. On the morning of the election Frances and Bridget Abbott's father warned against "toying" with minor parties because "we need a strong and stable government".
However, by Monday senior Liberal Senator George Brandis was championing diversity, saying "it's sometimes refreshing to see that the major parties don't have a monopoly on access to Parliament".
What could have prompted this conversion? Could it be that potential senators from the Motoring Enthusiasts Party (with 0.5 per cent of the primary vote in Victoria) and the Australian Sports Party (0.22 per cent in WA) will decide if the Coalition can successfully repeal the carbon tax?
On the other side of the chamber independent Senator Nick Xenophon has signalled his support for Senate electoral reform while former Greens leader Bob Brown shored up the hipster demographic by reminding us he hated microparties before it was cool.
However, if you delve into the electoral history of both these men, you'll find they didn't exactly enter Parliament on the back of massive public mandates.
In the 1997 South Australian election Xenophon only received a third of the number of votes needed to win a seat in the Legislative Council but was elected anyway thanks to a series of clever preference deals with – wait for it – microparties.
Similarly Bob Brown was elected to the Senate in 1996 with a little more than half the votes needed for a quota, also relying on preference to become what Paul Keating called unrepresentative swill.
Economists joke that definition of a rich person is anyone who earns more than you do.
According to Brown and Xenophon the definition of a microparty is anyone who receives less votes than they do. So being elected with only 5 or even 2 per cent of the vote is fine bur drop below that and you are "hijacking preference flows".
These examples show minor players like the Greens and independents can be just as cynical as the major parties.
If the Australia public had elected a series of left-wing candidates who supported the Carbon tax and marriage equality do you think Greens Senator Lee Rhiannon would be so eager to limit their influence? Would the Coalition still find them refreshing? Of course not.