If you want to sum up the world of celebrity fashion all in one night, then the Met Costume Gala is your event! Deemed fashion's biggest night, the Costume Institute Gala held at the Metropolitan Museum of Art in New York City brings us the must-see fashion moments of the year. From predicting big upcoming trends to paying homage to some of the world's best designer's work, A-list celebrities flock to the famous Met steps in nothing but ravishing, high-fashion looks. Hosted by Vogue, the Met Ball has been an annual event since 1948, the year the Costume Institute was founded, but this had to be one of the most modern, fashionable guest-list yet.
Just last Monday, the Met Ball showcased nothing short of magnificent gowns! Almost all in attendance were dressed in ensembles that impressed and it was overall, a very impressive turnout. While the list of stylish celebs is too long to look at all of the glamorous gowns, I picked out a few of my favorite trends of the evening that stood out for all of the right reasons.
POPPING PEPLUMS
One of Spring 2012's biggest trends that transitioned beautifully from the runway to real life is peplum cut skirts. A peplum is a flare ruffle or layer attached to the waist of a clothing item giving it a very structured, architectural design that flatters one's waistline and makes even the most basic dress a little more stylish. This year at the Met Ball, peplums were popping up everywhere! Especially on gowns in vivid colors and avant-garde designs.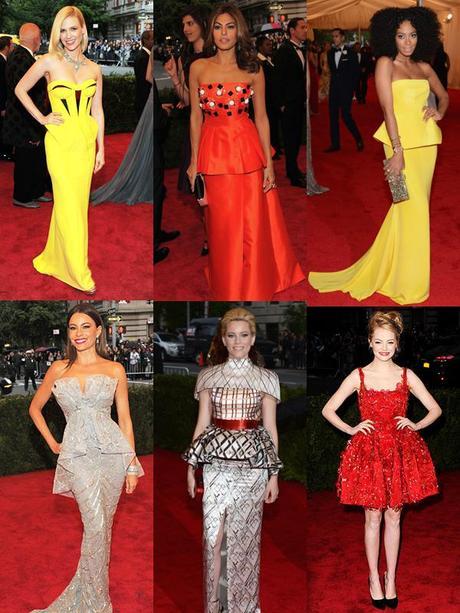 Those in bright gowns included
January Jones
, who wore a yellow
Versace
number with metallic accents and a vintage Cartier yellow gold, diamond and turquoise necklace,
Eva Mendes
in a beautiful orange strapless
Prada
gown embellished with black and white stones, and
Solange Knowles
, also in a neon yellow peplum gown, custom made by
Rachel Roy.
Sofia Vergara
stuck true to her usual silhouette in this silver
Marchesa
confection and $2 million worth of Harry Winston jewels!
Elizabeth Banks
sparked some style conversation with her unique, and fashion forward (in my opinion very cool!)
Mary  Katrantzou
mixed plaid print design from the 2012 Fall collection. And while
Emma Stone
may not be wearing an official peplum embellishment, the cut and hemline of her adorable
Lanvin
cocktail dress, custom made by Alber Elbaz kept that same youthful and stylish energy.
BLACK BOMBSHELLS
Every woman loves a little black dress. But when it comes to fashion's biggest night, the color is easily dismissed as boring. However, if done right, it can wow! And that is exactly what some of the Met Ball guests did last week!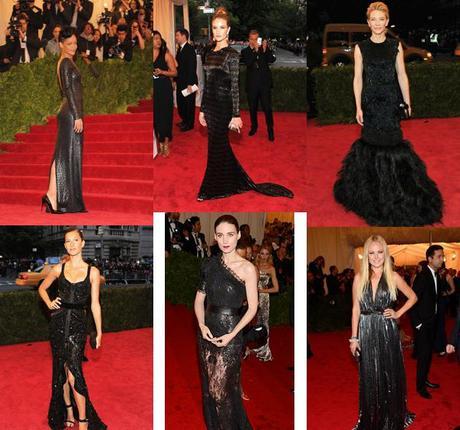 The always sultry
Rihanna
was absolute perfection in her
Tom Ford
crocodile leather black dress. Supermodel
Rosie Huntington-Whiteley
was a vision in this long sleeved
Burberry
gown made with hand embroidered glass copper beads. Never one to disappoint when it comes to unique and envelope pushing looks,
Cate Blanchett
gave us details, details, details with her trumpet hem black
Alexander McQueen
feathered dress.
While those ladies brought fashion, these next few ladies brought the edge and sex appeal! Both Gisele Bundchen and Rooney Mara wore black Givenchy Haute Couture designs. Gisele's beaded gown was perfection with those killer strappy sandals, and Rooney stayed true to her personal style with a leather and lace combination.  Malin Akerman channeled the 70's with sleek blonde locks and a shimmering gunmetal draped gown by Diane von Furstenberg.
PURPLE PLUMES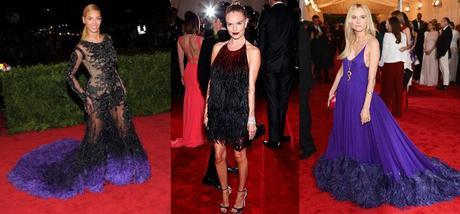 Feathers were flying all over the steps of the met, but the best feathered frocks also shared another trend- purple!
Beyonce
wore a "love it or hate it" conversation starting ensemble by
Givenchy Haute Couture
. The sheer embellished design has black lace in all of the right places and a dramatic ostrich feather train that fades from black to purple.
Prada
seems to love purple this season too, because both
Kate Bosworth
and
Diane Kruger
wore designs from the famous fashion house. Kate's futuristic flapper look was made of ombre ostrich feathers and accessorized with sparkling Fred Leighton diamonds. Always amongst the best dressed, Ms. Kruger looked phenomenal in her bright violet Prada gown accented with a border or purple feathers and also wearing Fred Leighton jewelry. Diane's look alone has me very happy that purple is going to be big this summer!
GOLD FOR THE GALA
Saving the best for last, the biggest trend of the glamorous Met Gala 2012 was glittering gold! Whether metallic, jeweled, or tulle these stars were the ones that truly shined in the already striking color.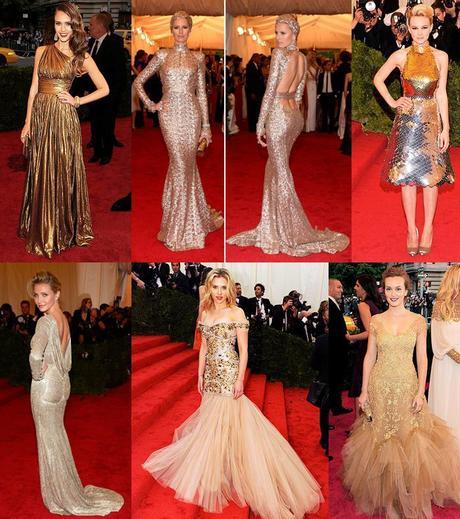 Jessica Alba
channeled old Hollywood glamour and could not have looked better! Wearing a draped lame one shoulder
Michael Kors
gown and a dark red lip, Alba was one of our favorite looks of the evening. Another favorite look?
Karolina Kurkova
showed us all what the Met Ball is truly about- making a statement! Wearing a custom design made by
Rachel Zoe
, the supermodel stunned in a head-to-toe sequined gold ensemble. Everything from the turban to the shoulder pads to the strap across the open back are unique and flawless on Karolina.
As the event this year was a dedication to Prada, Carey Mulligan wore a custom two-tone silver and gold pailette dress by the honored label. Cameron Diaz also came in custom, her draped back design by Stella McCartney. Showing off her killer curves was Scarlett Johansson in a pearl embellished tulle Dolce & Gabbana gown with ornate bodice and full mermaid tail skirt. In a similar aesthetic, Leigton Meester attended the gala in an ethereal embroidered tulle Marchesa illusion dress and 25 carats of Harry Winston diamond bracelets.
So which of these trends is your favorite or are you most willing to try in every day fashion? Who had your favorite look at the Met Gala?