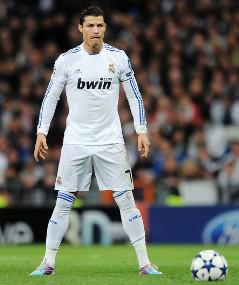 Cristiano Ronaldo
Everyone talks about Maradona vs. Pelé and other types of comparisons, but rarely have we ever as football fans had the chance to dissect, over analyze, over criticize and "over enjoy" two players. It's part of our human nature to try to compartmentalize and try to give meaning to some things that really have no sense.  This debate between of which player is better is an compelling and as nonsensical at times as trying to find complicated solutions to simple issues.
I can't recall in my lifetime being in an era where two players have dominated the game to such an extent at the same time. These two have been able to score as many goals and most teams have- combined.
We have such collective short-term memories. Remember before the Barcelona boom, we were dying to see performances that just set our imaginations ablaze. We were dying to see the Milans and Brazils or yesteryear. Now we have Pelé and Maradona… Cruyff vs. Beckenbauer… DiStefano against Ronaldo or Zidane. We have that going on now, yet we use the same parameters where we established the game we longed for to now destroy the players that are creating what we wanted.They both have shown their most human moments where they have not been able to make something happen, yet at the same time they have left us awestruck with their superhuman powers.
These two a perceived as heroes from other planets that tend to look at things in different manners. They also look at the game so differently and their respective superpowers make them feared by any opponent. Ronaldo is the hyperdriven player that looks to put any team on his shoulders in almost Kobe-esque fashion. Meanwhile Messi is the guy that just has fun and makes magic occur with the greatest of simplicity. Everyone knows that Ronaldo and Messi are going to do certain things, what is scary is that every in the stadium knows what they are going to do… and they still do it.  There is little any player or team can do to stop them.
That cutback for Messi from the outside into the box, you know which one I am talking about. That move where he cuts into the middle of the box. That move… one of the most frightening moves in world football. Just as exhilerating as a patented move in wrestling. Yeah, everyone knows it's coming and no one can do a thing about it. The worst part is that it is not scripted. When he is leaving his left foot available to strike the ball around defenses at will; the end result is as inevitable as death and taxes. Lio usually scores.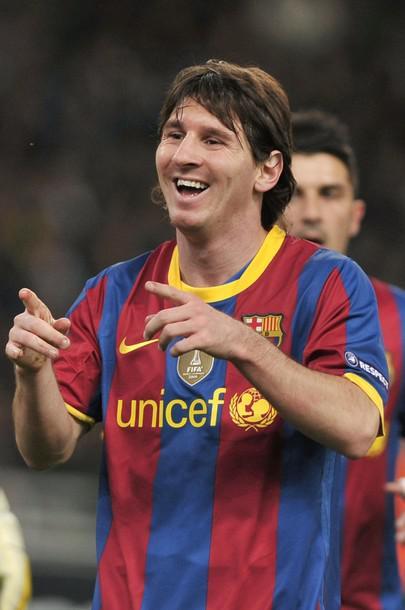 Lionel Messi
Ronaldo whenever he jaunts down the pitch full speed ahead. That move where he leaves defenses in the dust. One thing is being prepared to do something about him. It's a completely different story when he's coming down the pitch right at you. The legs churning with incessant impetus. Yeah, that particular play allows you to know what's coming up next, but at the same time all one can be is an innocent bystander to yet another goal.
Both players are so different yet so alike.  I mean, the last time we have been so microscopic in judgment when it comes to breaking down players, at least to my recollection, was when they compare Maradona to Pelé.  At least Maradona would have said he did not have a Garrincha or Vavá or Rivelino or Tostão to play alongside.  Pelé would say that he could shoot with both legs.  In Messi and Ronaldo's cases, they are playing with supporting casts that are superstars among mortals.  The question is would Barcelona and Real Madrid win as much and as convincing without these two players?  I would think not.
I would agree with Pep Guardiola when he said that without Lio, Barcelona would not have won the amount of trophies they did during his time as coach.  Mourinho might have not gone on the record saying that, but one thing is for sure, they wouldn't have won the Copa Del Rey without him.  The league, well his goal at the Camp Nou sealed the league and the performances he had in crucial matches said it all.
Many consider La Liga to be a two-team league. To be honest, you can go as far as saying that La Liga could be a two-player league.  It sounds far-fetched, but then again, which two players have made far-fetched look so attainable?
Last season both Messi and Ronaldo were the eighth and eleventh highest scoring teams in La Liga. If you were to combine their efforts, they would be the third highest scoring teams in the league.
Are we envious?  Hell, yes.  We're all envious of the fact that they can do something we could never do. There are only two people in the world that can do what they are doing.  They play at a completely different speed and in some instances it seems like they are toying with others as would an older brother when he's holding his little brother's forehead while the other flails away to no avail.
Maybe the way they react is what makes us pick sides.  Who am I kidding? Of course it does.  When one player takes things and just continues to roll while the other one bites back at any possible moment and leaves himself vulnerable to criticism is a reason why.  What we do forget is that we as people also react to certain stimuli differently.  While Messi seems to have been born with oil in his skin as he's just let criticism generally roll off him.  Even after being questioned by many Argentine fans about how "Argentine" he was because of his lack of performance with this national team.  He responded the only way he knew how- scoring goals. Now Messi is the undisputed star of the Albiceleste. He is their Messiah that will be looked at to lead Argentina to their third World Cup and obtain the trophy that will place him among the immortals atop football's Olympus.  If he doesn't, well we'll see what happens.
Ronaldo in the meantime has been more aggressive in lashing out towards his critics.  A much more extroverted and demonstrative individual Ronaldo has gone out to defend himself in the most unwise fashion.  He's been honest, you have to give him that.  Yet his approach was not the smartest one by appealing to the envy of others as well as talking about Lio.  That sparked talk about Ronaldo feeling overshadowed by Barça's playmaker.  Would doubt that is true; but behavior at times makes things a bit hard to defend.  Yet I will take the defensive stance on this one.
Both players know that goals and performances shut critics up.  That lesson is one that was learned time and time again. Yet, despite all the hoopla and all the extraterrestrial attributes we might bestow upon them, it's their humanity that makes them the appealing.  Messi's humility and Ronaldo's sincerity are what make them genuine characters.  Their charity work and compassion for the less fortunate make them that much more likeable.  Messi's foundation helping eliminate chagas and Ronaldo's work helping out flood victims in his native Madeira or being an ambassador to Save The Children are some of the gestures they have that sometimes are upstaged by whether they are scoring goals or if what order they do or do not take a penalty kick.
So, whoever wins the Ballon D'Or- God bless 'em.  They deserve it.  At this point, it shouldn't even matter who is better than who.  They have somehow complimented each other and they have marked an era of football that is as close to fiction and video game fantasia as we have ever been.  We are witnessing some astonishing history right now and what do we do?  Argue over who's better.  Don't get me wrong, debate is a healthy thing.  Senseless, myopic debate where allegiances tend to blind people isn't.
They in turn know where they were and what they did in order to arrive to where they are at. This is what keeps them real and what should help us realize who they are outside of the pitch.  Both of these young men, despite living their lives in different way, still are never involved in negative publicity when it comes to arrest records or other types of negative press that surround many other athletes that don't even have 1/100th of their popularity and talent.
Someday I do see both Lio and Ronaldo sitting in a front porch watching their two boys play and they would just look at each other and say, "remember when?" So if they will most likely not cry or complain about who is the best, we should take that same example and follow it.  We should just enjoy what they are doing and cherish it while it lasts.  We should learn from past mistakes because criticism becomes lamentation as soon as the good thing we had ends up running dry.