The memorial gardens at Beth Shalom, the National Holocaust Centre and Museum, opened recently for the National Garden Scheme and it was time that I went on a visit.  I have been aware of the Centre since it opened in 1995, and whilst its primary function is as an educational resource for school children, it also has a much broader role in terms of education and remembrance.
It is located in a tranquil place, deep in the North Nottinghamshire countryside.  Shortly after entering the garden you are invited to place a stone on this memorial to the children who were murdered in the holocaust.  No matter how beautiful the day, this place is about not forgetting why you are there, and why many are not.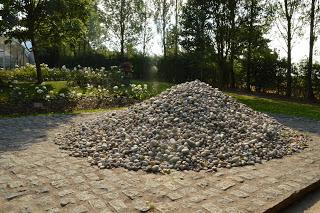 The walk into the garden involves roses, rows and rows of white roses.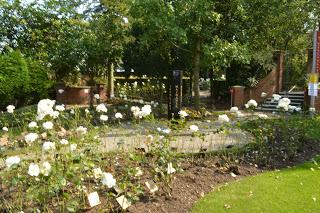 The roses are planted in the memory of all the victims of the holocaust who included Jews, Roma, homosexuals, people with disabilites and political prisoners.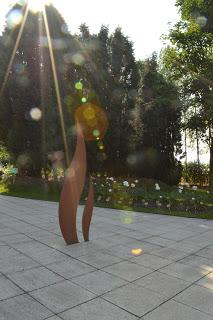 There are many sculptures in the garden, all with meaning.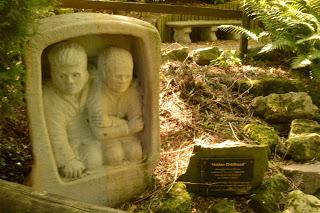 All make you stop for a moment and consider, not only consider the past but also look at the present.  To also think about genocidal acts subsequent to the Second World War and consider that we may live in a world where it would appear nothing has been learned from these dreadful events.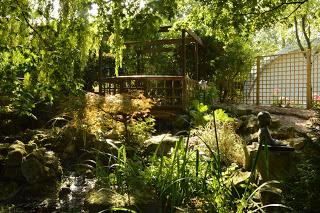 The gardens are beautiful, they make a good space for pause and reflection,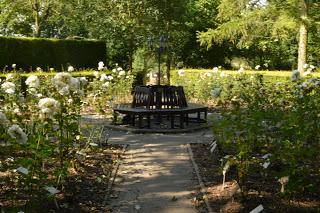 and everywhere there are the roses.  The aim of these roses was to give names to the victims of the holocaust, to not have them as photographs of nameless people, but to be members of families, people who loved and were loved.  Each rose has a dedication plaque stating who donated the rose and their reason.  Overwhelmingly they are commemorating family members, mainly those who were killed though some are for survivors.  I read most of the plaques, it took some time but it had to be done.  According to the Centre's webpages they had expected to plant 100 roses when they first started to lay out the gardens, now they number over 1000.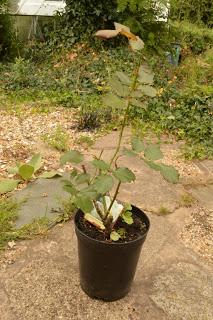 The roses are all Margaret Merrill, you can donate to have a rose planted in the garden and they are also for sale at the Centre.  Whilst it was a sombre visit as it is not a place that gave me hope; it is a place about not forgetting and also about remembering and bearing witness.  I think I will remember my visit for a long time.