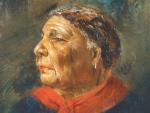 I've gathered together the news articles so far on the campaign to reinstate Mary Seacole and Olaudah Equiano to the schools curriculum. 
At the time of writing we had gathered almost 5,600 signatures via an online petition in just six days.
n addition to articles in the Independent, Times, Guardian and New Statesman, we also achieved radio coverage on BBC London's Dotun Adebayo show and Vanessa Feltz show and Colourful Radio's Breakfast show with Henry Bonsu. Community station Galaxy Radio also hosted a debate on the subject.
The Times (09/01/13)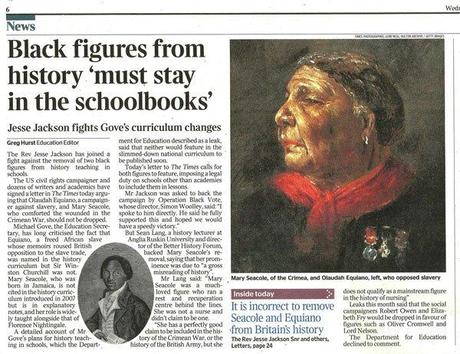 The Huffington Post

(Greg Jenner) – 07/01/13: Michael Gove Is Wrong: Mary Seacole Belongs on the School Curriculum
History is like property-based programming on Channel 4 – there's just too much of it for the human brain to absorb. All those Romans, and Celts, and Vikings, and prime ministers, and silly hats, and… well, it's just so hard to cram all of it into those tiny heads that children possess. How on Earth do you go about trying to teach history to a generation of Bambi-eyed blank slates; inquisitive but baffled kids, who possess no frame of reference for the vast lists of epochs and eras?
Michael Gove, the education secretary, has thought long and hard about this, and he has come up with a radical solution – time travel! Yes, if it's good enough for Dr Who, then why can't the government drag us all back to the halcyon days of yesteryear?
For Gove, at least according to a leaked report, it seems the answers to historical erudition lie in the traditional values of the 19th century, when men were men and women were corseted waifs struggling to breathe. The education secretary, who has apparently enlisted the help of the eminent professor Simon Schama for advice, seems to yearn for the glory days of empire, when history was taught not just to understand the past, but to mold the colonial administrators of the future.
Back then, a child's history curriculum was a conveyer belt of greatness – famous kings, heroic deeds, victorious battles, landmark events. There is nothing intrinsically wrong with this approach, as Americans will point out. Indeed, viewers of Horrible Histories will know that we have our fair share of sketches about 'important' stuff, like the Industrial Revolution or Magna Carta. Furthermore, I also equally welcome more emphasis on historical linear narrative in teaching. I know many well-educated adults who would blink in terror if I asked them to place the Vikings on a timeline of world history, and it would be no bad thing for their kids to be able to correct them when they finally shrug their shoulders and guess that it's in the middle of the 14th century.
However, my concern is with the elevation of a white-washed, patrician, whiggish history of Progress with a capital P. Symbolic of this revolution in nationalised education is Gove's intention to not include Mary Seacole, the celebrated Jamaican who won acclaim in the Crimean War, in favour of Tory poster-boys like Lord Nelson and Winston Churchill. This worries, and confuses, me in equal measure.
Seacole's relatively recent rise to public notoriety has been crudely mocked by some right-wingers as political correctness at work in the classroom, and their case is bolstered by an unfortunate mythologizing of her scant medical accomplishments. Yet, here was a strong and independent woman of mixed-race, proud of her Scottish father, who spent years tending to the needs of the British regiments stationed in the West Indies. Furthermore, when Seacole heard of the suffering in the Crimea, she volunteered to travel thousands of miles to cater to those same troops she had formerly known. Having been denied the opportunity to nurse by government recruiters, and once more by a public charity, she then resolved to make the journey with her own capital. She sold up in Jamaica, went into business with a family friend, and built a wooden shack only a couple of miles from the blood-stained battlefield, from which she ran a canteen, supply store and improvised rehabilitation center for unwell troops.
Here at her optimistically-titled British Hotel, she won the support and admiration of the soldiers, the locals, the top brass and William Russell, the world's first war correspondent, who wrote about her in gushing prose. Her aim was to provide comfort and care to the officers and men, and she would sometimes assist the injured on the battlefield itself, though she was not a trained nurse like the pioneering Florence Nightingale. When the war ended unexpectedly, Mary was left bankrupt – having naively invested in expensive stock – and took months to return to London, penniless. Yet, was she forgotten and neglected? Not in the least. An enormous benefit was thrown in her honour, attended by the highest echelons of royalty, and her memoirs went on to sell like hot cakes. She died in comfort, as a warmly-welcomed member of Britain's far-flung empire.
So, as well as being clearly not being a 'token black' for the political correctness brigade, I'd like to ask another question – at what point was Mary Seacole NOT an astonishingly courageous and compassionate exemplar of the Big Society? If this Coalition government really is trying to instil more civic pride and individual responsibility in the public, then there are few more compelling icons of altruistic endeavour than a woman who traipsed half-way around the world to support those fighting in her name. Was she a saint? Not at all, and she herself struggled at times to deflect racial taunts by trying to distance herself from those with darker skin, so she might better fit in. Her achievements as a medical practitioner have also been unjustifiably overstated; but her contribution to the Crimean campaign, and British history, were celebrated in her own lifetime by those who witnessed her in action, and should not be ignored in favour of the more traditional military feats of Lord Nelson.
Not every child can grow up to be a talismanic military commander, valiantly defending Britain's independence from a foreign invasion fleet; but informing kids that there were women – women of colour, no less – who were valued for their efforts and compassion is perhaps a more nurturing and progressive way to teach history to the majority of children, many of whom are increasingly of varied ethnic heritage, and half of whom are female. It is for these reasons that I also lament the proposed non-inclusion of Olaudah Equiano, the black slave who became a tireless campaigner for abolition. Our nation's history was not solely made by white people. Contrary to popular belief, there were blacks in Tudor England and Scotland, and by the 18th century they numbered more than 40,000. Many, such as Equiano, served bravely in the Royal Navy – home of Gove's preferred champion, Lord Nelson – and to forget their contribution would be a travesty of factual accuracy, as well as depriving generations of Black children of crucial positive role models from history. Social mobility, and multi-cultural inclusivity, begins with education – it would be dangerous to skew history in schools towards a legacy of uniform whiteness.
The Olympics may have revealed that modern Britain is a multi-cultural success story, but historians have long since said the same thing about our past. Michael Gove has my support if he wants to instil more narrative structure in historical education, but I'll fight him tooth and nail if he thinks neglecting to include black icons is anything other than a terrible idea.
Sunday Mirror

(John Prescott) – 05/01/13: "Michael Gove needs a history lesson": John Prescott says education secretary is dragging Britain back into the past
Out-of-touch Gove is using our school classes to project his narrow conservative view of life on children and grandchildren.
You can tell Michael Gove is a big fan of ­history.
Not only is his Government taking us back to the 1980s with high unemployment and zero growth but he seems to be ­waging a one-man crusade to drag ­education back to the past too.
Back to a time when two-tier education cast kids on the ­scrapheap for not being bright enough instead of bringing out the best in each and every one.
Last year he failed in his ­attempt to bring back divisive O-level and CSE-type exams that would have split our children. So now he wants to literally ­rewrite the history books.
In a "leak" to a Tory-friendly paper it was claimed Gove was going to order teachers to drop pioneers of social reform and concentrate on traditional historical figures to end political correctness.
The proposal also received a very positive editorial from the paper.
When I was Deputy Prime ­Minister, I was in charge of marking the 200th anniversary of the abolition of the slave trade.
But when I went to Bristol, a former slave port, I spoke to Afro-Caribbean pupils who assumed their ­ancestors didn't play a part in their own liberation.
One said: "All we ever see are statues of white people."
They knew ­nothing about Olaudah Equiano, a Nigerian sold into slavery but who raised enough money through ­trading to buy his own ­freedom.
He went on to be a writer and traveled the UK campaigning for abolition. So I spoke to Alan Johnson, who was then Education Secretary, who ­already ­believed the history ­curriculum should better reflect society. We then started to see more people of color and women being ­highlighted in our history lessons.
But Gove would rather Equiano, Crimean war nurses like Florence Nightingale and Mary Seacole, Hull's pioneering female aviator Amy Johnson and anti-slavery ­campaigner ­William Wilberforce were written out of ­history. ­Instead he wants to ­concentrate on kings and ­Oliver Cromwell and ­Winston ­Churchill.
But why can't we have both? Social ­reform is just as important in telling our nation's diverse ­history as wars and conflicts.
From the Saxon invasion to the arrival of West Indies immigrants on the Windrush, the UK has a rich and multi-coloured history that should be celebrated. Eddie Izzard coined it well in his historical documentary series when he called England a Mongrel Nation.
So why is Gove making these changes? You have only to look at his own department to see why.
Only 7 per cent of Brits have been to private school. But in Gove's own Department for Education, 83??per cent of his ministers were privately educated.
This from a man who sent a King James Bible at a cost of £370,000 to EVERY school in England and Wales with his name on the front!
Even God didn't have the cheek to insist on that.
But out-of-touch Gove is using our school classes to project his narrow conservative view of life on children and grandchildren. It's a Daily Pale Male view of Britain where history isn't black and white – just white, male and upper class.
So instead, let's let teachers teach, children learn and make Gove history!
The Guardian

(Hugh Muir) – 06/01/13: Why is Gove trashing Mary Seacole?
Michael Gove wants to remove the 'black Florence Nightingale' from the national curriculum, but why?
Life may unfold in dribs and drabs but put them together and pretty soon you have a narrative. And in much the same way, one can look at the stories of recent days about Mary Seacole, and discern a pattern. Time to knock the black icon off her perch, appears to be the philosophy, and it starts with Michael Gove – who else? He wants the nurse and her exploits expunged from the national curriculum because once she has gone, there will be more time for Churchill, and to learn the names of all of the kings and queens of England.
Time also perhaps for other desirable and modern essentials, such as fagging and Latin. But she's of historical importance, isn't she? No she isn't, say a motley assortment of historians, and guardians of the memory of Florence Nightingale. Into the fray rides the Daily Mail. "The black Florence Nightingale and the making of a PC myth," it says. "One historian explains how Mary Seacole's story never stood up." She wasn't really black, it says. She wasn't really a nurse. She was just a sort of cheery barmaid dispensing bonhomie and medicine. "She undoubtedly did at some point go on to a battlefield dispensing comforts such as wine and doing her best to deal with the odd injury." But, hey, she was no Florence Nightingale.
Spare a thought for Lord Soley, for as chair of the Mary Seacole memorial statue appeal, he has to deal as diplomatically as he can with those who would traduce her memory for their own purposes. On the day of publication, he patiently composed a letter to the Daily Mail challenging the premise of Seacole as a modern-day construct born of political correctness. His letter has yet to see the light of day. He has cross-party support and military encouragement, but with the ongoing resistance to the idea of a statue and now her dismissal from the curriculum, Soley is faced with a fight on two fronts. And there's no need for it, he tells me.
Was she important? Well, the military was quick to honor her. Does she threaten Nightingale? No. Nightingale developed modern nursing and training. Seacole reigned on the battlefield. It's not a competition. And, guess what, it is possible for a person of color to gain prominence for reasons other than political correctness. Gove and co, take note.
New Statesman

(Imran Khan) – 05/01/13: Michael Gove is air-brushing black people out of history
The Tory party's extreme right must recognize that multiculturalism has given Britain the richness and diversity which propelled it into its current place amongst powerful world states.
Black voices are rarely heard in classroom history lessons. Now, Education Secretary, Michael Gove, wants to eliminate the few last visible narratives of black people in British history taught within schools.
According to newspaper reports, Mary Seacole is to be dropped from the national curriculum so history teachers can concentrate on Winston Churchill and Oliver Cromwell. Tellingly, teachers themselves have not been coming forward to offer support for this move. The idea that schools must silence black voices so teachers can talk about Churchill, Cromwell or Nelson is one that barely merits serious argument. But bearing in mind that the abolition of slavery occurred during the lifetime of Mary Seacole in 1840, and the gigantic military presence in the British West Indies – 93 infantry regiments serving between 1793 and 1815 – not to mention her own crucial role, Seacole is ideally placed to mark out hugely significant historical events.
Michael Gove must trust teachers to decide what is in the best interests of children, instead of air-brushing black people out of history. There is no question that historical black role models such as Seacole give children of all races important tools in overcoming racist assumptions about black and Asian peoples' contribution to Britain. Knowing about black history educates all of us, promotes respect and helps to inculcate shared multicultural values.
Mary Seacole was a woman famous mainly because of her services during the Crimean war when she nursed British soldiers. Her story is remarkable not because of the countless lives she saved, or, for the valour with which she served her nation. Of much greater significance is the immense white privilege and patriarchy she fought just to get to the frontline, struggling against resistance from the state. When the war office rejected her appeal to become an army assistant in the Crimea, she decided to come to London anyway. Even though she was rejected by Florence Nightingale, Seacole spent every penny to risk life and limb so she could heal wounded British and allied soldiers. Forced to take loans in order to make the 4,000-mile trip, she traveled on her own, in dangerous times.
Known as "Mother Seacole" by the British military who loved her, 80,000 people, including Major General Lord Rokeby, who commanded the 1st Division in Crimea, turned out to a fund-raising event for her when they heard she was short of funds. Clearly, Seacole had the adoration of several tens of thousands of people during her lifetime, if not more.
Compare this to the current state of affairs. Although the department of education currently seems to be experiencing something of a "Little Britain" sick scene, it was only last year when Seacole was held in great esteem by the Department of Health. In February, the department invited applications from nurses, midwives and health visitors in England to participate in a "prestigious Mary Seacole Awards programme". The aim, of which, was to carry out health care and educational projects to improve the health outcomes of people from black and minority ethnic communities.
Maybe Michael Gove didn't get the memo, but last week David Cameron called for greater respect to be shown towards black and minority ethnic communities. Surely, this is not what the PM meant when he said MPs should "increase their presence in the ethnic minority press." In making these curriculum changes, Gove is out of touch with modern voters, giving the PM a proverbial middle finger, and seriously putting in danger current work to encourage diversity.
As a patriot, Micahel Gove should honor the memory of Britain's war heroes. In 1856 William Howard Russell, special correspondent of the Times and influential journalist, wrote: "I have witnessed her (Mary Seacole) devotion and her courage…and I trust that England will never forget one who has nursed her sick, who sought out her wounded to aid and succour them and who performed the last offices for some of her illustrious dead".
The Tory party's extreme right must recognize that multiculturalism has given Britain the richness and diversity which propelled it into its current place amongst powerful world states. The sooner black and Asian history is told loudly and clearly, the more quickly we can all benefit as a united nation.
Imran Khan is an executive member of Conservative Muslim Forum and a former Conservative councillor. He writes in a personal capacity.
The independent

(Kevin Rawlinson) – 07/01/13: Don't consign Mary Seacole to history, Michael Gove is urged
Petition launched to prevent Crimean War nurse being written out of school textbooks
Leading black Britons have united to urge the Education Secretary, Michael Gove, to abandons his plan to remove the country's most celebrated black historical figure from the school curriculum.
The campaign group Operation Black Vote has launched a petition to demand that Mary Seacole, who cared for soldiers on the front line during the Crimean War, and was as famous as Florence Nightingale during her lifetime, is not left out of textbooks.
"What does removing her name achieve, other than telling those who are racist that they have a point?" asked the writer and campaigner Darcus Howe, who is supporting the petition.
"The Government has been attempting to undermine the few gains that we have made. It is a punishment for the uprisings of summer 2011," he added, referring to the riots 17 months ago. "It is a whole new attitude I am seeing towards blacks. Gove and the others, they all seem to think that we need to be kicked around so that we behave ourselves as backward, West Indian negroes."
Seacole's efforts in the Crimea earned her the adulation of thousands of ex-servicemen, despite her postwar descent into bankruptcy. Her exploits were largely forgotten after her death in 1881, before a successful campaign was launched to ensure that her story was taught in primary schools.
Mr Gove's plan to remove her from the syllabus once again has outraged many black people, including the Labour MP, Diane Abbott, and the Rev Jesse Jackson, the  US civil rights campaigner who also supports the petition. Ms Abbott said yesterday: "Students in this country already learn about traditional figures such as Winston Churchill, Oliver Cromwell and Florence Nightingale. Mary Seacole is simply another such important individual. Not of less significance and certainly not expendable.
"In addition to this, she is one of the most distinct examples of how black history is an integral part of British  history. Michael Gove should be fully aware of the message that this decision sends."
Mr Gove's plan to place more educational focus on such figures as Admiral Lord Nelson and Churchill was revealed at the end of last month. The petition calling on him to scrap  it, which was set up on Thursday, had already attracted more than 1,500 signatures by tonight.
Seacole's exploits were largely forgotten after her death and were brought back into the public consciousness only recently. There are now plans to erect a statue of her in Westminster, and she recently topped a list of the top 100 black Britons.
The London Mayor Boris Johnson, pictured left, first learned of Seacole's exploits in 2005. He wrote at the time that she "seems to have been such a megastar that I find myself facing the grim possibility that it was my own education that was blinkered".
Some historians have argued that her contribution has been overstated for political purposes. But Simon Woolley, the director of Operation Black Vote, said the importance of Seacole's story transcended the debate about race.
He said: "To my reckoning, Mary Seacole is the only person of color talked about not through the sole prism of racism."
Daily Telegraph

(Cathy Newman) – 09/01/13: Will Gove's 'posh white blokes' history curriculum ignore women?
Michael Gove, the Education Minister, has caused controversy with his plans for a new history curriculum, which could mean the only women children learn anything about will be queens, writes Cathy Newman.
As a man not averse to being described as a "neo-con", Michael Gove appears to pride himself on being a good Atlanticist. Today he's making waves across the Atlantic but for all the wrong reasons.
The Rev Jesse Jackson has backed a letter to The Times today protesting about a move – leaked before Christmas – to drop the anti-slavery campaigner Olaudah Equiano and Mary Seacole, who comforted wounded soldiers in the Crimean War, from the new history curriculum.
TheEducation Department's plans, which had been drawn up in the utmost secrecy, werecarefully planted in the Daily Mail over the Christmas break
Mr Gove's "back-to-basics" shake-up, the Mail reported, would see pupils once again studying "the likes of Oliver Cromwell, Lord Nelson and Winston Churchill" instead of "social reformers" like Ms Seacole and Mr Equiano.
Now, I'm all for children knowing about Messrs Churchill and Cromwell etc. In fact, I do find it rather surprising that my eight-year-old is the font of all knowledge (seemingly several times over) about Mary Seacole and Florence Nightingale but so far lives in total ignorance about Winston Churchill.
But the problem with ignoring social history in the new curriculum and focusing on generals and Kings and Queens, is that the only women our children will know anything about will be monarchs. And what kind of role models are they?
This week, we've heard a lot courtesy ofSteve Biddulph about how tricky it is to bring up girls, when they're surrounded by sexualised imagery and the message from advertisers that beauty beats brains every time. If the only women in history they learn about at school are Queen Victoria and Queen Elizabeth (I exaggerate, but you get the point), they're left with the impression that men do the brains and brawn and, unless you're born into wealth and power, women don't get a look-in.
Natasha McEnroe, director of the Florence Nightingale Museum, could barely contain her outrage when I spoke to her this morning. In fact she apologised several times for appearing to "rant" about the apparent exclusion of virtually everyone "apart from the posh white blokes" from the curriculum.
"It's absolutely crucial to have role models that represent society much more broadly. To have somebody like Nightingale who saw what was wrong, combined that professionalism with care and compassion and hard work: she's an absolutely brilliant role model for young women," she said.
There's still time to finesse the list because as an education official pointed out when I called just now, this is just a leak – not Government policy as yet. The final curriculum would, he said, be published "in due course". Perhaps that version will include Churchill et al, without losing sight of women like Nightingale too.