If you're new here, you may want to subscribe to my RSS feed. Thanks for visiting!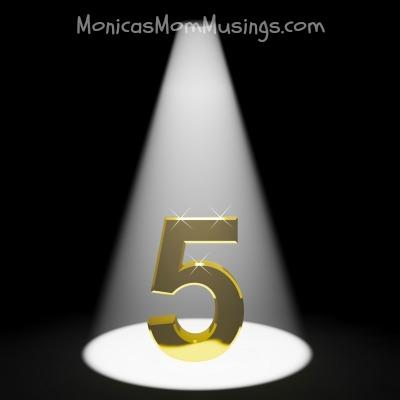 Five is the number today.  The number that's on my mind.  Here are just some whacky and some very serious things about the number 5 and how it relates to my life today, December 6, 2013.
The number five is…
the number of towns or cities I have lived in in my life.
the number of jobs I have had in my 35 years of life.
the number that mine and my husband's birth days add up to (his the 21st, mine the 2nd 2+1+2=5).
the number of children I have, but only 4 I have the privilege of raising.
the number of years it has been since I met and said goodbye to my angel, Celeste Alia.
Okay, and the number five is the number of things on that list.  But yes, it has been five years since the devastating loss of my daughter when I was only 20 weeks along.  That's 5 Christmases celebrated without her, 5 Easters, 5 first days of school, 5 last days of school, 5 summer vacations, 5 yearly family functions all went on in that time without her.
Life goes on.  Maybe it seems I'm dwelling in the past, but not a day goes by that I don't think of that little girl and what she managed to teach me without even taking a breath or speaking a single word to me.
She has taught me…
that loosing a child, no matter what stage of life, is something that stays with you for the rest of your life.
that some people can be cruel, but most really truly do care and sometimes it's the person you least expect who does something to show just how much she cares.
that this can happen to anyone and you can't take the time you have with people for granted.
that not everything in life can go as we plan or want it to, but even in tragedy there is good to be found.
that I am strong and can go on despite the worst possible thing that could happen to any parent.
Those are some pretty good life lessons to learn, especially in such a short period of time with someone.  While I was 5 months along in my pregnancy I really only knew I was pregnant for a month before losing her.  I only spent about an hour holding her, but that time was meaningful and something I will never forget and that no one can ever take from me.
So here I am five years later.  I have four children I get to raise and one beautiful angel watching over us.  I have struggled over the years to find my bliss since this has happened, but I think now on this day I can truly say I have found it.  It took time, but I really do have so much to be thankful for even today on the five year anniversary of  my angel's death.
If you would like to meet her, I shared her picture last year at this time as part of my healing process.  So please go let her know she mattered; she does matter.
Rest in peace my beautiful Celeste Alia.  Thank you for all you have taught me and continue to teach me.  Thank you for watching over all of us the last five years.  I will hold you in my arms once again someday.  Until we meet again, Mommy loves you now and forever!
Photo credit: Image courtesy of Stuart Miles/Free Digital Photos.net