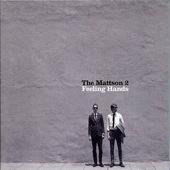 In 1978 I left Montreux right after the jazz festival and arrived by train in Grindelwald.  I was backpacking in the Bernese Alps and planned to stay in hostels. I came to Grindelwald to view the north face of the Eiger.  I exited the train station and hiked down Dorfstrasse to the Mountain Hostel, a gingerbread alpine inn. 
As I neared my destination across the street stood a blonde-haired man in sunglasses, shorts, T-shirt and flip-flops, with a well-used and waxed surfboard under his right arm.  I grew up on the beach in Southern California and immediately yelled out the first thing that came to mind,
"Hey man, where are the waves?"
We talked.  He said he was on a one year holiday from Australia, that he had just finished surfing in Sri Lanka and, now, was slowly making his way to Amsterdam by train.  He had just arrived and had yet to find a place to stay so he was still carrying the board.  We both checked in at the hostel and went out for some beer and darts at a local bar.
The Mattson 2's release Feeling Hands rekindled memories of that bizarre random encounter.  In a way my whole experience was an apt synopsis of The Mattson 2 album.  Feeling Hands is a majestic cross of landlocked instrumental surf and jazz music. Identical twin brothers Jonathan (drums, hand claps, percussion) and Jared (guitar, acoustic guitar, piano, synthesizer, electric bass, hand claps) Mattson, two San Diego beach rats with a love of jazz, channel The Ventures, Larry Carlton and Earl Klugh, mash them all together, and create a unique and enticing sound.  It is surf music brought to terra firma.  To accentuate the point freestyle skateboarders and musicians Ray Barbee and Tommy Guerrero help out on two tracks "Chi Nine" and "Give Inski's."
This is a sound synthesis album and it succeeds in a way very few such albums can.  Think a nuanced Dick Dale meets Chet Baker on his way to grab some breezy George Benson.  It is honest, clean and refreshing, Give it a listen. You won't have to ask where the waves are.  You will be riding one.
- Old School

THE MATTSON TWO from EMBRY RUCKER on Vimeo.