Round one of the 2013 Masters is now in the books, and as expected, it was an amazing day of golf.  The feeling of watching the Masters and anticipating the action to come, gives me goose bumps; I can't' even imagine the pressure felt by the players.  Despite the spotlight, or maybe because of it, many players upped the level of their game today and posted some great scores.  Here's a look at the top 10 after day one:
T1 - Marc Leishman -6
T1 - Sergio Garcia -6
3 - Dustin Johnson -5
T4 - David Lynn -4
T4 - Rickie Fowler -4
T4 - Gonzalo Fernandez-Castano -4
T4 - Trevor Immelman -4
T4 - Fred Couples -4
T4 - Matt Kuchar -4
T10 - Jim Furyk -3
T10 - Zach Johnson -3
T10 - Adam Scott -3
View the full leaderboard here
The highlight of the day was when Jamie Donaldson made a sensational hole-in-one on the sixth hole...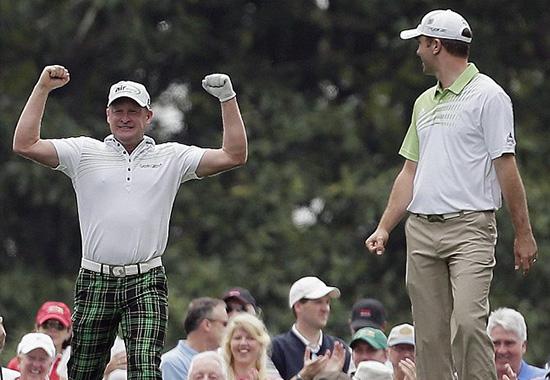 The 37-year-old was one over par by the time he reached the 180-yard, par-three sixth before his amazing shot on the hole known as Juniper.  He became the 24th player to ever get a hole in one at the Masters and the fifth to accomplish that feat on the sixth hole.  Donaldson went on to finish his round at +2.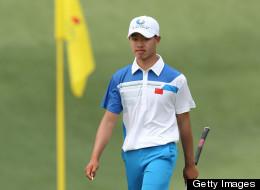 Elsewhere on the course, there were many who were keeping an eye on 14 year old Tianlang Guan, who has become the youngest player to ever compete in the Masters.  Regardless of his score, it's a huge accomplishment just to be competing in this event; but surprisingly Tianlang rose to the occasion and shot an impressive 73 finishing at 1 over par.  That score puts him ahead of players such as Ian Poulter, Louis Oosthuizen, Hunter Mahan and even the defending champion, Bubba Watson. He finished off the round in style, sinking a tough birdie putt on the 18th hole and received a nice ovation from the crowd.  
It was a great start to the 2013 Masters, and I for one am anxious to see whats in store in the days to come. Will we see a repeat Master's champion?  Will youngster Tianlang Guan make the cut tomorrow?  Time will tell.