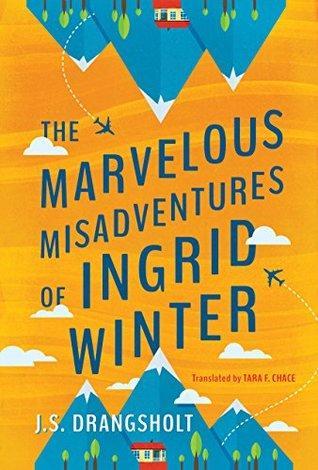 The Marvellous Misadventures of Ingrid Winter by J.S. Drangsholt
Published by AmazonCrossing
Ebook
Expected publication 1 March 2017
217 pages
Kindle First
Connect with the author
WHAT'S IT'S ABOUT
Ingrid Winter is desperately trying to hold it all together. A neurotic Norwegian mother of three small children and an overworked literature professor with an overactive imagination, Ingrid feels like her life's always on the brink of chaos.
Her overzealous attempt to secure her dream house has strained her marriage. She's repeatedly reprimanded for eye rolling in faculty meetings. Petulant PTA parents want to drag her into a war over teaching children to tie their shoes. And an alarmingly persistent salesman keeps warning her of the potential dangers of home intrusion.
Clearly she needs to get away. But Russia? Forced to join an academic mission to Saint Petersburg to promote international cooperation, Ingrid finds herself at a crossroads while drinking too much cough syrup. Will this trip push her into a Siberian sinkhole of existential dread or finally give her life some balance and direction?
OPENING
The marimba ringtone was not to be ignored.
WHAT I THOUGHT
I really enjoyed The Marvellous Misadventures of Ingrid Winter. This book is very funny and I couldn't stop laughing most of the time I was reading it. This novel was hugely enjoyable. I loved Ingrid as a character. She's the sort of heroine I love and can get behind; batty, barmy, mad as a hatter, scatter-brained, thoughtless but utterly lovable. The Marvellous Misadventures of Ingrid Winter ticked all the boxes for me; great story, great characters and great writing. This book is a very funny, spot on take on the trials and tribulation of modern life. I especially loved the chapters towards the end set in Russia where Ingrid hopes to escape the consequences of her mistakes and finds more chaos waiting for her. The cough syrup scenes were the funniest moment in the whole novel.

I'm thirty-five years old and live in Glasgow in the UK with my partner of ten years. I work in a support team for a call centre. I like reading especially Joyce Carol Oates and Stephen King. I write fiction and poetry. I enjoy watching TV (Grimm, Torchwood, Doctor Who, Lip Service, The L Word etc). I like to play video games and am a fan of survival horror especially the Silent Hill franchise. I like to watch movies especially horror and anything where someone dies. View all posts by pamelascott30
book lover's boudoir, book review, contemporary fiction, fiction, first read, J.S. Drangsholt, Kindle First, novel, the marvellous misadventures of ingrid winter