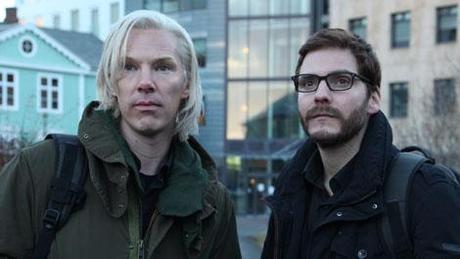 the first image of Benedict Cumberbatch having a stab at the
Julian Assange
role has just crept onto the internet. I like Cumberbatch, I like Assange; what's to go wrong?
Obviously, in light of such obvious propaganda films as Flight 93 and World Trade Center, it all depends on the ANGLE i.e. the two books upon which the film THE MAN WHO SOLD THE WORLD is based upon.
The film is based on two books about the rise to infamy of Assange, who is holed up in Ecuador's London embassy after being given asylum.  
Director Bill Condon said: "It may be decades before we understand the full impact of WikiLeaks and how it's revolutionised the spread of information. 
"So this film won't claim any long view authority on its subject, or attempt any final judgment. We want to explore the complexities and challenges of transparency in the information age and, we hope, enliven and enrich the conversations WikiLeaks has already provoked." [source YAHOO NEWS]
Technically, Assange didn't SELL anything, he put 'secrets on the internet for free'.
Or have I glossed over some career-murdering Waterloo?