There's a world where people have a glass of whiskey right now. The kids are asleep and the wife is watching her favorite show (which somehow isn't her husband's favorite shows). These people now make themselves a drink, go downstairs, and have some ME time. Their men caves start small. Four walls and a TV that wasn't good enough for the living room or the bedroom. Then they start investing--and it is an investment, since taking care of your man cave is an investment in your well-being, which is probably a better investment with better odds of success than any other investment.
They purchase a home theater projector online, connect video to surround system audio, get a nice carpet, a nice desktop--just for games, or maybe the PlayStation 4, pre-ordered months in advance, and don't forget the gaming headphones.
It's weird to think about that--about this world where people have men caves. When you live in a city, like we do in Baltimore, you make sacrifices. There are a dozen cool restaurants that are walking-distance from our house, our neighbors have kids who are the same age as our kids, and we feel a sense of community we wouldn't have been able to feel in the suburbs. But--no man cave.
I know some people have it all, whatever that "all" means. They live in the city, but they also have the men caves with the projectors and the PS4s and the carpets and the framed Radiohead posters they got after they saw them for the first time in 1992. But most of us need to make the compromise. And when we do, we sometimes feel there are parallel us living parallel lives, making other choices.
I love Maryland. I love Baltimore. I make fun of it but I love it. And I love my tiny rowhouse with all its quirks (if the kitchen ceiling leaks every time it snows, does that count as a quirk or as a real pain in the butt? I think when the crack in the ceiling becomes a hole, that's when the quirk becomes a problem...), and I love the sense of community here. We're cool. Our neighborhood was named one of the most hipster neighborhoods in America by Forbes, and you know as soon as you hear the word "Forbes," you think "Hipster." And I love it here, and I definitely don't want to move to suburban little boxes.
But sometimes I feel like that parallel me is having too good of a time with his projector and his shaggy carpet and his whiskey glass, and you know he doesn't have to go far to put more ice, because he has a little fridge in his man cave too. And when I put my face on that man-cave-dweller, well, I can't help but think the real me is missing out.
I can't say for sure which one is my natural habitat. The cave-dweller could be jealous of me and of my hipster neighborhood. He might look at my house and think "Cozy!" He might wish he could walk around and see not just neighbors, but people he's never met before, walking up and down his street. He might look at me, his own parallel city-dweller, as someone who lives an exciting life.
It's all give and take. Maybe if I concentrate hard before I sleep, I'll be able to dream myself into a man cave, and then know for sure what I'm missing. Until that happens, though, I'll be in my hipster neighborhood, looking for parking.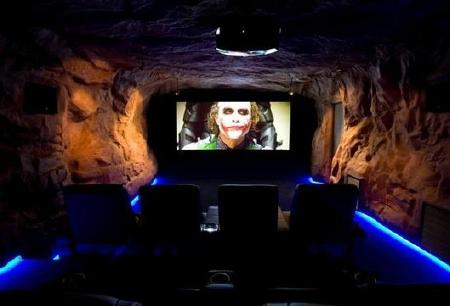 ---

Email This
BlogThis!
Share to Twitter
Share to Facebook