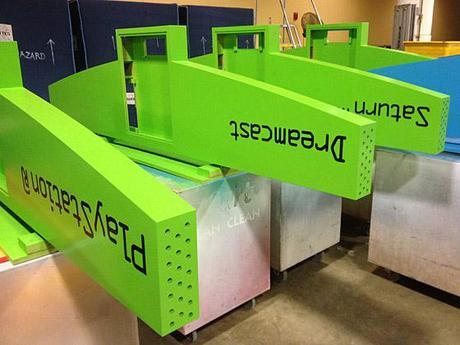 Fabrication is underway for the 20 "genre kiosks" for The Art of Video Games exhibition.
The Art of Video Games exhibition opens in less than two months (on March 16, 2012), so things are getting a little hectic around the museum! Early in January, the exhibits team did a round of testing for the 5 "playable" games that will be in the exhibition (Pac-Man, Super Mario Brothers, The Secret of Monkey Island, Myst, and Flower). The most challenging aspect of these games is that we are running them through original hardware and/or operating systems, including an authentic Pac-Man circuit board!
Fabrication is well underway for the 20 "genre kiosks" that will showcase 80 video games through screen captures and video footage. These are the 80 games that won the public vote in 2011. We were very excited to see how these were coming along! You can see more photos of the game testing and kiosk fabrication on Flickr. We'll continue to add images as we get closer to the opening, including photos of installation in the galleries.