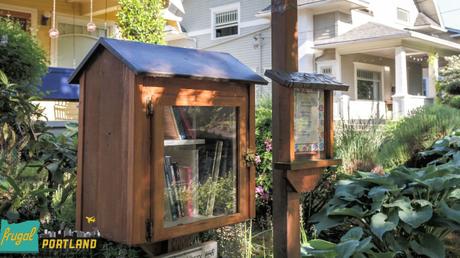 If you haven't seen Portland's little free libraries yet, you need to start walking around our lovely neighborhoods more (Gardens! Yard art! Sparkly Portland magic!). These priceless gemstones in Portland's crown are labors of love installed and filled by your most neighborly neighbors. Located along sidewalks on posts in people's yards all over our fair city, Little Free Libraries are glass-fronted boxes full of FREE BOOKS. Why bike all the way to Multnomah County Library when you can just walk to the corner?
Most of the libraries in Portland are registered, official libraries (http://littlefreelibrary.org – and there's a map!). The motto of these adorable receptacles of free entertainment is "Take a book. Return a book." It's that simple, and it's old-school honor system. Doesn't that make you feel all warm and fuzzy? And if you realize your personal shelves are a bit too full of books you've already read or know darn well you'll never get around to, you can bring Ulysses, War and Peace, and Crafting with Cat Hair to your neighborhood library box and know the love will keep floating around Portland like a vast cloud of generous, Pacific Northwesty literary good karma.
There is a serious charm to the library boxes themselves, too. From Little Free Library's website, folks can order from over two dozen cute-as-heck prefab libraries, although this being Portland, quite a few are handmade artworks on their own. Some sport recycled materials, some mosaics, some… just use your imagination. Or better yet, take a walk. At least one also has a tiny-cool-object-loan area, too.
Visit your neighborhood micro-library and you just might find something you never would have sought out, but actually NEED to read. Trust your neighbor. One book, traded in over and over for new books, will one day leave you so well-read and enlightened that you will have no choice but to install a Little Free Library yourself. It's a beautiful day in the neighborhood.