The classic white diamond will always be timeless, but there's something surprising and tantalizing about colored diamonds. As special as diamonds are, the rarity and uniqueness of a colored diamond seem to raise the feeling of exclusivity just a bit more. Pink, yellow, red, brown, blue, orange, black... diamonds come in an impressive range of colors.
Each is able to hold its own, but some colors just seem to go together: black and white, green and yellow, pink and blue... The last two always seem to be paired together, traditionally used to represent the genders (although these days, we're a little more enlightened).
White, gray, brown, and even yellow diamonds aren't as short in supply as most might think; important size, intense color or whiteness, and near-perfect clarity aside, that is. Pink and blue diamonds are exceedingly rare - often fetching over 20 times that of a comparable white diamond. While formed exactly the same way as their clear cousins, pink diamonds are exposed to even more intense heat and pressure, until, over time, their crystals become more like the long, linear grains of wood. These tightly compressed grains filter out all but pink light, giving the diamond its hue. Blue diamonds, on the other hand, get their color from traces of boron in the carbon. Blue diamonds are the second rarest color, after red.
It's not hard to find evidence of our fascination with pink and blue diamonds - the red carpet and record-breaking sales that make international news provides us with all the inspiration we could ask for:
Getting your hands on something even close to something like these impressive, heart-stopping pieces might be on your aspirational wish list, but until then, there's a way to get (or give) the look for less:

Blue Nile and have partnered together for a limited-time, exclusive blue and pink lab-grown diamond capsule collection set in 14k gold. Thanks to leading lab technology, every stone is produced with a guarantee of VS clarity and a cut grade of Very Good.
Add extra meaning to a gift for yourself or someone else with a pink or blue diamond - a subtle, unique, and sentimental way to celebrate a birth, graduation, or other milestones, or just to show love and appreciation for a sibling, parent, partner, or child.
Share your thoughts on pink and blue diamonds with us!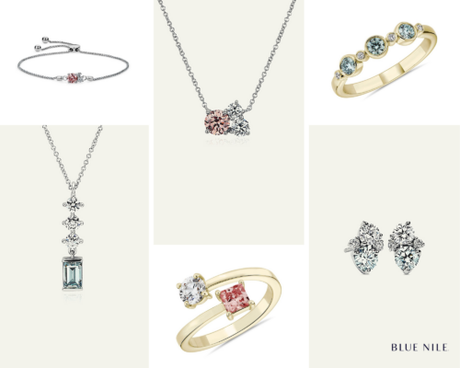 This post is sponsored by Blue Nile.
Blue Nile is proud to offer PriceScope members an exclusive 10% off regular-priced jewelry at BlueNile.com with the code: PRICESCOPEHELP. (Exclusions Apply)