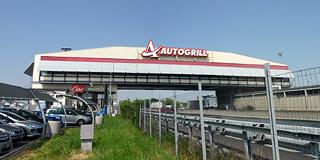 If you are Italian, or if you have driven around Italy, you are probably familiar with "Autogrill" as a chain of restaurants that serve the highways all throughout the country.
But even if you are unaware of Autogrill, every time you travel you are actually exposed to the
Autogrill Group
, a catering giant that runs several licensed franchises (including Burger King, Pizza Hut and Starbucks) in the airports, train stations and ports of over 40 countries worldwide (including USA, Canada and Australia).
Even though the Autogrill Group is based in Italy, to most Italians "Autogrill" is just the generic name of the restaurants located on the highway - even of the ones that are run by the competition (e.g.: Chef Express,
Ristop
), or that are branded differently because of their size (e.g.: Ciao, Spizzico). And this despite the fact that Autogrill restaurants are nowadays common also in major city centers. The Autogrill name is so universal that in the rest of this article we will also use it as a synonym of
highway restaurant
.
Italians like Autogrill because it's familiar and reliable, because it's good value for money, and because it can be conveniently accessed
without leaving the highway
. This detail is particularly important, given that most Italian highways are toll roads and exiting them requires the drivers to go through the time consuming pay booths. Foreigners like Autogrill because it involves very little interaction with (Italian speaking) staff, and because of the high quality of its food, especially compared to the greasy North American road-side restaurants.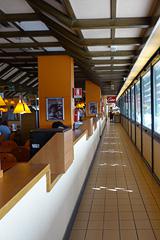 The bridge-style Autogrill
(above), from the inside.
All Autogrill are located in regular service stations. The smaller ones may consist of just a coffee bar and are generally only moderately busy. The larger Autogrill, and particularly the bridge-style ones (which go across the entire highway and are accessible from both travel directions), can instead attract large amounts of customers, especially around lunch and dinner time. They are structured for maximum efficiency and divided in three main sections:
A mini-supermarket with snacks and regional foods (such as olive oil, dried pasta, wine, cheese, cured meats), over-the-counter drugs, toiletries, music CDs, batteries, newspapers and magazines; tobaccos and pre-paid phone cards can be purchased at the cashier.
A coffee bar which sells espresso drinks, pastries, and (often) grilled sandwiches ('panini', in Italian, plural of 'panino'), such as Camogli (made with focaccia, Italian ham and swiss), Rustico (with pancetta, smoked provolone and tomatoes) and Fattoria (with speck and fontina cheese).
A separate cafeteria-style restaurant.
The restaurant is, in its turn, divided in two sections: the actual self-service (which ends at the cashier), and a sitting area where the purchased meal can be consumed.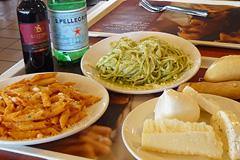 A meal for two: penne all'arrabbiata,
linguine al pesto, cheese plate,
red wine, sparkling water and bread.
When entering the self-service, each diner takes a tray and loads it with what they prefer. Drinks (including beer and wine) are directly available for pickup, and so is a fairly large selection of cold dishes (appetizers, sides, fresh and aged cheeses, freshly baked bread, fruit and desserts). Hot courses are instead plated to order by an attendant. Most Autogrill offer a choice of two or three first courses (e.g.: pastas and risotti) and a couple of second courses (e.g.: meat and fish). After filling the tray, the customer brings it to the cashier who often offers to add an espresso to the bill (the coffee is meant to be had at the bar after the meal). The sitting area is basic, but comfortable. The tables are kept clean by staff (though racks for used trays are provided to the customers), dressing and condiments (oil and vinegar, salt and pepper) are available, as well as cutlery and additional napkins. Occasionally, microwaves ovens for re-heating are also provided; if they are missing, plastic heat-keeper domes may be available to help keep plates warm.
In conclusion, Autogrill is dear to the Italians and very much part of their collective imaginary. Every aspect of this Italian icon reflects the spirit of Italy, from the mini-supermarket that resembles the neighborhood shop, to the traditional coffee bar, to the family-style food served in the cafeteria. For those rushing through Italy in their first European trip, Autogrill can give a pretty good snapshot of Italy and of the Italians and shouldn't be missed.