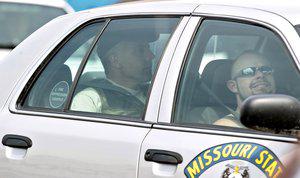 (JILL TOYOSHIBA/Kansas City Star)
Justin Ray Heller (right) smiled for the media after surrendering to police in Kansas City. Heller is suspected in a spree that started in Cameron and featured two car chases, a foot pursuit, a trooper's stolen gun and a standoff.
The Kansas City Star
has the full story and a video.