No-one Wants to Leave League One
At least it seems that way. Last week I commented on how tight it was at the top of League One, but the 'anyone can beat anyone' philosophy in this year's League One is pretty extreme. Bournemouth were flying until they hit top spot, but after losing six-pointers against Sheffield United and Coventry this week, they've lost three in a row and slipped outside of the play-off places. Sheffield United then drew with mid-table Leyton Orient, to slot into second behind Doncaster Rovers. At the weekend Doncaster came from behind to draw against Yeovil, then needed a stoppage time winner to beat relegation-troubled 10-man Shrewsbury.
Swindon, without Paolo di Canio's significant back-room staff and managed by two of the playing staff,  lost to Bury. Tranmere, who'd previously lost four in a row, picked up a massive 5-1 weekend win over Colchester before drawing with Notts County. Brentford picked up four points, and Yeovil, who'd won eight in a row before being held by Doncaster, then lost to Colchester.
It really is crazy how inconsistent and unpredictable the top of League One is. Of course, to differing extents, they all have their reasons. Bournemouth's run of 50 points from 63 after Howe returned, in addition to their huge resources, have seen them installed as title favourites, which brings its own pressure. Sheffield United seem to have been paralysed by the realisation that they'll be in financial trouble if they don't go up this year; Swindon currently have literally no first team coaching staff; Doncaster are adjusting to life under a new boss and Tranmere's small squad has been disrupted by injuries and loan recalls. The top seven are currently separated by four points, with fifth through seventh separated on goal difference by two goals.
The battle at the other end of the table is just as intense.
Stevenage are eight points above the relegation zone but having won just three games in 17 (and lost five in a row) they're falling downward, and lost to Shrewsbury and Scunthorpe this week. Oldham beat Portsmouth before taking midweek off for an FA Cup replay; Scunthorpe lost to Hartlepool before beating Stevenage. Colchester (as mentioned above) lost heavily to Tranmere before beating Yeovil, the division's form team; Bury decided their Friday night 4-1 defeat to Notts County was quite enough bad form, and picked up their second win in 14 over Swindon; and Hartlepool won twice to draw level on points with third bottom Bury.
Portsmouth have picked up one point from two games, extending their winless run to 23 games, putting them 12 points adrift. I may have been wrong in saying Hartlepool were already down but I'm pretty sure I was right on Portsmouth.
While I admit it's a slightly arbitrary cut-off point, League One's bottom eight picked up more points than the top eight on Saturday and did the same again on Tuesday.
Released After One Day?
As well as Bury's relegation struggles (in the relegation zone non-stop since September 1st) and bad form (their midweek win over Swindon was their second in 15 attempts), Bury have been involved in a weird story which saw Jeanvion Yulu-Matondo signed then released within 24 hours.
But the player later contradicted the story released by Bury, saying
"At no stage was I told I was not good enough or otherwise. The club have tried to dress this up into something that it isn't in order to protect their own reputation and to cover up their own financial policy.

…

"I was first invited to Bury in mid-January this year (2013). I saw it as a short term stepping stone to get me noticed in English football. Having played at the top level in good continental leagues and also in the Champions League, at only 27 years of age, I still have bigger ambitions than League One in England and Bury were very aware of that from the start. "General terms were agreed with Bury before I first went there. Half way through my stay at the club, Bury offered me much less than what they had originally promised me . This was far from ideal as we had agreed terms two weeks prior to this but in order to fulfill my ambitions of playing at a higher level In England, I agreed to this as it was only ever going to be a relatively short term agreement.

…

"The club told me they were very happy with me and wanted me to stay. However, there was one big problem with  the deal they were now offering me……they said I had to play for nothing, zero! Bury FC said they would not pay me even one pound a week. That was bad enough but they went on to tell me that I would also have to pay for all of my own expenses including accommodation, food and travel!
It did seem unusual that an offer would be made then withdrawn so quickly, and Yulu-Matondo, a 27 year old former Belgian U21 international,does seem in theory to be god enough for the third tier.
Bury's belief that an unpaid offer would be accepted was perhaps inspired by their success with Tom Soares, who moved from Crystal Palace to Stoke as a bright young thing five years ago. Soares, released by Stoke in the summer, initially joined Bury on a non-contract basis in November, before signing a paid contract earlier this month, lasting until the end of the season. But, if anything, Yulu-Matondo seems to be a higher class of talent, having made 42 appearances for Club Brugge and 80 for Roda JC, scoring 11 times in the Belgian and Dutch top flights for each.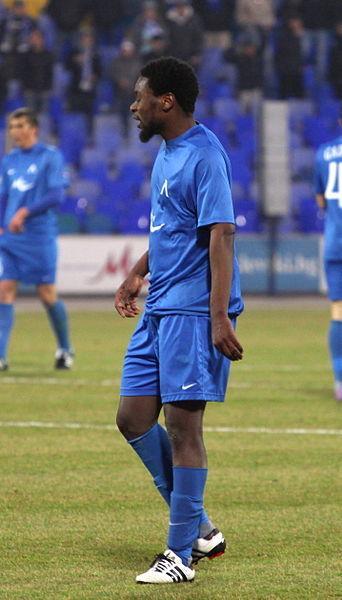 Yulu-Matondo when playing for Levski Sofia. Courtesy of Biso
Soares appears to have been strung along because of the club's financial worries, and the same may have been the case with Yulu-Matondo. Maybe they initially intended to pay him the higher wage but later found out it wouldn't be practical. But claiming they had made the choice to release the Belgian smacks of trying to protect their own reputation at the expense of a guy who worked hard to try and earn a place at the club.
What's Happening At Meadow Lane?

Chris Kiwomya's record since taking over as caretaker manager at Notts County doesn't look outstanding. Of his five games so far, the Magpies have drawn three, winning and losing one each. The fact that his one defeat was against free-falling Stevenage is probably the most remarkable part of that run. So the fact that Notts County have announced he will be allowed to remain in charge until the end of the season is a little puzzling.
It could be a show of faith for a loyal employee (the former Ipswich forward has been youth team manager since 2011) but given that Keith Curle and Martin Allen were both sacked when the club was far from in crisis, it seems a little unusual. One theory that makes sense to me is that County are hoping to lure former manager Neil Warnock back to Meadow Lane, with his grip on the Leeds job seeming increasingly insecure. But if so, it seems a forlorn hope – it seems that the proud Northerner was lured into commuting to Leeds from his Cornish home only by the opportunity for one last shot at the top flight. It seems that, if he departs Elland Road, Warnock will probably scale down his ambition, spend time with his family and wait for the Plymouth, Torquay or Exeter jobs to become available.
Of course, it's perfectly possible that Kiwomya has a stronger reputation within the club than I'm giving him credit for, and given chairman Ray Trew's public disappointment that the club's league position hasn't matched their wage bill he may well have seen wisdom in selecting a man with the skills to select and develop youth talent between now and the end of the season.
Time to Concentrate on the League
Odds are you've at least seen the highlights of Bradford's defeat in the League Cup final on Sunday. Like many, I would have liked to see the Bantams play a more open game, with their approach much more defensive than in any of their earlier upsets. But given that the cup final was as big a deal for Swansea as for Bradford, there was only ever a minimal chance of City snatching victory. A thoroughly unromantic end to their cup journey shouldn't undermine the romantic nature of the whole. Two days later, Oldham's FA Cup run ended with a replay defeat at Goodison Park. Although Jose Baxter struck the post for Oldham when 1-0 down, they were unable to get back into the game, finally losing 3-1, a still respectable scoreline.
The cup runs appear to have had opposite effects on the two clubs' league form.
Bradford have slipped well out of the League Two play-offs in recent weeks, while Oldham have won three league games in a row under caretaker manager Tony Phillisirk to move out of the League Two relegation zone with games in hand. Bradford are now 10 points outside the play-offs (with games in hand) while for Oldham the cup run appears to have restored pride and lightened the atmosphere in the midst of a relegation battle. The money brought in from prize money for progression and television appearance fees have enabled both clubs to pay off debts and to add a few new signings at the end of the transfer window. Lower league clubs in the latter stages of the major cups are one of the few times in the modern game where romance and practicality naturally co-exist.
Southend vs HMRC
Southend are due in court on March 18th, facing a winding up order from Revenue and Customs because of unpaid taxes.  Fans are blaming chairman Ron Martin's placing the tax-man last when paying the bills – the same has happened in August 2010 and February 2011, with an agreement being reached only after legal action each time.
Unlike other clubs who've gone into administration to allow them to pay smaller percentages of their non-football debts, each time Southend have eventually paid their tax bill in full. A few weeks ago I took the side of Notts County when they were taken to court by HMRC, and Simon Jordan has claimed HMRC's inflexibility ultimately harmed both Palace and HMRC's interests. But it's the actions of clubs like Southend and chairmen like Martin who've more or less poisoned the well, and encouraged tax officials to look down on the football industry.
In each case, the blame has been put on 'cash flow' problems rather than anything more systemic, with a series of postponed matches at the end of the year also causing problems. Southend's difficulty in selling Ryan Hall (he was loaned out to Leeds for several months before The Whites decided he was worth paying for), and Bilel Mohsni, by walking away from Southend and from trials  had more or less made himself unsellable.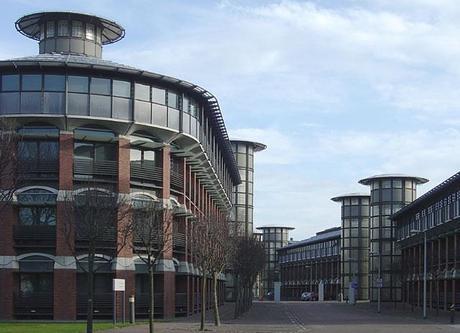 The home of HMRC, Southend United's arch-rivals. Courtesy of Alan Murray-Rust
One uncomplicated financial boon on the horizon is the forthcoming Football League Trophy final. The equivalent match has, since it's return to Wembley, always attracted more than 40,000 and regularly more than 55,000. Crewe and Southend aren't teams with fan bases as large as some recent finalists, but the money from the Wembley appearance on April 7th should keep the wolves from the door a little longer.
Great Scott?
Following Dean Holdsworth's sacking on the back of four points from two games, Andy Scott was quickly appointed as Aldershot manager, just two days later. His reign began against promotion chasing Fleetwood, in theory a tough start. But Fleetwood hit the post then committed two red card offences (first for pushing an Aldershot player to the ground after a dangerous tackle, the second for a foul denying a goalscoring opportunity) to help ease the new man into his first game in charge. Danny Hylton scored twice (the first a scrambled goal against 11 men, the second a pacey burst through the remaining nine men) to win the game 2-0, a result which was followed up with a draw against Chesterfield.
Andy Scott looks a smart appointment – he led Brentford to promotion into League One, but was unable to put together a team worthy of challenging in less than a year at Rotherham. He comes across as intelligent and level-headed, with success and disappointment in the past few years.
Life Goes on at Torquay
With Martin Ling away from Torquay because of an unspecified illness, former Bury and Scunthorpe manager Alan Knill was brought in as interim manager last week, with Ling unlikely to return this season.
Ling led Leyton Orient to promotion in 2006 and Torquay to the play-offs last season. But defeats to Port Vale and Wycombe in Knill's first two games in charge mean that Torquay have now lost seven in a row and have won only once in the last 14 games, leaving the Gulls onlyone point above the relegation zone. While it goes without saying that Ling's sickness is a more important issue, everyone at Torquay will need to pull together to make sure his hard work isn't undone in his absence.
John's Still Ambitious
Another, more surprising managerial move is John Still's departure from Dagenham & Redbridge, dropping down a division to take charge at Luton Town.
The Sun's claim that Still will be paid more than £200,000 a year and that the move is worth over £1 million over the three and a half year contract sounds extremely fanciful, only given any weight by the fact they seem to have been the first news outlet to see the move coming. Dagenham & Redbridge, wanting to help a manager who's given them a lot, have agreed to take compensation based on future performances so it's probable that Still's "contract worth more than £200,000 a week" won't be a flat £4,000 a week, even if the Sun's reporting is anywhere near the truth. (Though it's hard to be sure of wages at this level, I'd be surprised if more than a handful of League One managers are paid that much.)
Still is an experienced manager, who's been around the dividing line between professional and semi-pro management for the last 30 years. During that time he's taken charge of Peterborough and Barnet, as well as a host of non-league clubs (most of them having being folded via a series of mergers into the club who have became Dagenham & Redbridge). During that time he's won the Conference twice, as well as picking up three other promotions at various levels.
Still seemed to have settled in at Dagenham & Redbridge, where he probably more or less had a job for life. He had been in charge for nine years, during which he led them into the league for the first time and even into League One for a year. But the higher up the league ladder The Daggers have climbed, the more difficulty there is in competing with richer clubs. Dagenham have only five times this season hosted attendances above 2,000 (four of them against teams from in or around London), and have had an equal number of league matches with fewer than 1,600 present. While the official announcement of Still's departure credits him with having made £2 million worth of sales during his nine years, they have never paid more than £15,000 for a player.
By comparison, Luton's attendances haven't dropped below 5,000 at home and at the turn of the year they signed York midfielder Jonathan Smith for £50,000. Still and Dagenham are to be applauded for establishing themselves as a league club with relatively minimal resources. It's understandable that, for his own reward and for the ease of finding and luring appropriate players, Still would be attracted to Luton.
Dagenham's official announcement of their long-standing manager's departure was frank but dignified and respectful – the board making clear their disappointment, but clearly grateful to a man who had given their club so much.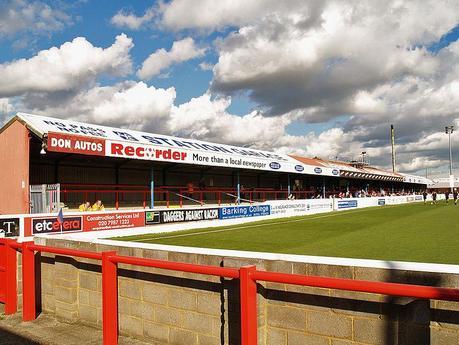 The London Borough of Barking & Dagenham Stadium, when it was simply known as Victoria Road. Courtesy of David Ingham
Oxford's Wonky Crossbar
It's not a sight you often see in professional football, but prior to Oxford's game at home to York at the weekend, the officials belatedly discovered the goalposts hadn't been put in place correctly and weren't level. The ground staff had to remove the posts, resulting in the kick-off being delayed for five minutes. It's a slightly embarrassing oversight from a professional club, but nowhere near as bad as Blackpool's pitch…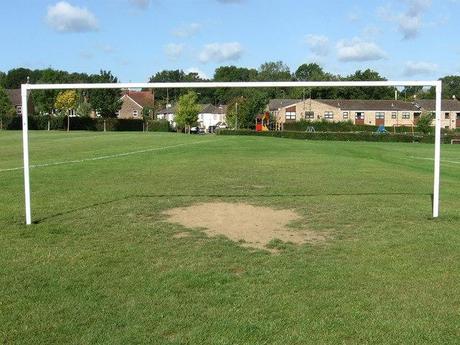 How a set of goalposts should look. Courtesy of Simon Carey
What do you think about what I have to say about your club? Are those mentioned under-appreciated or overrated? Did I miss someone or something that should be covered? Spread the word if you enjoyed what you read, or join in by commenting below, or find me on Twitter @Joe_Bloghead
Born Offside