The FA Cup
The weekend of Saturday 5th was FA Cup Third Round day, the point in the world's oldest cup competition when lower league and non-league clubs meet sides from the top two divisions for the first time. It's the smaller clubs' chance of glory, or failing that, at least a decent chance of a payday. When the glamorous and unglamorous sides meet for the first time, the old argument as to whether the cup has lost its glory comes up. Despite Alan Pardew selecting a team that made it clear Newcastle prioritised reaching 17th in the Premiership over going for glory, there were dramatic stories to be told elsewhere.
At Oldham, Paul Dickov is in a bit of a strange situation. In recent weeks, his backroom staff has been cleared out against his wishes, with the assistant manager, reserve team coach and fitness coach all placed on gardening leave.
The chairman has said that the chemistry in the coaching staff was wrong. But if they don't trust the manager to appoint his own people, they're saying that they don't trust his judgment in a quite fundamental way. It was to the backdrop of being undermined in this way that Oldham came from behind through Robbie Simpson's brace – first a long range strike, then a looping header from a cross. Shortly after Danny Collins was sent off and a Dickov summer signing, Jose Baxter, converted the free kick. In the fifth minute of stoppage time, a piece of clever movement and a beautiful strike from Billy Sharp wasn't enough to keep Nottingham Forest in the match, Oldham progressing 3-2.
Macclesfield, going by both the statistics and the lengthy televised highlights, had a fair portion of the match pressure against a weakened Cardiff team. But against a club with one of the best academies in the country, their 2-1 victory was still worth celebrating.
Luton, but for an early Kevin Doyle chance were utterly dominant against Wolves, with an Alex Lawless volley giving them victory.
Meanwhile, Bournemouth took the lead against Wigan through a long range strike from Eunan O'Kane and were denied what's been described as a clear-cut penalty (one which the ITV cameras didn't deem worthy of broadcast), only to have one awarded against them. Jalal saved from the shot, but wasn't able to get up in time to stop Gomez slotting home the rebound.
While it wasn't the sort of upset that sends shockwaves through the football world, Aldershot, struggling at the foot of League Two, overcame promotion challenging Rotherham, having raced into a 3-0 lead in the first half. Rotherham were able to pull a goal back from the penalty spot, but nothing more – proof that they shouldn't have been struggling so badly.
Crawley have a recent history of upsets, and took the lead against Premier League strugglers Reading after just 14 seconds.  However a strong Reading side were able to come back to win 3-1, meaning that for the first time in three years, Crawley won't make it to the Fifth Round of the Cup.
Of course, there were other games that not only failed to produce an upset, but which were fairly routine. League One leaders Tranmere lost 4-0 at Derby, and despite pressing well at times, League Two challengers Cheltenham were comfortably dismantled 4-1 by a strong Everton team.
Coventry, a little down on their luck at the moment, tried without success to repeat one of their glory days against Tottenham, conceding three goals in the first half.
Liverpool's trip to Mansfield's Field Mill was fairly routine until Luis Suarez/a refereeing failure gave the tabloids the kind of melodrama they'd prefer to discuss.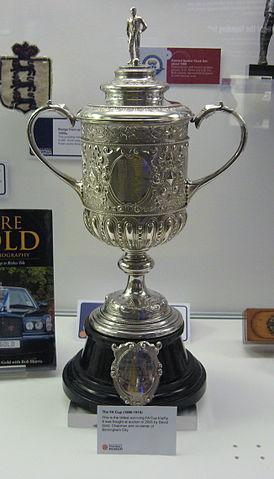 The oldest surviving FA Cup trophy on display at the National Football Museum. The trophy was used between 1896 and 1910, replacing an earlier trophy which was stolen and never recovered. Courtesy of OldElPaso
Of course, the teams selected by Newcastle and Cardiff prove that the FA Cup isn't valued as highly as it once was. But with two teams from the Conference defeating sides three leagues above them, an out of form Oldham picking up a surprise win, and a resurgent Bournemouth finding out just how far their improvement under Eddie Howe goes, the Third Round still provided enough drama to be worthwhile.
Wolves Appoint Saunders
With Wolves beaten fairly comprehensively by Luton, underachieving manager Stale Solbakken was sacked that evening. (Though for what little it's worth, it appears he was sacked with a phone call, not a text message as was first reported). Wolves acted quickly to bring in Dean Saunders, who had steered Doncaster to second place in League One.
As I've made clear recently, I'm a fan of Sean O'Driscoll, Saunders' predecessor at Doncaster, whose teams play football the way the national media term 'the right way' – a patient passing game. But as much as I enjoy this style, I'm not arrogant enough to say it's the 'correct' style of play and that all other styles are wrong.
Saunders' style is a more blood and thunder approach. It's what you'd expect when you see that the forward line often consists of big men Chris Brown and Billy Paynter, while their defence includes 6'7 former Hibs and Leeds center half Rob Jones. Doncaster have been successful this season and not just in a pragmatic sense – the fans seem to be enjoying the football on show. Fanzine editor Glen Wilson has said that many of the fans consider Saunders' style more dynamic and exciting than his predecessors. While a lot of the attacking play under O'Driscoll was built around right-winger Jamie Coppinger, David Cotterill, his replacement, is as exciting a talent as seen under O'Driscoll and has already grabbed 10 goals this season.
But on the other hand, Saunders was appointed in October last season, so has to take his share of the blame for relegation, even if the destabilising influence of Willie McKay's shop window experiment has been widely blamed.
It took Saunders a while to get going in his first job at Wrexham as well, taking one of that league's top clubs to 10th and 11th in his first two years in charge, before achieving a more respectable fourth in his third season as boss. Saunders won't win many friends by walking out on a club who's stuck by him through a sticky start for the second job in a row, but it could prove a good move for Wolves.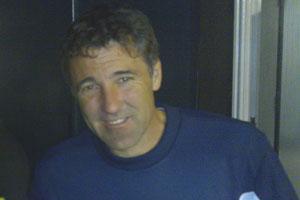 Dean Saunders. Courtesy of Stew Jones
O'Driscoll had been linked with a return before being appointed by Bristol City. But Saunders took a while to impose his style, allowing several O'Driscoll stalwarts to depart in the summer. Ball-playing midfielders Brian Stock and Simon Gillett left for Burnley and Forest while George Friend went to Middlesbrough. Saunders has instead assembled a squad of players more suited to his style of play, meaning O'Driscoll would have been the wrong choice to build a team with these players, even if he were interested.
Good Times At Port Vale
Port Vale's 4-0 win over Plymouth on January 5th kept the Valiants up near the top of the table – it was their third win in four and fifth in nine.
Now that they're out of their transfer embargo, they've been able to strengthen the squad that took them to second place in League Two. Signings in the lower leagues generally mean picking up unknowns or out of form youngsters from the reserves at higher league clubs, maybe one 'sure thing'. But the Valiants have been able to strengthen with a series of players who, to a League Two team, are tried and tested players.
First in was Chris Birchall, a signing who has extra meaning to Port Vale. The Trinidad and Tobago international was due to return to Vale Park last February, only for a transfer embargo to mean Vale couldn't add to their squad. Instead he returned to play in the States for Columbus Crew but has now made his return.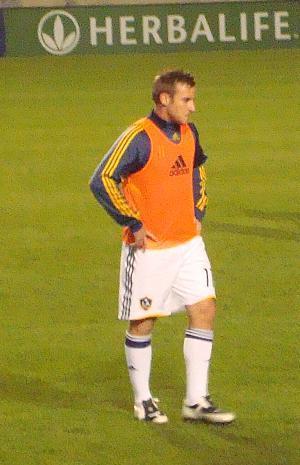 Birchall in a pre-match warmup while at LA Galaxy. Courtesy of Css71588
Lee Hughes was a regular presence on the Notts County bench a division above and grabbed just under a goal every second game at County. The non-footballing side of signing him is well known but the fans appear to be supportive.
Plymouth captain Darren Purse, placed on the transfer list last month because of his wages, was added to strengthen the defence and there are rumours of Rob Earnshaw coming in from Cardiff, a very ambitious target. Port Vale are even playing a part in a national ad campaign – the kid in the latest Money Supermarket adverts wears a Port Vale shirt.
Given the length and breadth of the pessimism at Port Vale, it was an extremely positive way to prepare for their match on the 12th – a six-pointer against Gillingham.
Portsmouth… Oh Boy.
Events at Portsmouth are extremely complicated – requiring a full article in it's own right. With the long-predicted revolving door of players leaving the club finally starting to come into effect. Portsmouth are still managerless (Guy Whittingham has been caretaker manager for longer than Appleton was manager at Blackpool) and a replacement won't be appointed until after the court case at the end of the month.
When the 10 point deduction finally kicks in, Pompey will go bottom of the league, below even runaway bottom side Hartlepool.
Dons Need Goals
One of the earliest departures from Fratton Park was Izale McLeod, who rejoined former club MK Dons. The problem the Dons have had this season has been the same as in recent years, only more so. Despite playing some good football, they've struggled to convert possession into chances, the problem being at its most extreme in an FA Cup match at Cambridge City.
Shortly after, they went on a run which may have represented a false dawn, winning six from eight in the league and getting through a tricky tie against AFC Wimbledon.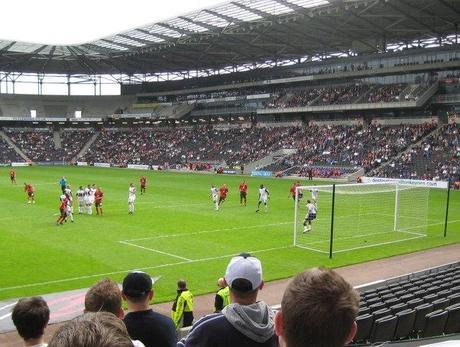 MK Dons playing out an end-of-season bore draw. Courtesy of Nigel Cox
Ryan Lowe was signed in the summer rather than free agent McLeod, who scored 14 and 22 in his two seasons at Barnet and had scored 60 in three years in his previous spell with the Dons. Like MK Dons, Lowe started slowly, finding himself offered out for loan. But he made his way back into the first team, going and at one point scored five in six (all singles).
Karl Robinson has decided the area needs strengthening and as Dons have scored one or nil in 15 of their 26 games, it's hard to argue. Despite being very much a specialist goalscorer, who some Portsmouth fans had taken against for his lack of support play, McLeod had 10 goals in half a season for a struggling side.
A Madden-ing Choice to Sell
Paddy Madden signed for Carlisle from Ireland in January 2011. Finding himself down the pecking order, he scored only one goal in three appearances for the first team this season before being loaned out. His spell at Yeovil was successful by any standards, grabbing nine in 15 before the Glovers made the move permanent.
Madden has scored braces in both matches this year and marked his permanent transfer with both goals in a 2-0 victory over Sheffield United at the weekend, including a second that could be politely described as a poacher's goal. (Young goalkeeper George Long appears to have had a brain fart, but Madden closed him down well.) Carlisle and Yeovil are both the kind of ambitious but moderately resourced clubs who need to be clever to push into the playoffs, so to see such a clearly talented goalscorer allowed to move from one to the other is a little unusual.
Sack The Message Board
With the transfer window opening, there'll be a lot of fans calling for their chairman to dip their hand into his wallets. Most won't. There's as much chance of this being met with understanding as you are to find a millionaire on a club messageboard. But strange things do happen – Notts County chairman Ray Trew this week posted on Notts Mad.
In a short message, he defended the size of his investment and the size of the wage bill, which as you can imagine, went over… quite well actually.
Despite ending last season well with eight wins from 14 after Keith Curle was controversially appointed to replace Martin Allen, and starting this season with four wins in five (one defeat in the first nine), Notts County have fallen away and are currently sitting in 14th. Keith Curle's record prior to taking over at Notts County wasn't great and there have been rumours that Curle will be replaced by someone with a more entertaining style of play. With the falling crowds being one of Trew's main complaints, it's certainly possible.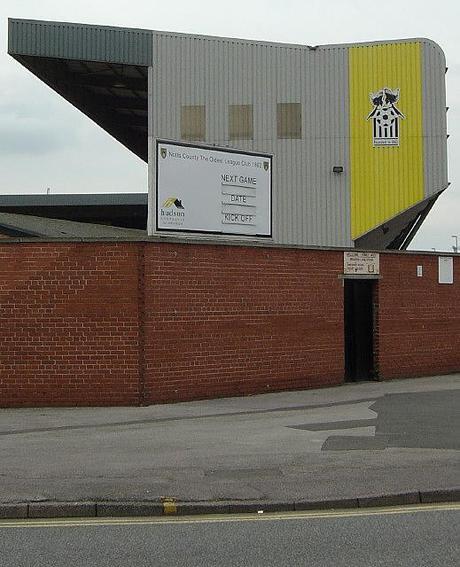 Time for change at Notts County? Courtesy of Alan Murray-Rust
A New Pilgrim Leader
Carl Fletcher was sacked by Plymouth on January 1st, and this week saw John Sheridan appointed to replace him.
In recent years Sheridan has been in charge at Chesterfield, who he led to the 2011 League Two title, and the 2012 Football League Trophy as the Spireites returned to the bottom division. He's started quickly, making two signings in his first midweek, including journeyman defender Guy Branston.
Sheridan's career in management began by spending two and a half years chasing promotion from League One with Oldham, meaning his career has taken a general downward trend. But he's still young and a good appointment for a relegation troubled side, neither unproven nor too far gone from previous successes.
Is Joe Dunne Already?
Colchester manager Joe Dunne only took over as boss back in September, being promoted from assistant manager to replace John Ward after his sacking.
Dunne started his management career with two wins and six from the first eight in charge. But the U's haven't won since the end of October, his sixth win being the most recent. Colchester were even dumped out of the FA Cup to Chelmsford in that time.
Dunne has said that he's considered quitting, and more damningly, has said his players are making the same mistakes over and over.
Having played almost 200 times for Colchester, and made his way up the coaching set-up, there'll be plenty who are sad to see him go. But given the difference between his start and the subsequent form, he may not have the kind of personality to turn around a rough spell.
Bradford… Wow.
You'll know about Bradford's midweek success against Villa by now.
Despite some early Villa chances (notably for Benteke), Bradford took the lead when a ball deflected back into the box for Nakhi Wells to slot past the goalkeeper. The Bantams had a few scary moments with Matt Duke called into action a number of times, and Villa showing snippets of the side they could be. Darren Bent headed over the bar with an open goal in a position Sandra Redknapp probably would have scored.
But after the first goal settled them, Bradford were equal competitors. They were rewarded, first with a Rory McArdle header back across goal, then a Carl McHugh bullet header, to twice give them a two goal lead, winning 3-1 in the end.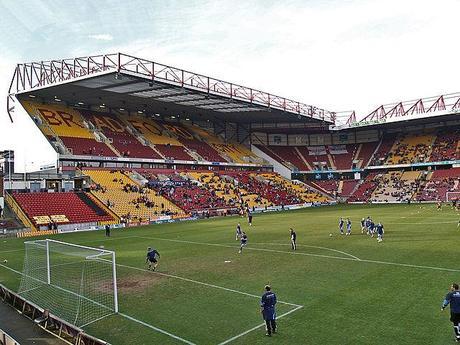 A fantastic result for the Bantams at Valley Parade. Courtesy of David Ingham
Despite Villa's away goal, there's a real possibility of the Bantams could be the first fourth tier side to reach the League Cup final since Rochdale in 1962, when the competition was in its early stages and possibly even less respected even than today.
Later in the week, Phil Parkinson turned down an approach from Blackpool to fill their manager's hotseat. Parkinson has not only made some positive changes, but is committed to finishing off the three tournaments they're still in. Bradford still have a Northern Section Semi-Final of the Football League Trophy to come, meaning they could be the only side to visit Wembley twice this season. Maybe even three times if they end up in the play-offs.
Football For Free
On the same night as Bradford traveled to Villa Park, League Two saw Morecambe host Dagenham.
Football clubs are struggling financially in general and Morecambe have the third lowest crowds in the division, dropping as low as 1285 earlier in the season. The Shrimpers responded to this by allowing fans in for free, hoping they'd return in future. Against Dagenham, Morecambe hosted a crowd of over 4,000, and won for the first time in six.
A pretty good start, though the crowds may drop off slightly for the visit of Cheltenham on the 18th.
#FuckGW
As the transfer window opened, Preston allowed Anthony Elding, loaned in from Conference Grimsby, to leave. Joe Garner, who had been loaned from Watford to his first club Carlisle, (where he'd scored eight) chose to move to Preston. Meanwhile, Akpo Sodje, who left Preston last month, signed for Scunthorpe until the end of the season.
Sodje scored seven in 17 for Preston, but for some reason wasn't given any more than a month's contract at a time. Given the hashtags he applied to the photo of his unveiling, Graham Westley may not be his favorite person…
On Thursday, Coventry hosted Preston in the third of four regional semi-finals in the Football League Trophy. Leyton Orient overcame Yeovil, and Southend defeated Oxford on penalties.
Coventry got in behind the North End defence repeatedly early, and Leon Clarke alone should probably have scored twice. Jennings put Coventry in front and Foster equalised with a header. A massively deflected shot from Stuart Beavon gave North End an 80th minute lead, with Coventry keeper Joe Murphy still having not made a save. But in stoppage time Carl Baker equalised, then a minute later a parried shot was followed in by three Coventry forwards but no Preston defenders, and Leon Clarke won the match.
Afterwards, Graham Westley was insistent that his side were robbed. He spoke of a foul for a penalty that "seems stone wall" and added that it's "hard to accept decisions as big as that which have knocked us out." In fairness, the collision looked quite bad, but there was debate over who was to blame. And Preston scored from the subsequent corner anyway, making his complaint slightly weird.
Despite pushing Coventry so close (or possibly because of it) Preston lost again at the weekend, marking Westley's anniversary in charge by being outclassed in a 3-1 defeat to Walsall. Rumours have been spreading on Twitter and Preston messageboards that Westley has ordered driers and toilet handles in the away dressing room be disconnected and removed and cold air to be wafted in. (One Walsall player confirmed that something had been done to the dressing room.)
In addition, Westley was booed after their defeat, with rumours that a North End fan threw a coin at him. On their largest messageboard, one Preston fan even discussed hearing grown men talk about slashing Westley's tyres.
The man who once tried to merge Farnborough and Kingstonian has a real gift for making enemies.
 League Upsets
It wasn't just in the cups that upsets were pulled off this fortnight.
On the 5th, Barnet hosted Bradford, who in addition to knocking Watford, Wigan and Arsenal out of the League Cup, have been putting together a pretty strong promotion challenge. Despite Bradford having the majority of the early chances, Elliot Johnson robbed Ritchie Jones to lay a chance on a plate for Taiwo Atieno. John Oster doubled the lead after the defence were robbed again early in the second half.
The following week the Bees traveled to Rotherham, also just below the automatic promotion places. Barnet opened the scoring again, with Jake Hyde beating the keeper with a classy chip in the first half. Despite a goalmouth scramble late in the first half amongst their chances, Rotherham couldn't draw level and Barnet eventually doubled their lead.
Barnet have now won  four from the last six (beating the teams currently in second, fourth, sixth and ninth) and have a respectable 8-4-5 record since Edgar Davids first joined the club.
Port Vale – Gillingham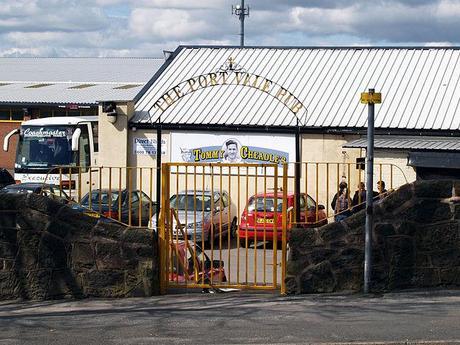 PUB! Courtesy of David Ingham
In League Two's biggest game, Vale took an early lead through their main striker Tom Pope's head, a lead which was soon doubled when Lee Hughes scrambled in. Gillingham's Kedwell fired a strike to make it competitive, but were unable to build on it.
The 2-1 win takes the Valiants to the top of the league, and they seem to have significant money behind them. It's a little extreme to say that Paul Wildes' arrival is the equivalent to the division to those at Chelsea and Man City in recent years, but he's shown a willingness to spend. It should make them the team to catch in League One.
What do you think about what I have to say about your club? Are those mentioned under-appreciated or overrated? Did I miss someone or something that should be covered? Spread the word if you enjoyed what you read, or join in by commenting below, or find me on Twitter @Joe_Bloghead
Born Offside