By Elizabeth Prata
This was posted in May 2009 on The End Time. My feeling of burden for coming judgment on those who don't know/refuse/reject is still heavy on me ten years later as it was when I wrote this.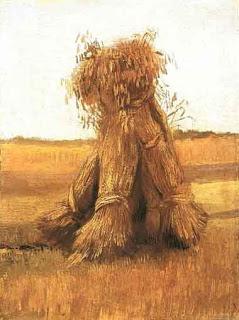 God uses a process as an example in His Word that would have been immediately identifiable to His agricultural people: threshing and winnowing. He talks of the threshing floor, the threshing barn, the winnowing fan and fork, chaff and sheaves...all these are examples of His sorting process in judgment. We have lost contact with the land. Do we fully understand know what these prophetic scriptures mean? Most of them refer to the end of days and His final admonitions and judgments. We should learn them.
Malachi 4:1
"For behold, the day is coming, burning like a furnace; and all the arrogant and every evildoer will be chaff; and the day that is coming will set them ablaze," says the LORD of hosts, "so that it will leave them neither root nor branch."
Zephaniah 2:2
Before the decree takes effect--The day passes like the chaff--Before the burning anger of the LORD comes upon you, Before the day of the LORD'S anger comes upon you.
Isaiah 41:16
"You will winnow them, and the wind will carry them away, And the storm will scatter them; But you will rejoice in the LORD, You will glory in the Holy One of Israel.
Matthew 3:12, Luke 3:17
His winnowing fork is in his hand, and he will clear his threshing floor, gathering his wheat into the barn and burning up the chaff with unquenchable fire."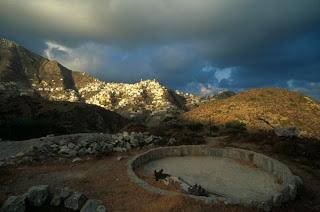 (

Left, threshing floor

)
After reaping, the grain or crop is gathered and prepared for processing. In Jesus times, the main grains were wheat, which made better bread but required good soil and water, two items lacking in the desert; and barley. Barley was used for bread by less wealthy people, because it
would grow in harsh conditions with more ease. (John 6:9:"There is a lad here who has five barley loaves and two fish, but what are these for so many people?")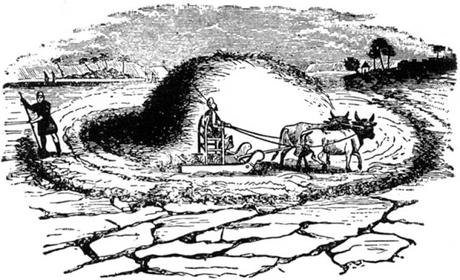 Grain reaping was completed either by pulling it up by the roots, or cutting it with a type of sickle. The grain when cut was generally put up in sheaves (Gen. 37:7; Lev. 23:10-15; Ruth 2:7, 15; Job 24:10; Jer. 9:22; Micah 4:12), which were afterwards gathered to the threshing-floor or stored in barns (Matt. 6:26).
Next comes threshing. Circular floors were prepared on hilltops, where there was more wind. A threshing floor is a specially flattened surface made either of rock or beaten earth where a farmer would thresh the grain harvest by spreading the sheaves on the threshing-floor and causing oxen and cattle to walk repeatedly over them (Deut. 25:4; Isa. 28:28) using a moreg, a threshing roller or sledge (2 Sam. 24:22; 1 Chr. 21:23; Isa. 3:15). However the a sledge
sometimes damaged the grain.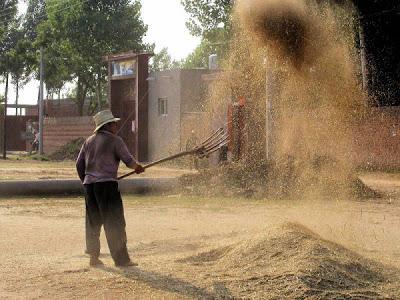 Next, winnowing. After the grain was threshed, it was winnowed by being thrown up against the wind (Jer. 4:11), and afterwards tossed with wooden scoops (Isa. 30:24). The shovel and the fan for winnowing are mentioned in Ps. 35:5, Job 21:18, Isa. 17:13. The refuse of straw and chaff was burned (Isa. 5:24). Freed from impurities, the grain was then stored in granaries till used (Deut. 28:8; Prov. 3:10; Matt. 6:26; 13:30; Luke 12:18).
Are you wheat, good men who will be gathered from the barns to His bosom? Or are you chaff, which will be left behind and burned with unquenchable fire? Do not wait for the very end to find out. Pray to Jesus today and ask to be forgiven of your sins, and He will do so. Ask Him to be the Lord of your life, and He will be so. Then when the time of judgment comes, you will know with certainty where you stand in the winnowing.