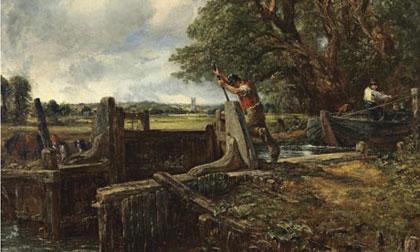 One of John Constable's most famous paintings is up for auction in July and it has sparked much interest especially from private collectors the world over.
The Lock, by John Constable is set to be one of the most expensive British paintings ever to be auctioned off and Christie's in London will be in charge of the auction. This is part of the Stour series by Constable and the only one that remains in private hands. This painting shows the lock at Flatford Mill, on the River Stour in Suffolk, a place John Constable knew very well since his father owned the mill. People would probably recognize more The Hay Wain which is also part of the same series.
President of Christie's Europe, Jussi Pylkkänen, commented:
"The Lock was one of John Constable's greatest paintings and an outstanding masterpiece of British art".

"This superb landscape, coming from the same series as The Hay Wain, represents British landscape painting at its very best and is sure to attract bidding from museums and collectors from all over the world", he added.
It's a shame as most British museums are not likely to be bidding for the masterpiece due to the steep price such a jewel would be able to command. Just to give an example, in 2010 a Turner, who was Constable's main rival was sold at Sotheby's Auction house in London for a staggering £29 Million.
The auction house has put an estimate of around £20-25m on The Lock which is one of the prized possessions of Baroness Carmen Thyssen-Bornemisza, a former Miss Spain who married Baron Hans Heinrich Thyssen-Bornemisza, a Dutch born Swiss citizen who died in 2002. She represents one of Europe's greatest art-collecting families and has carried on her husband's tradition of collecting fine art.
News in Spain says the Baroness needs liquidity and the sale of such a masterpiece will help safeguard her private collection, a lot of which has been on display at the Thyssen-Bornemisza museum in Madrid and also allow loans of other fine pieces to the museum as well.
The Lock had remained in the possession of the family of its first owner, the businessman and collector James Morrison before being sold to Baron Hans Heinrich Thyssen-Bornemisza.