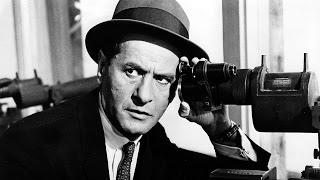 "Why be greedy? That'll print well for an epitaph!"
The Lineup
(1958) started as a spinoff from a popular TV show, featuring Warner Anderson as SFPD Lieutenant Ben Guthrie. Don Siegel grudgingly wrapped its procedural format around a much darker crime film.
Ben Guthrie (Warner Anderson) discovers that gangsters are using unwitting tourists to smuggle heroin into San Francisco. Crime boss Julian (Robert Keith), his henchman Dancer (Eli Wallach) and driver Sandy (Richard Jaeckel) drive around the city collecting the drugs, intimidating or killing the unfortunate marks. When Dancer discovers that Dorothy Bradshaw (Mary LaRoche) misplaced their last shipment, the crooks take drastic action.
At worst,
The Lineup
seems like two movies jammed together, with the police plot sharply divided from the crime story. Even so, the movie's still a crisp 86 minutes, with Sterling Silliphant's script crackling with sharp dialog and killer characterizations. Julian records his victims' last words while scolding Sandy's drinking. Dancer's a businesslike psychopath who polishes his grammar and charms women between killings. Their tense relationship, arguing over methods and gunplay, is so engaging it makes Guthrie's investigation superfluous.
Siegel's lean approach works wonders. Hal Mohr's photography captures San Francisco in beautifully stark black-and-white. Siegel stages colorful set pieces like a murder in a steam room, but the most effective scenes offer slow burn suspense: Dancer staking out a museum, swarmed by school girls and scored to calliope music, with Mohr's long takes building intolerable tension. It triggers a wild car chase and child in peril finale that's a dry run for
Dirty Harry
.
Warner Anderson's upright hero is overshadowed by his adversaries. Eli Wallach makes a perversely likeable villain, brimming with humor and manic energy. George Keith's smarmy boss and smooth-talking Richard Jaeckel. William Leslie and Mary LaRoche play the gang's patsies, Emile Meyer, Guthrie's wisecracking sidekick. Vaughn Taylor is a smirking Mafioso with a killer kiss-off line.
Despite its weaker elements,
The Lineup
is a crackerjack crime saga. Siegel's direction, striking violence and amoral antiheroes transcend its television origins.