He is a man. He is a myth. But most of all, he is a legend. He is Tim Tebow.
On April 22, 2010, University of Florida quarterback Tim Tebow was selected with the 25th overall pick by the Denver Broncos. This was met with much controversy, as many 'experts' were saying, "He can't throw", "He can't run a pro-style offense", and even things like, "He can't play quarterback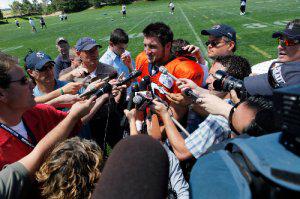 Tim Tebow gets more media attention than just about any other player in the NFL.
at such a high level", "Tim Tebow is not an NFL quarterback."
All of these myths were debunked on October 9, 2011. After a 2010 season spent almost entirely on the bench, and still as the backup to Kyle Orton on a then 1-3 team, Tim Tebow came in the game against the San Diego Chargers at Mile-High with 8:54 left in the 3rd quarter. The aura and energy of the entire stadium was transformed as Tebow electrified everyone in it. With the Broncos down 26-10, Tebow led them down the field for 2 touchdowns, and cut the Chargers' lead to 2. The Broncos went on to lose, 29-24, but the legend of Tim Tebow was born.
"Tim Tebow is not a natural passer" -June Jones
The next day, Coach John Fox declared Tim Tebow the starter against the Miami Dolphins. In this game, a struggling Tebow and the Broncos were down, 15-0 in Miami with under 3 minutes to play. 2 touchdowns, a 2-point conversion, and a game-winning field goal (and a little magic) later, the Broncos had won, in overtime, 18-15.
"My judgment is that he's not an NFL quarterback. I'll leave it at that." -Chad Henne
The next 6 weeks went like this for Tebow:
Loss (Detroit)- Even heroes need an off day
"Right here, right now, Tebow is the worst quarterback in the NFL." – Mark Kisla (The Denver Post)
Win (Oakland)- Down by 10 in the 3rd to Oakland, Tebow led his troops back to teach the Raiders a lesson and win 38-24.
"If we were trying to run a regular offense, he'd be screwed."-John Fox
Win (Kansas City)- Even though he was 2-for-8 with 69 yards, Tebow still led the Broncos to a win in K.C.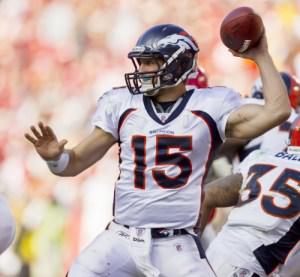 This was just one of 8 passes Tebow threw against the Chiefs. Guess what? The Broncos Won.
"I just can't say that I've bought into Tebow yet, I mean 2-for-8? Are you kidding me?"
Win (New York Jets)- In one of the Broncos' toughest games of the year, Tebow answered his critics with a gargantuan win in prime-time against a stout Jets' defense.
"He played 55 minutes of absolutely horrible football"
The once 1-4 Broncos are now 5-5
Win (San Diego)- Down 10-0, Tebow led the Broncos back to win their 4th straight game.
"That defense has been bailing Tebow out, if Tebow needs to score 30 points, well,then there's going to be a big problem"
Win (Minnesota)- Down by 8 with 9 minutes left, Tebow once again led the Broncos back from down and also passed for 200 yards for the first time in his career. He proved the above quote incorrect with a 35-32 win over the Vikings.
"Running back? Sure. Wide receiver? Sure. Quarterback? Nope."
The Broncos are now in 1st place in the AFC West.
Win (Chicago)- In his most impressive victory yet, Tebow led the Broncos back from down 10 with only 2:08 left to play. With some Tebowmagic, Tebowmania, and, of course in Tebowtime, he led the Broncos back to a 13-10 overtime victory.
"Come on, that's your quarterback? Seriously?"
The once 1-4 Broncos are now 8-5 and on a 6-game winning streak. Tebow is now 7-1 as a starter.
"I'm still not buying it"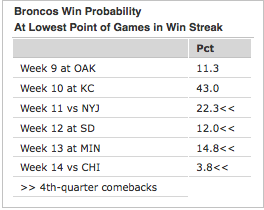 As this chart suggests, Tebow has done more than defy the odds for the Broncos this year. (Source: ESPN.com)
Tim Tebow has been magical this season. No matter what his critics say, he keeps winning games. If you think that Tim Tebow is not a good quarterback because he is not the 'Stereotypical NFL quarterback', then think again, because Tim Tebow actually fits that exact definition. NFL QB: 1) Is a natural-born leader and is the heart-and-soul of his team (✔) 2) Wins games (✔) 3) Is at his best when it matters most and the pressure is on (✔). So you can shut your mouths, anti-Tebow skeptics.
If you look at the statistics, it is baffling as to why Tebow and the Broncos win games. With a lousy 48.5 completion percentage, a below-par 1290 yards, and 11 TD, his overall stats don't suggest anything special. Think again though, because, when you think of the ideal quarterback, do you want the once with the highest completion percentage, or the one with the most wins? I'll take the wins, por favor.
Then look at Tebow's 4th quarter stats. In crunch-time (or should I say Tebowtime?) this season, Timmy Tebow has been terrific. He has thrown for 54% of his passing yards and 50% of his total yards in the fouth-quarter. That's just sick. Also, 11 out of his 14 total touchdowns have come in games with a final point differential of 7 or less. In the 4th quarter, while the score is within 7 points, he has a passer rating of 113.6, that's 21.7 points higher than Tom Brady. Let's face it, Tebow is just a different player in the 4th quarter, and that's what the great ones do, and it's where champions are made. None of these stats even matter, because as I said, wins are the only stat that matters, and Timmy Tebow is 7-1 as a starter.
Now, the talk about Tebow making the Pro Bowl, winning the MVP, and even winning the Super Bowl is starting to find its way on to America's major networks.
As if all this isn't enough is social impact is giant as well. For the past 2 years, Tebow's #15 jersey has been the #1 best-selling jersey in the NFL,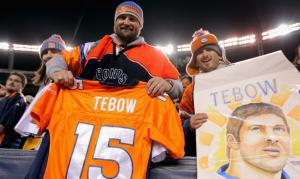 The fans surely love Tim Tebow, and unless he has been compulsively buying his own jersey, that is why he has the #1 selling jersey in the NFL.
beating out Drew Brees, Aaron Rodgers, Peyton Manning, and, America's Sweetheart, Tom Brady. He is also a fantastic person. Tebow is an inspirational speaker, evangelist, and an overall great person. He believes strongly in his faith, and is a true role model.
Tim Tebow is a winner. If Vince Lombardi were still with us today, he would be Lombardi's #1. "Winning isn't everything, it's the only thing." Tim Tebow fits perfectly into that definition. While his stats in the first 3 quarters are well below-par, all he does is win.
Let's face it, there is definitely something strange going on in Denver. During this 6-game winning streak, the magic is undeniable, and it may be one of the strangest things that has happened in sports. Ever.
Tim Tebow is one of the most, if not the most scrutinized, criticized, polarized, and at the same time praised player in NFL history, and he is revolutionizing the game of football. Everyone has a different opinion on him, everyone is either pro-Tebow or anti-Tebow, but everyone knows for sure that he has heart and the will to win. He is certainly not polished, but he wins, and no one praises him better than John Gruden: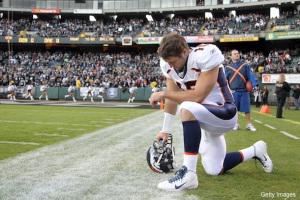 The Tebowing phenomenon has hit the nation by storm, and the man at the center of it all is revolutionizing the NFL.
"This guy here is 250 pounds of concrete cyanide, man. And he can throw. He throws well enough at any level to play quarterback."
By Sam Brief