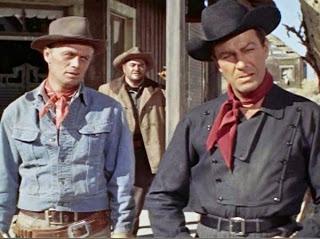 "Now that I'm holding the gun, you're willing to give me my honor back!"
One of John Sturges's less-heralded Westerns,
The Law and Jake Wade
(1958) offers an interesting take on a standard revenge story. Efficient yet complex storytelling redeems a potentially tired oater.
Outlaw-turned-marshal Jake Wade (Robert Taylor) breaks his partner Clint Hollister (Richard Widmark) out of prison. Jake regrets his decision after Clint rides into town with his gang, demanding that Jake help recover $20,000 from an old robbery. When Jake refuses, Clint kidnaps him and fiancée Peggy (Patricia Owens), marching them through the Sierra Nevada mountains. The money's buried in an abandoned town amidst Comanche territory.
The Law and Jake Wade
is a tough, tight picture spiced with beautiful visuals. Robert Surtees captures the Sierra Nevadas in gorgeous CinemaScope, with Sturges making its snowy peaks, craggy canyons and lush forests integral to the story. After a grim journey through the mountains, the ghost town provides a backdrop for more conventional action. There's a tense knife-and-tomahawk Indian fight and a final duel where Jake and Clint stalk each other through crumbling houses.
William Bowers' screenplay (adapting Marvin H. Albert's novel) plays with Western conventions. Jake's a reformed outlaw and Confederate guerrilla haunted by past atrocities. Clint's a psychopath with sympathetic motivation: left for dead by Jake, he's eager to repay the favor. Jake and Clint fight over the latter's gang, appealing to honor, greed and the outlaws' flickering consiences. These dynamics give an edge to
Wade
's familiar story beats.
Robert Taylor's hero is unfortunately passive for most of the runtime. Between the opening jailbreak and the finale, he's reduced to mind games and dodging flying tomahawks. Taylor's overshadowed by Richard Widmark's typically flamboyant villain. Patricia Owens makes a sweet but superficial love interest. Henry Silva plays a hotheaded young gun, with Robert Middleton as Clint's suspicious sidekick. DeForest Kelly and Eddie Firestone play other gang members.
While offering few surprises,
The Law and Jake Wade
is an entertaining flick. John Sturges fared best spinning macho genre pieces into efficient entertainments, and
Wade
is no exception.