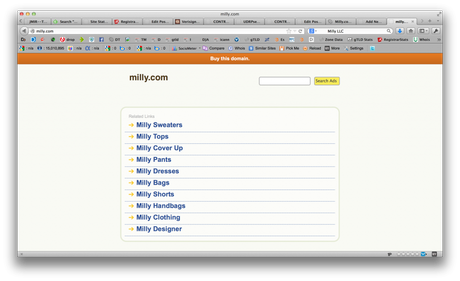 A domain name registered to Mrs. Jello, LLC which was the company formed by  the late Igal Lichtman  has been hit with a UDRP.
A UDRP has been filed by the Milly LLC on the domain name Milly.com
According to Business Week, Milly LLC is a private company which "designs apparel for women worldwide. It offers dresses, tops, bottoms, outerwear, swimwear, handbags, fashion jewelry, and accessories, as well as clothing for children. The company also provides products for cocktails and offices, as well as weekend casuals. It sells its products through specialty and department stores worldwide, as well as its boutique in Madison Avenue and online. "
"The company was incorporated in 2000 and is based in New York, New York."
The company uses the domain name MillyNY.com as its URL.
According to DomainTools.com the domain Milly.com has a original creation date of 1999.
The domain name Milly.com seems to have been acquired on 2006 by Mrs Jello.
The domain is going to a parked page in which every link has a reference to Milly, LLC's  products as you can see from the screenshot above.
This could be a problem for the domain holder.