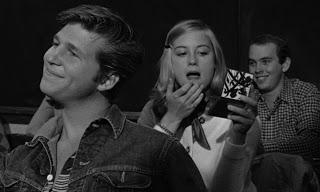 Peter Bogdanovich made his name directing Targets (1968) but it was The Last Picture Show (1971) which really put him on the map. This melancholy character study feels like a British "kitchen sink" film transported to rural Texas, with its cast fighting sexual frustration and terminal boredom to make something of their lives.
It's 1952 in Anarene, Texas, a small town with nothing but sports, sex and Sam the Lion's (Ben Johnson) movie theater. Teenager Sonny Crawford (Timothy Bottoms) is a failure both at football and romance until he forms a relationship with Ruth Popper (Cloris Leachman), the unsatisfied wife of his repressed coach (Bill Thurman). But the real object of his affection is the luminous Jacy Farrow (Cybill Shepherd), the rich girlfriend of Sonny's best friend Duane (Jeff Bridges). Romance, sex and misunderstandings develop as Sonny tries to make sense of his various entanglements.
Based on Larry McMurtry's novel, The Last Picture Show is a strikingly handsome film. Bogdanovich employs veteran cinematographer Robert Surtees for stark deep focus photography, granting Anarene a stark, atmospheric appearance throughout; from the bookend scenes showing the town's windswept main street, handsome wide shots of town gatherings and awkward intimate scenes, shot in extreme close up. Scenes of teen cavorting alternate awkwardly with ossified entertainment, like a Christmas square dance, a fishing trip and old Westerns in Sam's theater. There's beauty of a kind, but more melancholy than pictorial, backgrounded by a bottomless playlist of Hank Williams tunes.
The Last Picture Show offers inoculation against the drippy '50s nostalgia that overtook pop culture later in the decade. Anarene's teens have few outlets for entertainment or expression: sex becomes their pass time by default. Lucky ones, like the well-off Jacy, can slip away to Wichita Falls for nude pool parties; others have to be content with awkward gropes in cars or make out sessions in Sam's theater. Despite copious nudity there's no erotic charge: Sonny and Ruth make love on a hideously creaking bed; Duane can't perform when he tries to pleasure Jacy; the underage Billy (Sam Bottoms) prematurely climaxes with a prostitute. It's all sordid awkwardness, copulation for lack of better things to do.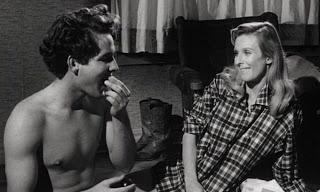 The story winds slowly through vignettes, watching the town's teenagers try and make sense of their no-hope lives. Sonny is roped into an inappropriate relationship through convenience; he doesn't resist but neither does he make any effort to treat Ruth as more than a bed partner. Jacy is the catalyst for the film's drama; encouraged by her mother (Ellen Burstyn) to explore her sexuality, she's reluctant to commit until she finds contentment. Her conflicts don't register to Sonny or Duane, who view her as a stuck-up cock tease. Which doesn't stop both from chasing after her, or Sonny and Duane from having a brutal fight that wrecks their friendship.
Adults offer no help: most of the fathers are absent to one degree or another, while Coach Popper is a closeted homosexual (not a good thing to be in '50s Texas). The one male with agency is Abilene (Clu Gulager), a coarse oilman sleeping with Jacy's mom. The women are complicit to varying degrees, using the teens to satisfy themselves either vicariously or, in Ruth's case, literally. Only Sam, who scolds the kids for their more outrageous actions, offers any moral guidance; his death removes any pretense of finding direction or dignity. There's also a Greek chorus of wind-swept crackers who don't even try to engage with the kids, instead offering summary judgments from the sidelines.
Last Picture Show offers an amazing cast of up-and-coming talent: Timothy Bottoms, Cybill Shepherd, Jeff Bridges and Randy Quaid (playing another of Jacy's suitors) all became stars after this movie. Bottoms does a nice job projecting Sonny's confused diffidence, while Bridges shows the offhand charm which sustained his four decade movie career. Shepherd makes Jacy sympathetic enough to avoid our hating her, showing the inner conflict beneath her flirtation and snobbishness. The adult cast features some gems of character performances as well: Ben Johnson and Cloris Leachman both won Oscars for their characterizations, with solid turns as well from Ellen Burstyn and Eileen Brennan (as Sam's waitress).
The Last Picture Show is one of New Hollywood's more low-key classics, but all the better for it. At the end, the protagonists seem ready at last to go their separate ways, but it offers none of them fulfillment. It's the sort of quiet tragedy familiar to most moviegoers; the tragedy of ordinary people who can't make themselves better than their circumstances.