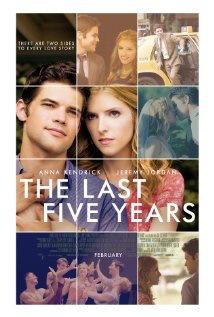 Director: Richard LaGravenese
Writer: Richard LaGravenese (Screenplay) Jason Robert Brown (Musical Play)
Starring: Anna Kendrick, Jeremy Jordan, Tamara Mintz, Cassandra Inman,
Plot: A struggling actress and her novelist lover each illustrate the struggle and deconstruction of their love affair.
There may be spoilers the rest of the review
Verdict: Should Have Stayed On Stage
Story: The Last Five Years starts Cathy (Kendrick) singing about Jamie (Jordan) and their ending relationship where Jamie is moving on with his life without Cathy. We see how Cathy is broken because of the failed relationship she was willing to fight on for. Moving back in time we watch how Cathy and Jamie romance started, Cathy is an actress while Jamie is a novelist whose love helps each of them push their careers. We watch how the time jumps between different stages of their relationship from dating, engagement through to marriage as they go through their ups and downs.
The Last Five Years is a story I can't fault any of the performances but when it comes to the actual story things come off indifferent. I liked how it tackled the look at different stages of relationships because it shows the ups and downs people go through. What I didn't like was the fact we had to work out where the characters are in the relationship through each scene, one minute it is the break up the next it is the beginning then they are married it just gets very confusing. I do feel this is one story that would come off much better on stage and the simple idea of the look at relationship does work but doesn't set the world a light with the ideas involved. (6/10)
Actor Review
Anna Kendrick: Cathy Hiatt is the young actress trying to make a name for herself while involved in a romance over five years with novelist Jamie. We know that she isn't happy as her partner becomes distance as the work mounts for him and she isn't afraid of letting him know. Anna has proven herself in singing roles for years now and this is no different as she shines in the role. (8/10)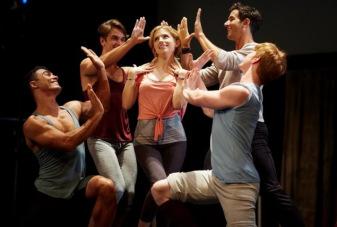 Jeremy Jordan: Jamie Wellerstein is young novelist who starts a romance with Cathy, as the romance blossoms as does his career that fully takes off with his début novel because a massive success, but with his fame growing his relationship grows thin. Jeremy can't be faulted for his singing but he doesn't quite reach the leading man ability needed for the role. (6/10)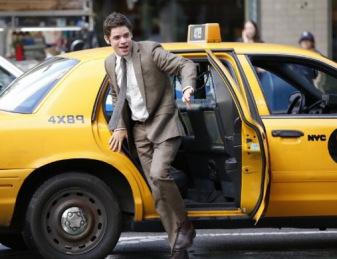 Support Cast: The Last Five Years doesn't seem to et anyone else have lines in the film, it is a two person film.
Director Review: Richard LaGravenese – Richard does get the whole story in confusion mode but does end up giving us some very good musical performances. (6/10)
Musical: The Last Five Years has a string of beautiful songs all performed very well by both stars. (9/10)
Romance: The Last Five Years does have romantic moments but is really about the whole relationship from start to finish. (7/10)
Settings: The Last Five Years gives us very genetic settings for a romantic film. (7/10)
Suggestion: The Last Five Years is one to try, I feel that the musical fans will enjoy this but as a film it does come off like a gloried music video. (Try It)
Best Part: Kendrick shines.
Worst Part: Story jumps too much.
Believability: It does show the relationship issue people have very well. (7/10)
Chances of Tears: No (0/10)
Chances of Sequel: No
Post Credits Scene: No
Oscar Chances: No
Runtime: 1 Hour 34 Minutes
Tagline: There are two sides to every love story
Overall: Singing relationships, different style but isn't good enough for mainstream.
Rating