Photo taken from the Canvas Gallery Facebook page
I was lucky enough to be included in Canvas Gallery's exhibit during the 2014 Art Fair Philippines which happened last February. It was my first time to participate in the Fair, and it was a little overwhelming seeing all the great work from other artists.
Canvas Gallery's show was entitled "Paraluman" or muse. Sixteen artists created narrative pieces that, hopefully, could generate a host of crowd-sourced stories. The images were uploaded onto a website (http://canvasstories.com) where the audience can view the paintings and submit their own stories.
The painting I made was this: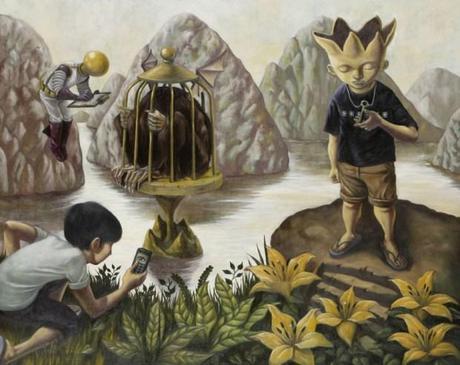 5 x 4 ft. Oil on Canvas

Years ago, I picked up a battered sale copy of Robert Bly's book Iron John: A Book About Men for PhP 20 (USD 0.45). A summary of the book can be found in this site. Basically, the book is an exegesis of the Iron John story, included the Brothers Grimm collection of fairy tales. The story was interpreted as a journey of a boy through manhood with the help of the wild man.
The exegesis was rife with imagery and meaning, and the notion of some "wild man" as a guide to claiming true masculine energy seemed interesting to me from a visual standpoint. Anyway, I made several attempts to make a picture that was at least tangential to some of the ideas in the book, and I was only able to actually finish something this year (deadlines can be our friends). 
Though i never really set out to do a direct illustration of the Iron John story. Some elements in the painting touch on some of the concepts in the book while others grew out spontaneously from fleshing out the imagery. 
In all my previous studies and down to this final picture, there were always three constant characters and elements:
A body of water with a caged wild man
A seeker
An enlightened character (in this case, the lotus-head boy)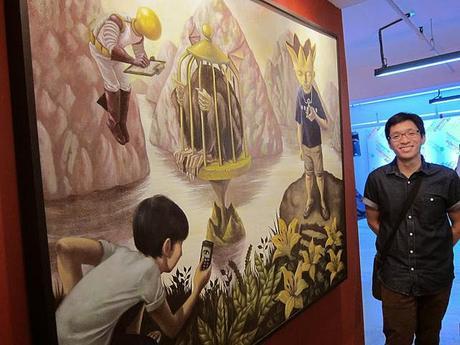 ---
For more about info Art Fair Philippines click here to visit their facebook and click here to visit Canvas Gallery's facebook page.
Although a bit late, here are some articles about this year's Art Fair: