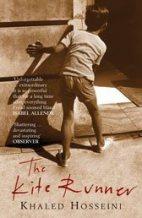 The Kite Runner by Khaled Hosseini
   Bloomsbury (Paperback), 2002
   326 Pages
   This book is part of my Popsugar Reading Challenge 2015. 
   The category for this book is 'a book that became a film'.
BLURB FROM THE COVER
1970'S Afghanistan. Twelve-year-old Amir is desperate to win the local kite-fighting tournament and his loyal friend Hassan promises to help him. But neither of the boys can foresee what happens to Hassan that afternoon, an event that is to shatter their lives. After the Russians invade and the family is forced to flee to America, Amir realises that one day he must return to Afghanistan under Taliban rule to find the one thing that his new world cannot grant: redemption.
EXTRACT 
I became what I am today at the age of twelve, on a frigid overcast day in the winter of 1975. I remember the precise moment, crouching behind a crumbling mud wall, peeking into the alley near the frozen creek. That was a long time ago, but it's wrong what they say about the past, I've learned about how you can bury it. Because the past claws its way out. Looking back now, I realize I have been peeking into that deserted alley for the last twenty-six years.
REVIEW
This was my first time reading Khaled Hosseini.
Oh boy, oh boy, did The Kite Runner sucker-punch me right in the heart. I cried from towards the start of the novel when Amir peeks into an alley and sees something that will haunt him for twenty years and didn't stop crying until I reached the end. The word love isn't strong enough to express how brilliant The Kite Runner is. The Kit Runner is one of the best books I've ever read. I've never felt so moved or touched by a book before. I loved every word. I loved the characters. I loved the way The Kite Runner opened my eyes and heart. I've never read a book set in Afghanistan before. Some moments chilled me to the bone especially when Amir returns to find how much his country has been torn apart and changed by the Taliban. There is one scene when Amir sees the streets teaming with beggars and men with guns and compares the streets to the way they were when he was a child that brought a lump to my throat. The Kite Runner is outstanding. I've discovered another author I want to devour.
RATING