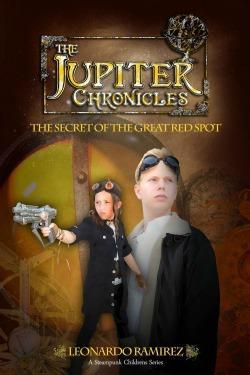 When I was growing up, I was not a huge fan of reading.  In fact I didn't find it fun but as an adult I enjoy reading.  I remember during summer reading programs or during the school year, I always had a habit of picking up the same books over and over again.  I loved reading the same type of books that I did find enjoyable.  I don't know why I did this when I was younger, but I am glad that I ditched that habit because reading the same book over and over would get boring.  As a mom, I know that it is important for kids to learn how to read and learn to enjoy it. Reading has many benefits and it is fun to do on a hot summer day when it is too hot to go outside.
I was approached by Leonado Ramirez and he asked me if I was interested in reading his book: "The Jupiter Chronicles: The Secret of the Great Red Spot".  I gladly accepted the opportunity because it looked like a book that my oldest son might be interested in reading this summer.
Disclosure:  I did receive this book in exchange for a review.  All opinions of this book are my own and I wouldn't recommend products that I don't enjoy.  
The "
The Jupiter Chronicles: The Secret of the Great Red Spot
" is a fun and easy to read book.  My favorite part of this book was how the author incorporated a bit of Jupiter's history into the story line and I was able to connect with the characters.  Camilla is a single mother who desperately wants what is best for her children, after losing her husband suddenly.  This book was written for children ages 6 to 10 but that all depends on your child's reading level and has some real life topics that kids can relate to.  As a mom, I know all about the reality of sibling rivalry and how siblings love to pick on each other.
Callie and Ian are the main characters in the book and come from a single parent family.  One day out of the blue their father disappeared.  Before he disappeared he left Ian a telescope, Ian stored it in the attic and never touched it.  In fact, he refused to use it.  So one night when the children were supposed to be sleeping, Callie gets up and heads upstairs to the attic.  It wasn't long until her brother Ian came up the stairs to investigate.  When Callie decided to peer into the telescope all of a sudden something strange happened.  The telescoped seemed to come alive and pull Callie and Ian towards a  steam-powered floating cities.
Once they arrive on the floating cities, they are greeted by Stinky Frank.  Stinky Frank's real name is Francis Flatulus Ferdinand, which of course wasn't easy to pronounce.  Stinky Frank was the nickname that Callie and Ian came up with because the space robot was stinky.  Stinky Frank help Callie and Ian navigate their way to fight off the Martians and rescue their father.  Their father was captured and taken to this foreign land.
After Callie and Ian, defeat the Marctians and free the Jovians.  They finally get a chance to meet up with their father.  It has been 5 years since they have last seen him.  When it time for Callie and Ian to return home, their father comes with them and surprises his wife, Camilla, who has had a very difficult time understanding what happened to him.  She was excited that they were back home and were safe; however, she was surprised to see her long lost husband Peter.  After hugging Peter, he said his final goodbyes and returned back to the floating land leaving Camilla to raise Callie and Ian on her own.
I hope that you enjoy this synopsis of "The Jupiter Chronicles" and that it is a book that looks interesting for your child.
About the Author:
Leonardo Ramirez is an inspiring author who loves helping hurting kids.  As a husband and a father, he enjoys spending time with his family.  Some of his favorite hobbies include: making breakfast for his family every Saturday morning, teaching Karate as a Second Degree Blackbelt, and enjoys reading to the children.  You can find more information about Leonardo Ramirez by visiting his blog, Twitter, Facebook, and G+.
To get weekly updates to Uplifting Families, please subscribe to my newsletter or join in the conversation with me on Twitter, Facebook, Pinterest, and G+.
What type of books does your child or children like to read?