I get a bit nervous when I receive a parcel I wasn't expecting. Companies and PR reps will often send products with the hope that they will make it onto the blog, and I feel guilty when the items just aren't a good fit (literally or figuratively). I end up making a lot of donations, or passing goodies on to those who can use them (for example, any baby items I receive go directly to someone I know who is either pregnant or has a baby, because I am almost positive I will never again be needing them myself).
However, when I opened up the surprise box that was waiting for me on Friday, I was more than pleased because I knew the contents would absolutely thrill my girls. It was a limited edition exclusive Walmart package of The Jungle Book: The Movie DVD and two collectible figures of Mowgli and Baloo!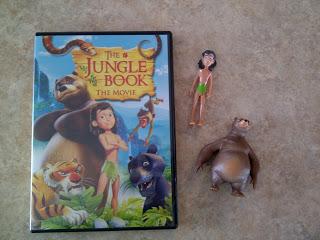 Based on Rudyard Kipling's classic tale, the feature-length (62 minutes) DVD includes a special downloadable activity kit as well.
I've told my girls that if they expect to receive free items through the blog, they have to be ready to offer their reviews, so here goes (after two viewings of the movie):
Frannie (age 4): "My favorite part was the end because they play music. My not favorite part in it was the starting because the fox was watching the wolves and that's mean to do. I think it's good and people should watch it."
Maggie (age 6): "I think the movie was interesting. Something I liked was the names of the characters because they aren't ordinary names that we have. A part I didn't really like was when the snake appeared right in the middle of their campfire because it was really freaky. I think boys and girls would like it and it is a good movie for children."
The DVD will be released on Tuesday, March 5th. Be sure to pick it up at Walmart if you want the free collectible toys as well!
Disclosure: I was provided with the products named above for review purposes. Opinions are, as always, my own.