The "Jersey Shore" Cast Isn't Exactly Happy About "Floribama Shore"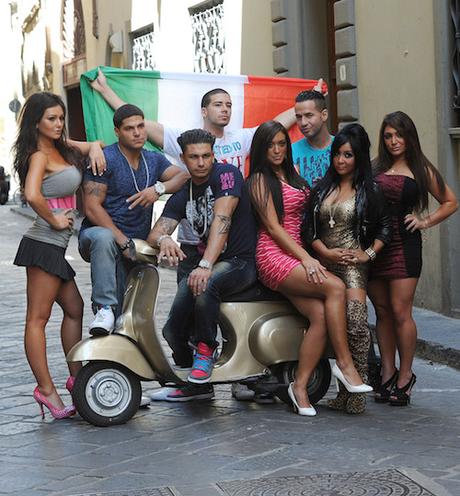 Like covers of "Imagine," that "Melrose Place" reboot and fanny packs, sometimes it's best to just let the original speak for itself…and never try to revive it. So when word got out that the same production team behind Jersey Shore were heading to the Florida Panhandle to revive it in the form of Floribama Shore, some people thought that might not work. Especially the original Jersey Shore wrecks cast.
Buzzfeed reports that fans were a little outraged that GTL might get replaced with G&T, and the Jersey Shore cast, who could barely unite on what L detergent to buy, suddenly were in unison shitting on the new show. The Situation tweeted out a message saying any revival should come with the original cast. The Situation is certainly worried about the show's new quality and is definitely not just looking for a way to pay back taxes,
You heard the People @MTV just bring back the Real #JerseyShore RT if u agree pic.twitter.com/NGb15TvAKp

— Mike The Situation (@ItsTheSituation) November 2, 2017
It got retweeted by everyone except Ronnie, who Buzzfeed says is not very active on Twitter, which I read between the lines to mean he doesn't know how to work Twitter. The Situation also fired off on how the cast had NOT been consulted, which is a shame since that group kind of invented beachside bar barfing followed by more shots of Patron. It's criminal that all reality shows don't hire as the McKinsey & Co. of projectile vomiting to show their cast members how to hurl up fifteen vodka sodas without messing up their Bump-It. Speaking of Bump-Its, Snooki mouthed off to someone who said they were too old to head back to the Shore:
I'm 29, 2 kids, Married & can still funnel wine and do cartwheels on the dance floor. We aren't dead Bundy https://t.co/uTmrJGJIjm

— Nicole Polizzi (@snooki) November 2, 2017
Snooki's not a regular mom, y'all. She's a cool mom who totally sends her kids off to college with four big bottles of Arbor Mist Apricot she doesn't want. The cast has continued to like articles shitting on the Southern spinoff, and JWoww posted an article on her website that also says Floribama Shore is a grotsky wannabe. MTV, don't you know you have a legacy to uphold?! How dare you sully the irreplaceable good name of airbrushed T-shirt shops, Jägerbombs, and binge drinking with a show about… airbrushed T-shirt shops, Jägerbombs, and binge drinking?
Pic: Wenn.com
Source: The "Jersey Shore" Cast Isn't Exactly Happy About "Floribama Shore"
5 total views, 1 views today