Before the 2001 census was taken in Great Britain and several Commonwealth countries, someone suggested that the "Religious Affiliation" question be answered by professing belief in The Force and claiming to be a Jedi Knight. In Britain, Canada, New Zealand, and Australia, significant numbers of people did just this.
If you have ever attended a Star Trek Convention, you will not be surprised to learn there are people who actually profess belief in what they call Jedi religion. They have gotten together and formed The Church of Jediism. Their beliefs sound vaguely familiar:
In Jediism, we believe in the Force. The Force is a unifying energy which exists around us, in us, and is always present. It is the catalyst for life – it is the power that keeps the universe together. The Force is not something Jedi worship, rather it is something we concentrate on, and can relate to. The Force exists in many forms, but it is not something which can be seen. It flows through everything in existence as neutral energy, and according to the way we see, treat and act in life, can change it from neutral to positive or negative Force.
We believe the mind is like a sponge. As sponges, they soak up information daily – we are constantly learning new things. But not all of this information is stored as positive thoughts. There are always negative thoughts and information which can contaminate the mind, whether that is for a short time or a life time. We believe the practice of self enlightenment helps clear the mind, rinsing the sponge of all negative thoughts. This therefore makes more room for positive thoughts, and also changes one's thought process and ability to take in and learn more information.
Our aim is to bring all of the world's believers in the Force together for the power of good. We will form a community that does not have bias or any type of prejudice. A community that does not reject other religions, but in fact encourages their positive teachings. It is through positivity that we shall thrive, for that is the Light side of the Force.
The Force sounds suspiciously like something that theoretical physicists study and Jedi doctrine reminds me of westernized Buddhism. The master Jedi encourages everyone to study the Star Wars movies for additional insights.
This religion will not get very far without sacred texts and I am not sure that George Lucas' original 13 page script will work. On the other hand, Scientologists have done far more with considerably less.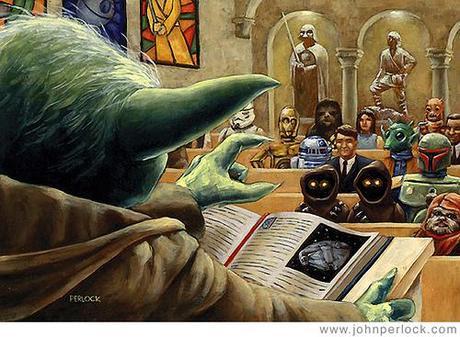 Copyright Illustration by John Perlock
If you are wondering whether this is all in jest, so is a Danish scholar whose study of Jediism will appear in a forthcoming issue of the International Journal for the Study of New Religions.