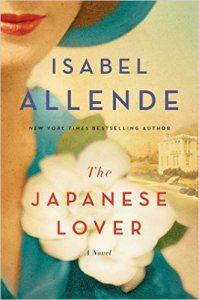 Much as I love Isabel Allende, her books can be somewhat uneven, and this was not one of my favorites.
Allende tells the story of Alma Belasco, a girl who emigrates from Poland to San Francisco in 1939. She is adopted by her aunt and uncle after the Nazi invasion of Poland. As the book begins, Alma has entered a senior living facility, and she gradually tells her story to Irina, a young nurse who has come to San Francisco from Moldova.
At the heart of Alma's story is her love for Ichimei, a Japanese boy she grew up with. Unfortunately, for a story that is about love, the telling of it feels passionless, just like its title.   In fact the characters aren't terribly likable, with the possible exception of Irina (except for the fact that she has no real problem spying on Alma with her grandson Seth).
This book covers about seven decades and it feels long. Years and years go by with very little happening. At one point Alma goes 7 years without talking to Ichimei, then she runs into him, then another seven years goes by. This will give you a feel for the way this story is told. It's chronological but not terribly interesting. There are a few "reveals" but they were entirely predictable.
More importantly, Allende is asking us to become emotionally invested in a relationship where Alma herself can't really deal with being in a bi-racial couple. Sure, much of this happens in the 40s and 50s, so her reticence is understandable, but I still couldn't get too involved.
Alma also "suffers" from a ridiculous dependence on her family's wealth. There seems to be very little that's inspiring or motivational about her. She's an artist but that art seems to be largely funded by her life of luxury, not her hard work. She may have lost most of her family in the Holocaust, but we never see the emotional impact that has on her, which was disappointing to me personally. Alma and her family are Jewish but we really don't see how that impacts their lives in America at this time.
And then there's Alma's grandson Seth, who also has everything handed to him, only with none of the sad background and absolutely none of the personality. Seth could have been a talking block of wood in this book. Actually, I disliked him because he really imposes himself on Irina even though she shows no romantic interest, and I found his attempt to "help" her condescending at best.
Sadly, I found the dialog stilted throughout this book, which may be why I disliked the characters so much. I did like Irina, who has very little and suffers from a horrible experience in her childhood, and who learns to love working with the residents of the senior care facility. I felt Irina's trauma was not given the attention it deserved because this book is trying to cover 70+ years.
In fact, what I liked best about this book was the view of life in this senior care facility, and the different characters and how they all support each other as a family. As my parents get older, I'm more and more mindful of the challenges they will face, and how little I know about what they are experiencing. So as Irina learns to do her job, I felt I was learning something as well.  That said, I'm pretty sure Allende did not intend that to be the most interesting element of the book.
My other favorite part of the book takes place in the Japanese internment camp where Ichimei and his family live in Topaz, Utah. I found this look at life in an internment camp fascinating, and while I can't speak to the accuracy of it, I certainly wanted to know more. I'd like to visit a camp or a museum at some point. It's an important (and ugly) part of our country's history.
Sadly, this is a book that tries to cover way too many issues and in my opinion, covers none of them well. If you're looking to read Isabel Allende, I highly recommend going back to her early work, Eva Luna and The House of the Spirits. I also really enjoyed her recent Maya's Notebook and her nonfiction Paula is devastating.
Note: I received a complimentary copy of this book from NetGalley and publisher Atria Books. The book will be released November 3, 2015.