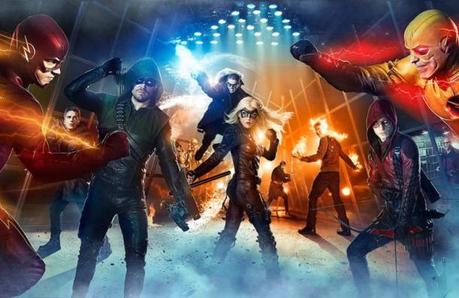 Congratulations, you've finally shaken off that New Year's hangover and made it through two and a half weeks of January. As reward for your hard work this year so far, you can now look forward to slumping on your couch with a beer and a bag of Kettle chips. Because your favourite shows are returning from their mid-season break, with a couple of new and familiar ones making their premieres this month too. The complete lowdown below:
All dates are Singapore local time for your convenience.
The Three and a Half Stars team shall not be held responsible for any cases of reporting late to work / drop in productivity / sudden disappearance of your spouse or partner.
Wed, Jan 20: The Flash, Marvel's Agent Carter (S2 premiere)
Thurs, Jan 21: Arrow, Supernatural,
Fri, Jan 22: Legends of Tomorrow, The 100 (S3 premiere), Baskets (Season premiere), Portlandia (S6 premiere), Darknet (Series premiere), London Spy (Series premiere)
Sun, Jan 24: Black Sails (S3 premiere)
Mon, Jan 25: The X-Files (Season premiere, subsequent episodes to air on Tuesday)
Tues, Jan 26: Crazy Ex-girlfriend, The Magicians, Jane the Virgin, Lucifer (Series premiere), Recovery Road (Series premiere), American Dad (S11 premiere)
Thurs, Jan 28: Suits
Fri, Jan 29: You, Me and the Apocalypse (US premiere)
Sat, Jan 30: The Vampire Diaries, The Originals, Grimm
Shows that have already returned or premiered in Jan:
Mondays: Bob's Burgers, Madam Secretary, Shameless, The Good Wife
Tuesdays: Supergirl,
Wednesdays: Brooklyn Nine-Nine, iZombie, Limitless, New Girl, Teen Wolf, The Grinder
Thursdays: 2 Broke Girls, American Crime, Code Black, Modern Family, The Middle
Fridays: Elementary, Heroes Reborn, The Big Bang Theory, The Blacklist
Saturdays: Dr. Ken, Hawaii Five-O
* A number of shows have been omitted from this list. The Three and a Half Stars team trusts that you have at least some decent taste in your choice of entertainment.