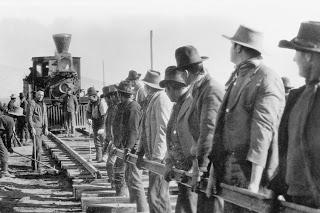 John Ford did more for the Western than any other director. The Iron Horse (1924) wasn't his first, but it's his biggest and most influential, transforming the genre's tropes into a grand-scale epic about the Creation of America.
Dave Brandon (James Gordon) travels west from Illinois to survey a potential transcontinental railroad with the blessing of Abraham Lincoln (Charles Edward Bull). But Brandon's murdered by renegade Comanches led by Deroux (Fred Kohler), a white man with a two-fingered hand. Brandon's son Davy (George O'Brien), who witnesses his murder, grows into a Pony Express rider, joining with his father's partner Thomas Marsh (Will Walling) to complete the work. Their work on the railroad runs afoul of a greedy landowner who tries to reroute the railroad through his property...but Davy notices something familiar about him.
It's hard to view The Iron Horse without noticing its marathon of cliches. Ford and his screenwriters John Russell, Charles Kenyon and Charles Darnton pack the 150 minute run-time with incident and , most already hoary in 1924. There are Indian battles, saloon gunfights, hanging frontier judges, saloon tarts, buffalo hunts, cattle drives, fistfights and cameos by a brace of historical figures. It ensures that the movie's familiar even to viewers usually put off by silent movies; the Western's always operated on a mythic, superhistorical level, and The Iron Horse is one of its purest expressions.
Ford's preoccupations about the Winning of the West, in all its contradictions and celebrations, are in evidence. He envisions a melting pot of ne'er-do-wells, immigrants (Irish, Italian and Chinese) and settlers seeking to transform their lives, working together to a common goal. The Civil War provides a backdrop but it's only fleetingly addressed, a distraction from the mission of growing, and uniting America. Davy's personal vendetta intersects nicely with his role growing America: along the way he links up with his old flame (Madge Bellamy), repels hostile Indians and proves himself the foursquare exemplar of American Manhood - exactly what the growing country needs.
The movie's racial  politics, of course, anticipate those of most Westerns. Ford struggled earnestly with Native Americans, granting them some measure of dignity but almost invariably making them antagonists; as Pauline Kael notes, once the action begins the average Western viewer instinctively sides with the white characters, no matter how sympathetic the Indians. The Cheyenne receive a few humanizing grace notes - one dead warrior is accompanied by his mournful dog, who curls up next to his master on a battlefield - but are mostly the typical savages you'd expect from the genre. Though, in fairness, it's the friendly Pawnee and not the cavalry who ride to our heroes' rescue.
The story beats are familiar, and the acting typically silent movie broad, but Ford's incredible direction further elevates the material. The massive action scenes, particularly a raucous buffalo hunt and the climactic Indian battle, are the sort of jaw-dropping spectacles rarely seen outside silent movies: George Schneider's widescreen photography makes striking use of hundreds of extras and beautiful locations. Which blend seamlessly with more personal incidents of action (a fistfight between Davy and Deroux) and vignettes, like the sleazy Hell on Wheels or an ad hoc trial after prostitute Ruby (Gladys Hullette) shoots a gambler. As always, Ford excels at visuals and vignettes even when the plot elements sag.
The Iron Horse is John Ford's first masterwork: a beautiful image of America as it should have been, even if it never was. In its finale, all factions come together at Promontory Summit to unite the Union and Central Pacific Railroads - Lincoln's dream fulfilled, and a nation birthed.