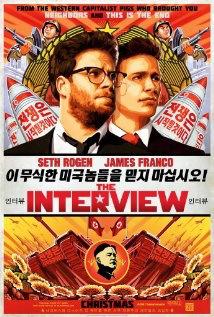 Director: Evan Goldberg, Seth Rogen
Writer: Dan Sterling (Screenplay) Dan Sterling, Evan Goldberg, Seth Rogen (Story)
Starring: James Franco, Seth Rogen, Lizzy Caplan, Randal Park, Diana Bang, Timothy Simons, Reese Alexander
Plot: Dave Skylark and producer Aaron Rapoport runs the celebrity tabloid show "Skylark Tonight." When they land an interview with a surprise fan, North Korean dictator Kim Jong-un, they are recruited by the CIA to turn their trip to Pyongyang into an assassination mission.
There may be spoilers the rest of the review
Verdict: Conterversional Funny
Story: The Interview starts by North Korea firing a missile and reporters slamming Kim Jong-un (Park). Next we meet Dave Skylark (Franco) a chat show host who isn't afraid to ask the difficult questions; on the show he has Eminem who gives the guys a ratings boost. Aaron (Rogen) the producer sees this announcement being able to change and now after 1000 episodes they are one of the most watched on television.
Aaron tired of just reporting on glorified gossip, he wants to take the show into a different direction hosting more important news stories. Discovery that Kim Jong-Uh is a fan for Skylark Tonight and try to arrange having him on for an interview. Aaron get the chance of the interview but it means heading to China first where he meets Sook (Bang) who gives out the guidelines to the interview. Landing the interview the CIA send Agent Lacey (Caplan) want Dave and Aaron to assassinate Kim.
Dave and Aaron head off to North Korea for their interview and are thrown a welcoming committee before arriving at Kim's private residents. Kim shows Dave around his residents as the two bond and Kim shows a side of him that nobody could imagine. Dave having built up a friendship with Kim Jong-Uh decides to pull out of the plan leading to Aaron having to try and complete the mission alone. Once Dave learns that everything he has heard about Kim Jong-Uh is true he along with Aaron have to use the interview to bring Kim down by exposing him to the whole of North Korea.
The Interview comes off with its laugh here and there but it does have to resort to a lot of boring over the top sex jokes instead of hitting more of the smart funny jokes. It tackles a situation that will always cause controversy but it really doesn't come off as bad as other films have tackled the same issues in the past. If the dictator was purely fictional this would have been a success but by taking a real dictator into the story it feels like an opinions film on that dictator. The idea of having to journalists going undercover as spies works well for comedy value and turning them into assassins also works for the laughs. This will end up going down as a solid comedy that isn't going to be remember for its comedy but its controversy. (6/10)
Actor Review
James Franco: Dave Skylark chat show host who is always wants to get the best stories, when he gets a chance to interview Dictator Kim Jong-Uh but ends up going getting hired to assassinate Kim. Dave comes off as a very naïve host that could believe anything he is told. James does a great job as the chat show host who isn't the smartest. (8/10)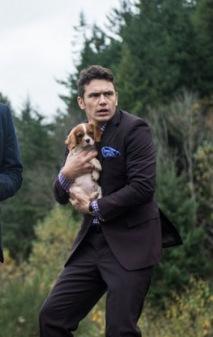 Seth Rogen: Aaron Rapaport producer to Skylark show and man in search of a more serious story to report on, the interview with Kim Jong-Uh gives him a chance at that. Seth gives us his best Seth Rogen here where he is the awkwardly funny sidekick to the jokes. (7/10)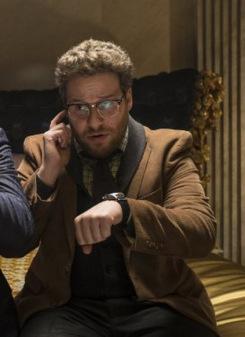 Lizzy Caplan: Agent Lacey who assigns Dave and Aaron with the mission to assassinate Kim Jong-Uh, it is put up in the air whether she is involved to honeypot Dave into completing the mission. Lizzy gives only a supporting role here but adds to the honeypot idea used throughout. (7/10)
Randall Park: President Kim Jong-Uh leader of North Korea who is a fan on Dave Skylark show and agrees to do an interview with him. Randall gives a good performance as the dictator showing comedic range with the bonding spells and villainous side with the final act. (8/10)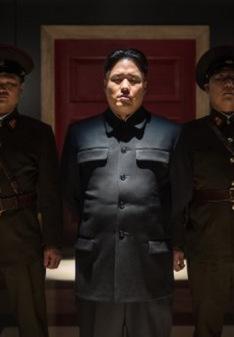 Diana Bang: Sook leader of security of Kim Jong-Uh she explains the rules for the interview. Diana does a good job in the supporting role here. (7/10)
Support Cast: The Interview has a supporting cast of doubter in America and supporters in North Korea each one gets a few laughs but nothing special with their scenes.
Director Review: Evan Goldberg, Seth Rogen – This pairing have been doing films they think are funny for a while and this has its moments but I think they went too far just for laughs. (7/10)
Action: The Interview only really has one action scene and that is the escape which is fine and solid enough. (7/10)
Comedy: The Interview has certain good laughs but does go for the easy jokes too often. (5/10)
Settings: The Interview uses the settings well to show us in North Korea and how isolated Kim is from the world. (8/10)
Suggestion: The Interview is one to try, it will always be talked about because of the controversy but really is just an average comedy. (Try It)
Best Part: Tank escape.
Worst Part: Some lazy jokes.
Funniest Scene: Tank fun with Katy Perry music.
Believability: No (0/10)
Chances of Tears: No (0/10)
Chances of Sequel: It could but it is unlikely.
Post Credits Scene: No
Oscar Chances: No
Box Office: $6 Million
Budget: $44 Million
Runtime: 1 Hour 52 Minutes
Tagline: Their trip to North Korea just went south.
Overall: When it comes to comedy it is really all done to taste, the jokes I find lazy others will laugh at, the ones I laughed at people other people won't get so this really does try to cover every comedic angle.
Rating