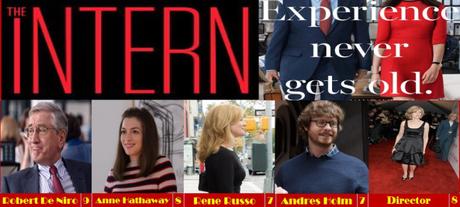 Director: Nancy Meyers
Writer: Nancy Meyers (Screenplay)
Starring: Robert De Niro, Anne Hathaway, Rene Russo, Andres Holm, JoJo Kushner, Andrew Rannells, Adam DeVine, Zack Pearlman
Plot: 70-year-old widower Ben Whittaker has discovered that retirement isn't all it's cracked up to be. Seizing an opportunity to get back in the game, he becomes a senior intern at an online fashion site, founded and run by Jules Ostin.
There may be spoilers the rest of the review
Verdict: Delightful Drama
Story: The Intern starts as we meet Ben (De Niro) a retired widower who is struggling to find motivation in life even if he is getting to do all the things he never had time. When Ben discovers a flyer asking for Senior Interns he applies to work at an internet company to keep himself busy.
When Ben gets the role as the Intern he gets to work under the owner and founder of online fashion site Jules Ostin (Hathaway). Finding Jules very cold Ben continues to keep himself positive and learns odd jobs around the office becoming popular around the office.
Ben watches and learns about Jules as he sees how she is struggling to keep her company together and find time for family time with her husband Matt (Holm) and daughter Paige (Kushner). The longer the two spend time together Jules learns that Ben could help her with her problems.
The Intern shows just how important respecting all the generation within the work environment can be important with their own experiences be it elder members of the office helping with the getting respect while the young understand all the tech talk. This story shows how strong business woman can be vulnerable and elder business man can find enjoyment from helping the next generation succeed.
De Niro is brilliant in this role where he plays the role so calmly and effortless, Hathaway also gives us a great performance and when it comes to the supporting cast they get most of the laughs without Adam Devine going too over the top with his comedy either.
Overall: Brilliant comedy drama that hits all the marks with brilliant performances and story.
Rating