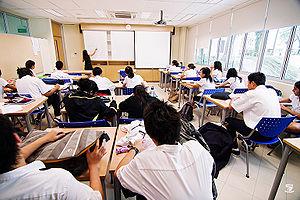 Image via Wikipedia
For those who are mostly inclined with the ways language learning is being facilitated, I'm sure you are very familiar with the intensive course of a language course. Whether this could be in English, Spanish, or French language, when it comes to language learning variation, intensive language courses will always be one of the recognized category.
Like what I mentioned earlier, there are lots of degrees of language courses designed depending on the need of a learner. There is this General language course, Combined Courses, Preparatory Courses for language exams, and the like. But I am going to focus on the Intensive language course that you and I are both familiar at.
Intensive French language courses is one of the most rigid type of French course a learner could choose compared to General and other customized language courses. Rigid in a sense that it has more lessons applied compared to the easier language courses. General courses often have 15-20 lessons taught within a 7-day period, but the simplest Intensive Course has at least 26 lessons in a week. To some language schools, they have categorized the intensive courses accordingly. It could be a 26-lesson course in a week, a 30-lesson, 38-lesson, 42-lesson, or even a 52-lesson course. The amount to be paid depends on the kind of intensive course learners will choose. This provision is laid to the learners to choose their personal level of intensity.
Intensive French language courses in exclusively designed for those learners who want take French language learning in a more serious way. The basics and even the intricate topics of French is tackled in this language course. The most amazing advantage of taking intensive French courses is that learners can really learn most of the French language in a shorter period of time. With full dedication and passion to learn this language, it is possible to become fluent and articulate in just a few months!
No wonder learners are recommended to learn French in France. Regardless of the newly developed and discovered ways of learning foreign languages, enrolment to language schools is still and will always be the most recommended way to learn French language.