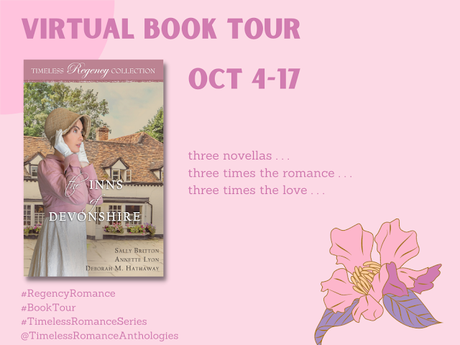 Three novellas, three times the romance, and three times the love . . .
 in this brand new Timeless Regency Collection
The Seventh Star Inn, by Sally Britton
After years of looking after one another, Susan Baxter and her mother view their neighbors in Totnes as family. When a new landlord inherits the leases on their homes and businesses alike, Susan dreads knowing her world could change at the whim of a stranger. But when she meets Collin Stonecroft and his inquisitive daughter, her feelings shift quickly from cautionary to hopeful. Collin has lived in the confines of London boarding houses all his life, and he's determined to give his daughter more. They check into the Seventh Star Inn with plans to return to London as soon as possible, but both find Miss Baxter and her local history lessons far too enchanting to leave behind. When Susan learns of Collin's proposed changes to her beloved neighborhood, will she be able to help him see that some things are perfect the way they are?
The Truth about Mr. Blackmore
, by Annette Lyon
Leigh's life at the Old Grey Inn is drudgery broken by flights of fancy thanks in part to novels by Simon Blackmore. When Mattias McGrady comes to the inn for a fortnight, Leigh captures his attention. A relationship develops, and she dreads the end of his stay, which will mean a return to an unhappy life. An urgent letter to Mattias leads to him inviting Leigh to an event that stands to change both of their lives forever. If all goes well, Leigh will have a life of her choosing after all. But half-truths and lies have a way of complicating matters. When their plans go awry, Leigh loses her reputation and Mattias almost surely loses his career. Can either of them find happiness?
The Coachman's Choice
, by Deborah M. Hathaway
Ever-reliable Mary Thorne has helped her widowed mother run The Golden Mermaid Inn for years. She spends her days greeting guests, ensuring the inn runs smoothly—and dodging flirtatious remarks from passing coachmen. But she's far too busy to pay any attention to such men, even the enticingly attractive Mr. Northcott. Known far and wide for his horsemanship, punctuality, and dallying reputation, Robert Northcott relishes his life as a coachman, especially his freedom to flirt with numerous women from inn to inn, all without the messy details of commitment. There's just one woman who's immune to his charms: the lovely, single landlady of The Golden Mermaid. Robert is determined to win Mary over, just as heartily as she is determined to keep her distance from him. But his carefree life is threatened when his pursual of Mary becomes more than just a game...
READ AN EXCERPT
The Truth About Mr. Blackmore, by Annette Lyon
A chilly breeze kicked up about Leigh Cutler's skirts as she sat atop the hill that she and her father had once named the Ogre's Hump. She leaned against a rocky tor that overlooked the green valleys and drew her wrap a bit more tightly to ward off the cold around her. The sun had dropped close to the horizon, telling her she'd best be leaving. She had to be back to the inn in time to help with supper preparations. And if the sudden lowering clouds were any indication, a storm might break before reaching shelter.
Reluctantly she slipped a pencil between the pages of her notebook to mark her current sketch—a ragged tor in the distance that, to her eye, looked like a sprite turned to stone—then she tied a ribbon tightly about the cover to hold it all together.
She stood, brushed off her skirts, and headed down the hill along the dim path, which was created mostly by her own footfalls as she'd walked between her favorite tor and the Old Grey Inn over the years. She sighed, wishing she could linger. Perhaps one day Aunt Edyth would let her stay away in her magical happy places past sunset, and Leigh would get to see how the pink and gold light played on the landscape's rocky shapes. As a child, she'd often imagined them to be friendly giants who came to life after dark. She'd invented names for many of them, and she'd told her father about the games the giants played at night when humans weren't around to witness them.
"You're a masterful storyteller, little Leigh," he'd said more than once. He'd also told her she had an astute intellect, allowing her to quickly solve problems.
She hadn't heard praise like that—or praise of any kind—since his death over a decade before when she was not yet ten years old. As an orphan, she'd been left in the care of relatives who viewed her as a burden, no matter how hard she worked for her keep.
Another gust of wind kicked up, and again she held her wrap close, nearly tripping on a protruding rock as she did so. Better keep my eyes on the path. She couldn't risk hurting herself and thereby delaying her arrival for chores.
When she reached the village, the skies opened and poured heavy rain upon the earth. Small puddles were forming, and thunder boomed nearby. She hugged her notebook close and ran for the inn. She entered the village square and noted a man searching for something. He looked up at a few signs here and there but clearly didn't find whatever he sought. He drew a hand down his face in frustration, then returned to a trunk resting on a street corner.
He's already quite wet,she thought. If he stays outside much longer, he'll catch his death of cold.
Save for Leigh and the stranger ahead, the cobbled road was empty. Approaching him, she asked, "Sir, may I offer you assistance?" She wiped raindrops from her cheeks and awaited his reply.
He dipped his head in a small bow. "Yes, please. I am definitely in need of some help." If not for his hat, rain would be dripping down his face too. As it was, his clothing was already damp—tailored like the ensemble a gentleman wore, though he didn't hold himself as an aristocrat, and something in his speech didn't sound as polished as his clothing, either. Questions about him increased in her head.
Working at an inn with all manner of travelers over the years had taught her how to size up people with few available details. She could often guess within miles from which county someone hailed. Not this man, however. He was a complex mixture of several qualities: refined, educated, and common, all at once. "How can I help?"
"I rode a mail coach into town, and my driver had me alight here. He left because he had a schedule to keep."
"Ah." Mail coach drivers always had the risk of losing their position in the back of their minds, so they often raced along without rest to deliver the mail on schedule.
"He said the town has an old inn with good food and accommodations. It's grey, I believe. I don't dare leave my trunk to search, and I haven't had any success seeking it out from here. Do you know of the inn he means?"
"I believe I do." Leigh hid a smile. "He likely meant the inn's name, not its color." She pointed behind him, where the inn stood visible a block down the road: a long, white building with a thatched roof. "The Old Grey Inn, named after the man who founded it centuries ago."
(Pages 93-95)
ABOUT THE SERIES
Since 2015, Mirror Press has been publishing the Timeless Regency Collection, a curated anthology of novellas and short stories set in early 19th century England. Featuring bestselling authors from the historical romance genre, the series has hit the USA TODAY bestselling list and charted at #1 at Amazon.com. Learn more about the series and other anthologies published by Mirror Press at their website.  
AUTHOR BIOS
Sally Britton is a wife, mother, and author who loves the world of romance, received her BA in English from Brigham Young University, and reads voraciously. She started her writing journey at the tender age of fourteen on an electric typewriter, and she's never looked back.
Sally primarily lives in Oklahoma with her husband, four children, and Izzie the Aussie Shepherd. She loves researching, hiking, and eating too much chocolate.
WEBSITE | TWITTER | FACEBOOK | INSTAGRAM | PINTEREST | 
Annette Lyonis a USA Today Bestselling author. She's won a Whitney Award (2010) and is an eight-time recipient of Utah's Best of State medal for fiction and short stories. She's the author of more than a dozen novels, even more novellas, a cookbook, a grammar guide, and some 120+ articles. She's worked as a professional editor for publishers and bestselling authors and graduated cum laude from BYU with a degree in English.
      WEBSITE | TWITTER | FACEBOOK | INSTAGRAM | PINTEREST | 
Deborah M. Hathaway graduated from Utah State University with a BA in Creative Writing. As a young girl, she devoured Jane Austen's novels while watching and re-watching every adaptation she could. She finds inspiration for her novels during her travels with her English husband to the United Kingdom, where she draws on the beauty of the country in such places as Ireland, Yorkshire, and her beloved Cornwall. Be sure to sign up for Deborah's Newsletter to stay updated on new releases, free and discounted Clean Romance novels, and more!
WEBSITE | FACEBOOK | INSTAGRAM | GOODREADS | BOOKBUB
TOUR BLURB
Join the virtual book tour of THE INNS OF DEVONSHIRE, a collection of novellas by bestselling authors Sally Britton, Annette Lyon, & Deborah M. Hathaway, October 4-17, 2021. Thirty-five popular on-line influencers specializing in Regency romance, historical romance, and inspirational fiction will join in the celebration of the release of the 18th book in the bestselling Timeless Regency Collection with a spotlights, exclusive excerpts, and reviews of this new anthology set in Regency England.
Oct 04      Fire and Ice(Review)
Oct 04      Austenprose(Excerpt)
Oct 04      Timeless Novels(Review)
Oct 05      Lu Reviews Books(Review)
Oct 05      Beauty in the Binding (Spotlight)
Oct 05      For Where Your Treasure Is (Excerpt)
Oct 06      Probably at the Library(Review)
Oct 06      Our Book Confessions(Review)
Oct 06      Bookworm Lisa(Review)
Oct 07      Literary Time Out(Review)
Oct 07      Reading with Emily (Review)
Oct 08      Bringing Up Books(Review)
Oct 08      Gwendalyn's Books(Review)
Oct 09      Becky on Books (Review)
Oct 09      Books and Socks Rock(Review)
Oct 10      The Christian Fiction Girl (Spotlight)
Oct 10      Heidi Reads(Review)
Oct 11      My Jane Austen Book Club (Excerpt)
Oct 11      Encouraging Words from the Tea Queen (Review)
Oct 11      Wishful Endings(Review)
Oct 12      So Little Time…(Excerpt)
Oct 12      The Caffeinated Bibliophile(Spotlight)
Oct 12      Laura's Reviews(Review)
Oct 13      Austenesque Reviews(Review)
Oct 13      Storeybook Reviews(Excerpt)
Oct 13      Rosanne E. Lortz(Review)  
Oct 14      From Pemberley to Milton (Spotlight)
Oct 14      Chicks, Rogues and Scandals (Excerpt)
Oct 14      Christian Chick's Thoughts(Review)
Oct 15      A Darn Good Read(Review)
Oct 15      Relz Reviewz (Spotlight)
Oct 15      Reading is My Superpower(Review)
Oct 15      Book Confessions of an Ex-Ballerina (Review)
Oct 16      My Bookish Bliss(Review)
Oct 17      The Book Diva Reads(Spotlight)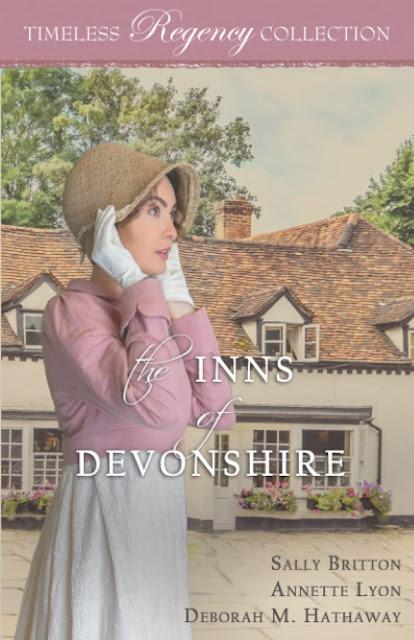 PURCHASE LINKS
AMAZON | BOOKBUB | GOODREADS