Learn English at Language School in New York and gain viable chances that will work drastically in your academic and future employment, especially when this takes place in a foreign English-speaking country. As obvious as its name, the New York City is unquestionably one of the most prominent places to be on the planet for someone who's yearning a once in lifetime memorable experience.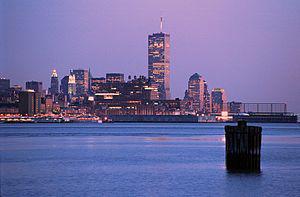 New York City by Erik814u2 via Wikipedia
So take advantage to get started in this prestigious City as you earn your knowledge in studying English language. There are over 25,000 international students prefer New York to study for English language course each year. Just see to it that the foreign language school you will be choosing is authorized under the federal law of the United States to accept non-immigrant foreign students.
You don't need to worry about the quality of teaching because most language schools are outstanding and actually the mentors are specializing in teaching for the preparation of the TOEFL and English as a Second Language (ESL) for many years.
In New York City, while in your ongoing studies, you can enhance your learning through the city's influential media medium- Newspaper. Do you know that New York City is the quarter of four out of ten largest papers in the United States? Definitely right! These are (1) New York Post with 650,000 distributions, (2)  Daily News with 795,000 distributions, (3)  The New York Times with 1.1 million distributions, and the (4) The Wall Street Journal with 2.1 million distributions.
To learn English at Language School in New York supported by reading English newspaper could help you learn a bunch of advantages such as:
Diverse vocabulary
Improve and increase your reading skills
Recognize the right English word spelling
Finding the points easily from the story you are reading
Learning new things that are practical beyond classroom discussion from the newspaper articles.
The good thing about reading a newspaper while studying a certain language in the City of New York is the chance to know its culture, events, and happenings to confer a meaningful awareness for an international student like you.