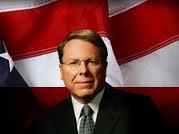 My Auburn reports
The National Rifle Association is an extremely wealthy political organization, taking in $228 million annually in revenue, according to its 2010 federal tax return. Executive VP Wayne LaPierre earned $960,000 in 2010, while the NRA executive director of general operations, Kayne B. Robinson, pocketed more than $1 million.
I'm sure they wouldn't be in these positions if they weren't genuine gun lovers (and, yes, "lovers" rather than the dispassionate "owners" is the right word). But I'm also sure they very much like being part of an organization with the cash resources to influence national elections, terrify lawmakers and its top-ranked people investment banker salaries.
Don't you think the dean of Florida gun rights lobbyists, Marion Hammer, occasionally scrambles to justify the $300,000 she received in 2010 from the NRA and the Unified Sportsmen of Florida? Take a guess.
Absolutely, said Josh Horwitz, executive director of the national Coalition to Stop Gun Violence (the total budget of which, by the way, is less than LaPierre's annual salary).