Today's guest blogger is Brenda Pace of the
Four Legged Mom
who I've gotten to know through blogger and Twitter. We usually chat each day over on Twitter. She mentioned going on a social meet up and I asked her to blog on it as I recently posted about being
friends through a computer
. Thanks to Brenda for today's awesome post!

In the small State of Delaware, we are trying to promote the importance of social media. Me? Well, I love social networking and have jumped on the bandwagon! Not so much Facebook or
Google+
, even those networking tools do work, but the importance of Twitter.
Twitter is a remarkable tool! You can network with people all over the world or just in your own state, city, neighborhood! Yes, Twitter is THAT cool!
Back to my state, I've seen these Twitter events being retweeted called "Tweetups" or "Peditweetup" and was curious. So I started inquiring about them. Coolness! These are meets and/or outings where you actually get to meet and interact "face-to-face" with the people (also referred to as "tweeps") that you tweet! Woohoo!
I had been unable to make a couple "peditweetup" (pedicure + tweetup meets) because they have been during the workweek and a little distance away. Having a pit bull at home that needs to stay on a strict schedule deters me from doing some things. Anyway, I had been tweeting someone who lived very close to me and mentioned something about a tweetup. She jumped on the idea! Cool! I through a date out there and she reserved the restaurant! Awesome!
Next thing to do was promoting it and get RSVP's! So we posted on Facebook and Twitter. The Twitter or Tweets were retweeted (meaning reposted or shared) everyday until the event. We had about a dozen people show up. I thought was good because the area I live in is
"socially illiterate",
if I may say so!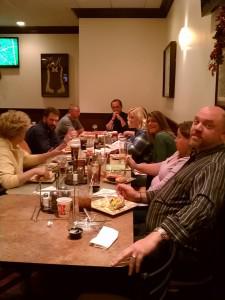 We got to know one another, talked about our lives, and then talked about social media and promoting it. Overall, it was a
great
time and I anxiously look forward to doing it again soon!
So what good came out of the "tweetup"? Meeting new folks, learning new things, and a sense of Community, which is lacking in a lot of areas.
If you get the chance to attend one, I highly suggest it! If it's not happening in your area, why not organize one yourself! It's very simple! If you have any questions, feel free to ask! You can
tweet
me
@bwelchp
or
@fourlegged_mom
(my blog twitter).
Would love to know if you have attended a Tweetup yet?