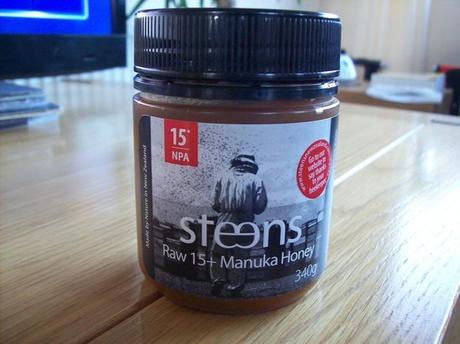 I was recently sent a jar of Steens Raw 15+ Manuka Honey and challenged to try one of the recipes that Amber Rose has written which are not only healthy but very easy to make.
I chose to make the Immune Booster Super Berrie Smoothies.   Not only was it easy to make but it was incredibly delicious.  Especially the Banana part!  (and I am not normally fond of bananas)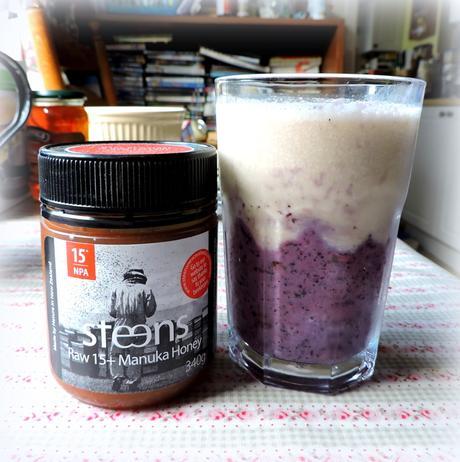 *The Immune Booster Smoothie*For twoPrintable Recipe 

This is a recipe created by Amber Rose.   It's a delicious smoothie containing loads of antioxidants from the blueberries, fiber and potassium from the banana, a brain power boost from the coconut oil and beneficial enzymes from the raw Steens Manuka Honey, with sperior antibacterial and antimicrobial properties.
1 large banana, previously sliced and frozen300ml of milk ( any kind), plus a little extra (about 1 1/3 cup)1 tsp raw virgin coconut oil1/4 tsp vanilla powder2 tsp raw Steens 20+ raw Manuka Honey150g of frozen, blackberries, blackcurrants, blueberries (any or all) (1 1/2 cups)
Place your banana, milk, coconut oil, vanilla powder and 1 tsp of honey into a high powered blender.  Blitz until completely smooth.  Pour into a jug.
Place the berried into the blender along with 1 tsp honey and 1 or 2 TBS of milk.  Blitz until you have a smooth thick mix.
Take two large glasses.  Spoon the berry mix into the bottom of the glasses.  Use a spoon to run it up and around the sides.  Pour the creamy banana mix into the glasses and enjoy straight away.   Delicious!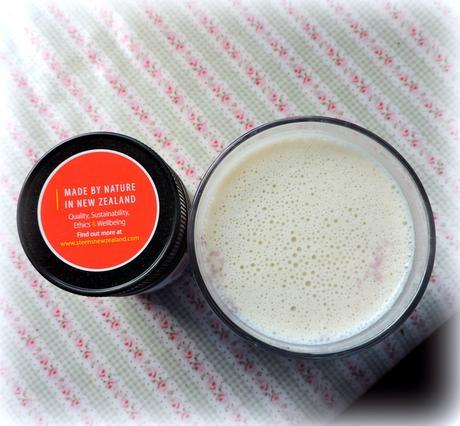 Steens is the industry leader in Manuka Honey.   Raw Steens Manuka honey contains a huge amount of beneficial enzymes.  The high NPA level means that the Manuka honey has superior antibacterial and antimicrobial properties,  giving it great health credentials.
Steens cold processed honey is 100% pure and sets in it's own natural crystal with all the advantages of natures health benefits.
The rich golden colour, texture, distinct aromas and flavours are testament to the natural processes, freshness and purity of the honey.  Unique processing means enhanced health benefits; enzymes and bee pollen are retained in this honey.
Produced by nature  in New Zeland and completely natural, each jar is traceable right back to the producer and hive.  Their sustainable methods and environmentally friendly production practices have resulted in a quality product which is not only good for you, but ethical and sustainable.   To find out more do check out their webpage.
Many thanks to Steens for sending me this.  Any opinions are my own and I was not required to write a positive review.