There is no canon in Greek myth. They're fluid, and
The Immortals
has moulded something of its own out of them, bearing no resemblance whatsoever to hardly any of the legends we know. It's crazy, balletic, silly, powerful, beautiful, and totally ridiculous; and it's also amongst the most fun and impressive films that I've seen this year.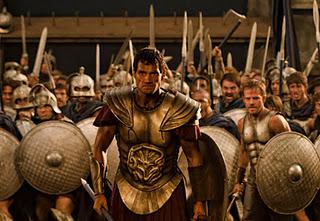 Theseus and his army
It takes place in a never-never Greece (about 1,200 BC, apparently, although it looks more like an alien desert landscape); the Olympian gods have suppressed the Titans (who suffer, chained up in something that looks like it came from the brain of the Human Centipede guy, under a mountain) but have decided not to take any active part in human affairs. This does not prevent Zeus, however (played with an impish might by Luke Evans) from disguising himself as an old man – and not just any old man, but John Hurt, who is so wise that practically every other word is an aphorism – in order to influence (but not actively, you see) his son Theseus, who must learn to do things of his own free will (and not having been influenced by Zeus. At All.)
Theseus lives in a stone town which has conveniently been carved out of rocks looking over a cliff edge, which can't be very practical, or comfortable when the wind blows, but that doesn't really matter, because it looks rather impressive. Theseus is also a humdinger of a man – played by Henry Cavill, who's obviously been working out (since he's about to play Superman) – he's the sort of chap that would make the average Abercrombie and Fitch model not want to take his top off on the beach for shame. He is not the prince of myth, though; he is a humble peasant who would die to protect those he loves. He's also pretty nifty with a spear, as it turns out, which is lucky. Think Brad Pitt in Troy but without the sulkiness. And boy does the camera love him, lingering on his body whenever it can; even when he's close to death, having been enslaved, he looks like a bronzed Lycidas. Even the virginal Oracle  (Frieda Pinto, for whom most would swoon any day) whose second sight is tied to her chastity, thinks twice when she sees Theseus. Cavill does a good job with the fairly dire script, too – when he gives a speech to his soldiers to rouse them up a bit, I found myself getting roused up too, despite the cringeworthiness of the lines.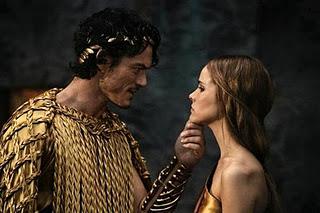 Zeus and Athena: Daddy's girl
The village's – and all of Greece's – existence is threatened: the vile King Hyperion wishes to find the Epirus bow (a magical weapon of great power) and, well, like all baddies ever, take over the world; he also wants to unleash the Titans, though quite why is anyone's guess. Meanwhile, he invades a monastery where the Oracle lives – who happens to be an extremely sexy girl who likes sleeping on a silken couch with her three other very sexy oracle-friends – and tortures and kills people, willy-nilly. When one of Theseus' villagers defects to Hyperion's camp, and sees a silver bull into which victims are thrown and burned, as well as dead bodies hung up everywhere, you can almost hear him think, uh oh, this was a bad idea, wish I'd stayed with those lame villagers… Hyperion is so evil he makes Darth Vader look like Bambi. He likes wearing masks, too, as do all his followers – weird, toothy animal masks. He believes in democracy, you see (apparently).
The plot, though, is sort of beside the point, because every scene is so enthrallingly enjoyable in its sumptuous finery, violence or lunacy that one is compelled throughout. The violence is well handled – a scene where an acolyte performs a nasty mutilation on himself is just the right degree of shocking.
It doesn't seem to matter that the Olympus of the Greek gods resembles a gay nightclub, with all the male gods lounging around half-naked  in diamanté and Heath-Robinson hats (there's only one female god, Athena, played by a too-beautiful Isabel Lucas – she should have been Aphrodite, surely? – whose battle attire consists of a slinky gold one-piece). Nor does it matter that the Oracle and her friends wear jangling tea-cosies on their heads. I think the film itself is aware of its excesses – Theseus laughs at a priest's similar headgear.
The film has its own mad grace, and if you are prepared to take it on its own terms, then you'll find yourself swept away just as if Poseidon himself had come down and caused a tidal wave. And the final scenes point towards a sequel that looks like it might be even bigger, and even sillier, with an aeronautical battle between gods and Titans. Hats off – the sillier the better – to director Tarsem Singh, for this deeply luxurious nugget.
A version of this review appeared first on philipwomack.blogspot.com