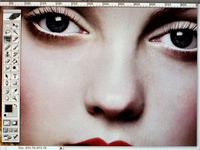 Elena Rossini's The Illusionists
As long as I can remember, I have had a great deal of respect and gratitude for the body. I like my body in particular. It works. It is the reason I am me. When I was three years old my mom gave birth to my little sister. Delighted to have a younger sibling, it was a hard pill to swallow when we came to find that she was born with some very severe disabilities, including something called Down Syndrome. Her body was very different from mine inside and out. It was always, and will always be, a great weight on my heart to know that she will never know what it is like to have a body like mine. Because of that, gratitude comes easy.
When puberty started sneaking up on me and I began engaging in typical pre-teen girl activities, I noticed that my gratefulness for my body was different—unusual, even. As I grew bigger, my circle of friends grew unhappier with their appearances, and it became increasingly popular to share this unhappiness with each other. We know that people, especially womenfolk, are subject to unattainable beauty ideals, and it hurts.
As much as we all pay lip service to this seemingly inevitable part of our lives, there are people out there that are doing something about it. Elena Rossini is one of them. Rossini, an Italian-born director, cinematographer, and editor, is turning to us (the web!) to raise funds for her latest feature film, "The Illusionists", a documentary that explores the commoditization of the body and the marketing of unattainable beauty around the world in new and interesting ways.
First, "The Illusionists" will explore the commoditization of the "perfect body" not only here in the United States or in Europe, but will also call on expert advice from India and East Asia. Additionally, the film will examine the historical roots and the economic motives behind the creation of unattainable beauty standards while paying particular attention to the beauty industry's two new targets: little girls and men. Most importantly, though, "The Illusionists" is more than just a film. With active web and social media platforms, Rossini and her team are focused on using the film as an educational tool, a platform for discussion, and ultimately, a catalyst for social change.
I want to live in a world where we can all, at the very least, be grateful for the bodies we have. I want to live in a world where the pain caused by unattainable beauty ideals is not understood as inevitable. If you stand with me, please head over to The Illusionist's Facebook or Twitter page, and donate to the Kickstarter campaign. Help make "The Illusionists" more than a movie: make it part of a movement.

Angela G is the FBomb's amazing intern, and you can learn more about her here.