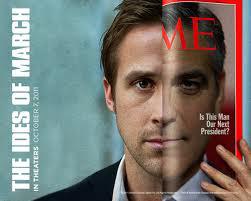 While the Ides of March was a very solid entry into the political thriller genre (and of course just more proof that Clooney is one great director), I cannot help but be disappointed by it. The good news is before starting the film I entirely understood that it was a work of fiction, I know many people hated how it wasn't actually giving the audience any insight into a true story, so I luckily avoided that problem by reading plenty of reviews before viewing the film. But really, The Ides of March isn't a particularly flawed film, it's just after hearing so many incredible  things about it, when the credits rolled I had a bit of a "that's it?" response to the film. It was good, not great.
Mike Morris (George Clooney) Democratic presidential candidate with a decent lead against Arkansas Senator, Ted Pullman. The current campaign is in Ohio and if Pullman can catch a win he has a serious shot at running Morris down. However, if Morris is able to win then the nomination will be locked. Stephen Meyers (Ryan Gosling) is a Deputy Campaign Manager who is working for Morris. 
Meyers is about as innocent as a man can be in his position, but his whole life and the campaign begin to fall apart when he makes one bad decision. Pullman's campaign manager calls a meeting in secret with Meyers and offers him a job working under Pullman. After he rejects, it does not take Meyers long to realize how bad of an idea it was for him to go to that meeting.
That was possibly the worst excuse for a plot description I have ever dared to post on here; I am desperate and short on time, you see. Clooney lacks ambition in The Idea of March, but where he succeeds is his screenplay, mixing an uncommonly intelligent script with characters that the audience will be interested in. Take that and add a bit of Ryan Gosling and you have a movie that will at least somewhat work on its own.
Like always, Gosling takes control of the screen. He out shines Mr. Clooney and any other actor in the film. I would argue Gosling a spot as the finest actor working in Hollywood today under the age of forty (and I am sure i'm not the only one who feels that way). I could compliment the supporters all day (Seymour Hoffman, Clooney, Giamatti) but they really don't matter; Gosling is the focus and he carries the film without the help of anyone else.
Final Word – Entertaining, smart, well-acted. If you like political thrillers watch The Ides of March, if you don't then stay away. Personally, I love them.
8/10